Florida Man Who Dropped Daughter, 5, Off Bridge Set to Plead Insanity: 'He'll Be In a State Prison… Or a State Hospital For the Rest of His Life'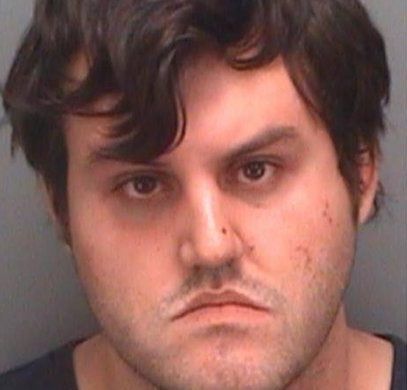 The trial of a man who dropped his 5-year-old daughter more than 60 feet off a bridge in Florida is set to begin, with the state of the defendant's mind at the time set to form the main focus of proceedings.
Lawyers for John Jonchuck will make no attempt to claim the 29-year-old did not drop his daughter Phoebe off the Dick Misener Bridge in Tampa Bay on January 8, 2015. He will instead try to convince the jury that the defendant was insane and needs to be sent to a psychiatric hospital instead of jail.
The incident, witnessed by St. Petersburg police officer William Vickers, occurred following years of documented mental health problems from the defendant. Jonchuck had been involuntarily committed 27 times under the Baker Act, a state law that means a person can be detained for mental evaluation if they are deemed a potential danger to themselves or others or have made a credible threat of violence against another person, reports The Tampa Bay Times.
Before throwing his daughter off the bridge, Jonchuck was alleged to have told Vickers "you have no free will" while clutching what is believed to have been a bible in his hand. Following his arrest, he told officers during questioning: "My name is God and you shall address me as such," adding: "I command you to take me to the city of Babylon now," according to records obtained by the Tampa Bay Times in March 2015.
Court filings obtained by People also revealed he told a mental health doctor that voices urged him to kill his daughter and if Phoebe didn't die, "everybody was going to go to hell."
Jonchuck's behavior was so erratic at the time that his divorce lawyer, Genevieve Torres, called emergency services to say the 5-year-old was in danger—just 12 hours before she was killed by her father.
"He's calling the office every five minutes and saying these religious things and saying the child might not be his—it just really concerns me," Torres told the state child protection hotline operator, reports The Associated Press. "It's all craziness and it doesn't make any sense and he's out of his mind." The operator did not pass on the call to authorities.
Pinellas-Pasco Public Defender Bob Dillinger said it is unlikely that Jonchuck will ever be a free man again, even if a jury rules him insane.
"Either way, he'll be in a state prison for the rest of his life, or a state hospital for the rest of his life," Dillinger told The Tampa Bay Times. Prosecutors have already announced they will not be seeking the death penalty against the 29-year-old if he is found guilty.
Dillinger said the trial will raise questions about how society treats the mentally ill.
"We just think the appropriate setting for him for the rest of his life is in a mental hospital, not a prison," he added.
Jonchuck's trial has had a number of delays since 2015, with medical professionals and judges debating if he was competent to stand trial.