Presidential Hopeful John Kasich Breaks Away From GOP on Immigration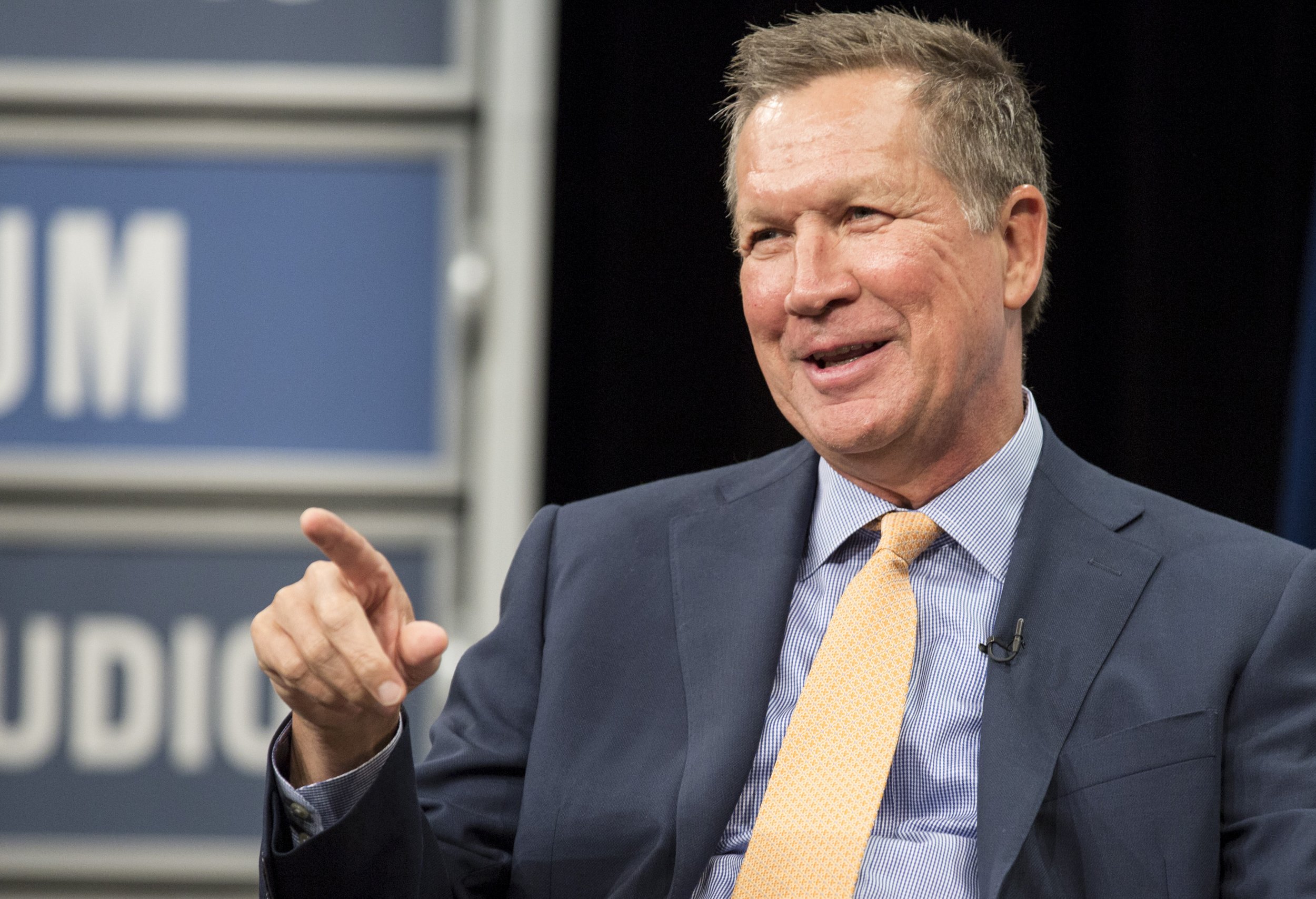 Republican presidential candidate John Kasich held firm on his desire to build a wall on the U.S.-Mexico border during a Tuesday event in Washington, D.C., but he took a more moderate stance on another major immigration question that is dividing the GOP.
Speaking at a Q&A session hosted by the United States Hispanic Chamber of Commerce (USHCC), the Ohio governor declared that "we're not going to change the 14th Amendment" to end birthright citizenship. "If you're born here, you're a citizen. Period. End of story."
This stance breaks with other presidential hopefuls from his party, like Texas Senator Ted Cruz, New Jersey Governor Chris Christie and, of course, current Republican front-runner Donald Trump. The chamber had announced Trump would participate in the same one-on-one Q&A format Thursday, as have several other Republican and Democrat presidential hopefuls in addition to Kasich, but his appearance was canceled under contested circumstances—which clearly rankled organizers. Trump claims he never confirmed he was coming, but the USHCC said in a statement that Trump withdrew because he was unwilling to abide by the terms and conditions of the presidential candidate Q&A series.
"Withdrawing from the Q&A can only suggest that Trump himself believes his views are indefensible before a Hispanic audience," the group said.
USHCC President and CEO Javier Palomarez opened the event on Tuesday by thanking Kasich—who governs a critical swing state—for "keeping your word" and attending the event, "unlike others in your party." Palomarez refused to mention Trump throughout the one-and-a-half-hour session, referring at one point to "another fella who chickened out."
Kasich didn't prove nearly the same draw, as the room wasn't even close to full. Unlike Trump, the governor has struggled to break out in the Republican field and has been lingering in the low single digits in national polls. He is doing a bit better in New Hampshire—in a recent CNN poll he was tied with former Florida Governor Jeb Bush for fourth place. The Kasich campaign has put plenty of its resources into the Granite State, but he is still nowhere near Trump.
An 18-year veteran of Congress, Kasich also didn't quite set off the sort of fireworks that a Trump vs. Hispanic businessmen showdown undoubtedly would have, had he attended Tuesday's event. Though the chamber is pro-business and supports free markets, it vocally backs immigration reform and has been critical of hard-liners who want to block immigrants from coming in or kick out those living in the country illegally, as Trump has advocated.
Instead, Kasich sought to find some middle ground on immigration. "Do you lock your doors at night?" Kasich asked Palomarez, when pressed on his support for building a wall. "Don't you think a country needs to lock its doors?"
He continued, "There are technologies today that can be just as effective as a physical wall, with the ability to have sensors and drones and things like that. I think it's just imperative that we control our border."
Kasich had kind words for the undocumented immigrants already in the country, though he refused to go as far as support a path to citizenship. "For those that are here, that have been law-abiding, I mean, God bless 'em. They're a critical part of our society, from doctors to engineers to lawyers."
This seemed to be an effort to compensate for a recent dustup over remarks he made when asked about Republicans' failure to attract Hispanic voters. Speaking in Southern California in September, Kasich noted that Hispanics are hardworking and "a lot of them do jobs that they're willing to do. That's why in the hotel you leave a little tip." That prompted condemnation among some Hispanics and liberal commentators who saw him playing into stereotypes of Latinos in the U.S.
On Tuesday, Kasich offered a somewhat rambling explanation for the remark. "Let me tell you what happens: I'm in my hotel room and this lady writes me a beautiful note…and here's what the note says, 'I really care about your stay in this hotel.' What a nice thing for somebody to write!"
He added, "The Lord has laid on me the notion that everybody is so important and everybody matters. So that's really what I was commenting on."
As for the role of Hispanics in America, Kasich said, "I think they can do everything and anything in this society!"
That doesn't mean, however, that he supports illegal immigrants jumping to the front of the line for citizenship. "I believe we ought to have an effective guest worker program. I think people ought to be able to come in and work and be able to go back home," he said. "I just don't think you want to reward people who do the jump. So the path to legalization is really the appropriate way, as far as I want to go."