John Kasich Bets on the Power of Positivity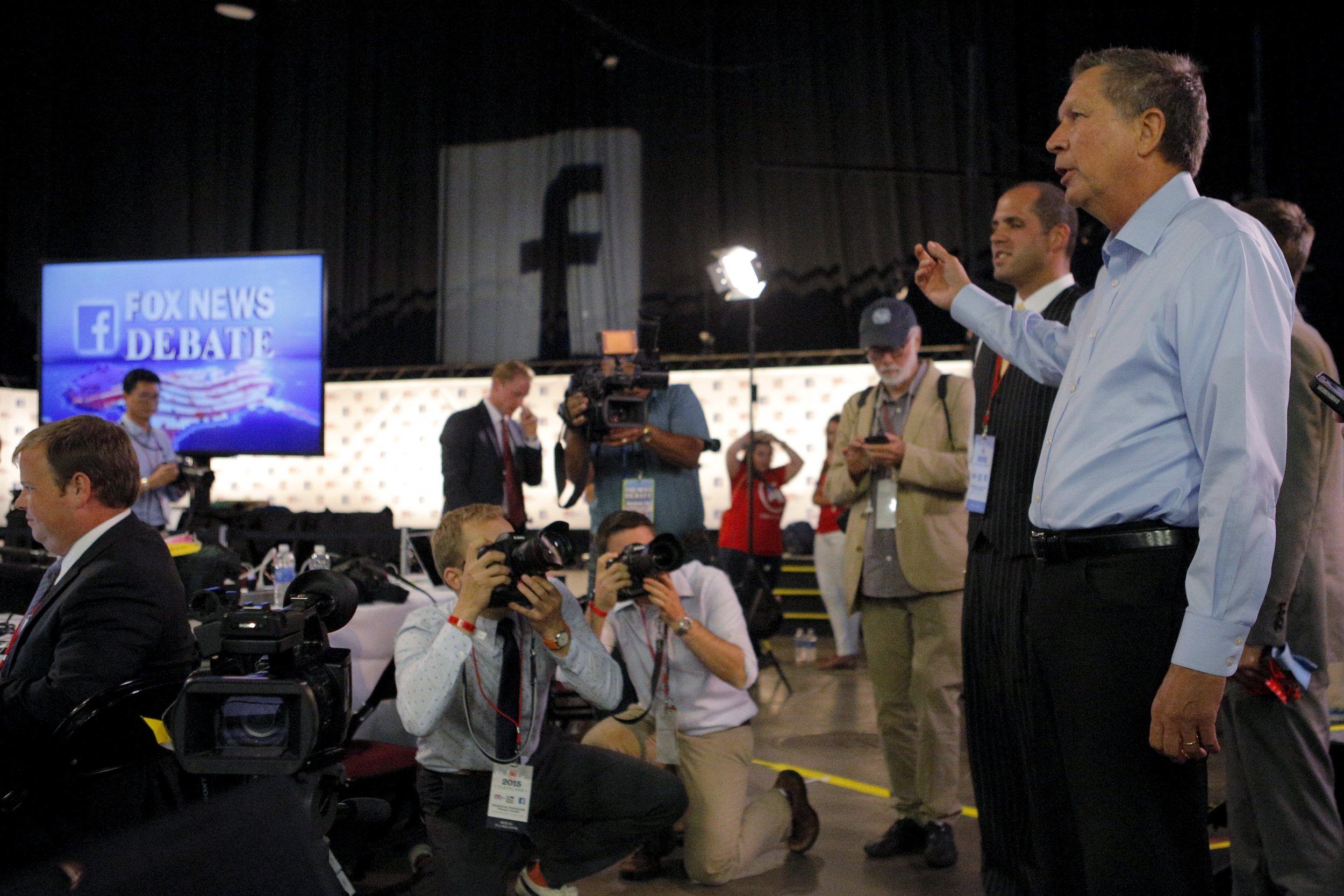 On the debate stage in Cleveland's Quicken Loans Arena, Ohio Governor John Kasich on Thursday night took a question aimed squarely at one of his greatest perceived weaknesses in the Republican presidential race and turned it into a defense of empathy and efficacy.
Asked pointedly about his decision to accept increased Medicaid funding for his state, a key component of the Affordable Care Act that so many in his party loathe, Kasich replied, "I had an opportunity to bring resources back to Ohio to do what, to treat the mentally ill, 10,000 of them sit in our prisons. I'd rather get them their medication so they can lead a decent life."
As for the working poor, he said, "Instead of having them come into the emergency rooms where it costs more where they're sicker and we end up paying, we brought a program in here to make sure that people could get on their feet."
The kicker: "And you know what, everybody has a right to their God-given purpose."
That's pretty much his campaign strategy in a nutshell. Kasich and his top strategists are gambling that he can bring together a coalition of Republican voters more concerned about authenticity than apostasy, who prefer unity and uplift over antagonistic fury. The idea is that this will set him apart from the rest of the field. "They're good people," Kasich political adviser John Weaver says of the other Republican candidates, "but they're running about a negative view of America." And anger, he says, is "a hard thing to sustain."
It's a risky move, given how poorly the perceived moderates have fared in recent GOP nominating contests. The path is even tougher given that Kasich himself isn't exactly known for his sunny disposition. His outbursts and put-downs have taken on almost legendary status, like warning a group of lobbyists, "If you're not on the bus, we'll run over you with the bus," and telling then state Senator Nina Turner, who is African-American, he didn't need "her people" in his Cabinet after she and other Democrats complained about the lack of diversity. (He said he meant Democrats, but it sounded bad.) One Cleveland Plain Dealer columnist wondered in a July piece, "Is John Kasich too big a jerk to be president?"
That reputation comes from a long political history—four years as a wunderkind Ohio state senator (elected at 26), 18 years in Congress and another five as Ohio governor. Kasich leapt onto the national stage in the 1980s, a 30-something, mop-topped congressman with a head full of steam who wasn't going to bow down to the powers that be in Washington.
His impatience and short fuse didn't win him lots of friends, but he did forge some important ones. As a close ally of Republican House leader Newt Gingrich, Kasich leapfrogged to the top of the House budget committee. Thanks to the Republican revolution of 1994, he then became chairman. From that perch, he was able to pursue his deficit-slashing, supply-side economic priorities and fight the Clinton White House. That conflict came to a head in the 1995 budget standoff that closed down the government not once but twice.
"Going to Washington, it was a big deal, it was exciting, but I didn't feel at all intimidated or overwhelmed," the governor tells Newsweek, a humble-brag that is quintessential Kasich. That's a rare impulse generally, he concedes. "I think that's a McKees Rocks thing," he says, a reference to the working-class Pittsburgh suburb where he grew up. "I don't know why that is, but we were just never really in awe of anything."
Kasich is now 63 and has lost most of his boyishness, if not his impish grin. The mop of brown hair has been replaced by spiky gray. He has wrinkles around his eyes and lines on his forehead. He also has a decade out of elective office. After leaving Congress, he cashed in at the now infamous Lehman Brothers and hosted his own weekly talk show on Fox News. He has one-and-a-half terms as Ohio governor under his belt, with a 60 percent approval rating in that pivotal swing state to boot. Gravitas eluded him in the late 1990s, when he launched a brief, failed run for the presidency. He finally seems to have attained it.
But Kasich's rambling, 43-minute announcement speech at Ohio State University in July—making him one of the last entrants into the bulging Republican field—had plenty of pundits panning his prospects. It was a display of the foibles he's struggled with throughout his political career. He doesn't stay on message, they said, and he lacks self-control. "John Kasich's announcement is a great advertisement for speechwriters and teleprompters," tweeted Dan Pfeiffer, President Barack Obama's former communications director.
It's a mistake, however, to equate Kasich's penchant for offhand remarks with a lack of discipline. The man doesn't lose races. He narrowly won the governor's seat 2010 in a fierce contest—against Democratic incumbent Ted Strickland—that, for Kasich, was notably gaffe-free. His successful pitch to Ohio voters was that he would turn around Ohio's economy, which, under Strickland, was mired in deep deficits and massive job losses, a result of the 2008 financial crisis.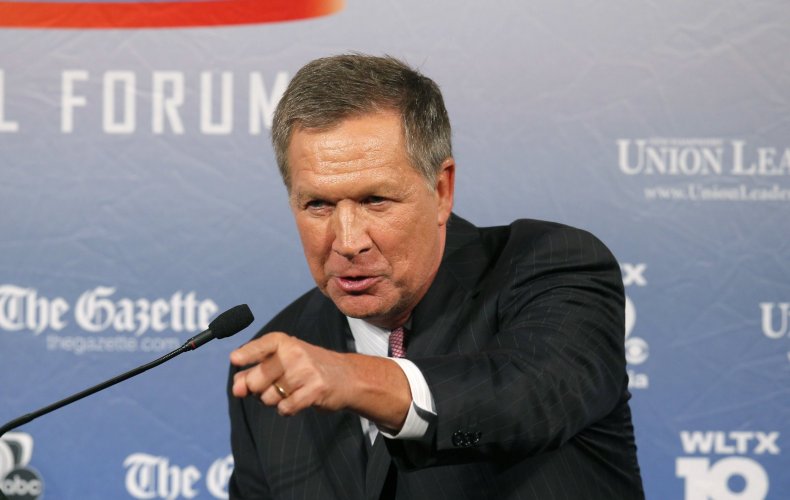 "One of the big surprises among observers in Ohio is how disciplined the governor has been," says John C. Green, chairman of the Political Science Department at the University of Akron. "As governor and in his campaigns, there were relatively few outbursts that were problematic"—the aforementioned blunt remarks being the exception.
Kasich did get into trouble early on when he threw his weight behind a 2011 law limiting collective bargaining for public employee unions. It proved wildly unpopular and was overturned by a referendum decisively that fall—a stark contrast to 2016 rival Scott Walker's union slaying in nearby Wisconsin. But even his critics say he's smoothed himself out since.
"I don't know if his philosophy has changed, but his outward demeanor without question has been toned down," says Melissa Cropper, head of the Ohio Federation of Teachers, which has clashed with Kasich on education policies. "I think [his aides] very much have been priming him to be a presidential candidate."
Weaver denies there's been a concerted effort to script Kasich. "We could say we're going to work with Governor Kasich on this or that, but he would ignore us," Weaver tells Newsweek by phone from New Hampshire. "He is who he is."
In fact, letting Kasich be Kasich is exactly how the campaign is hoping to win. The image the campaign is trying to cultivate is Kasich as a "doer as opposed to a fighter," the latter label assumed by Walker. Implicit is an emphasis on ends over means. Walker may have had the splashier labor victory in crushing Wisconsin's unions, while Kasich lost an early battle with organized labor and quickly retreated from that front, but is defeating labor an end in itself? "My view with organized labor has been...there's no reason why we can't work together," Kasich explains. "We just don't want to have economic unrest in Ohio, and we don't have it."
The campaign is also painting Kasich as a unifier, emphasizing bringing people together and rejecting some of the most divisive rhetoric of political primaries, particularly on social issues. "I'm not into the whole red meat deal," the governor explains in our Columbus interview, slouched back against a plush leather couch in a sunny, glass-enclosed reading room in the official state residence. So while he's signed legislation blocking state funding for Planned Parenthood, he's not out on the talk show circuit attacking it. Abortion is "an issue that is very difficult, and because people don't happen to agree with me on it, I'm not going to demonize them."
Gay marriage? Kasich had one of the standout moments in Thursday night's debate, in responding to a question about how he would react if one of his children were gay. While maintaining that he has a traditional view of marriage, he said, "Our court has ruled, and I said we'll accept it. And guess what? I just went to a wedding of a friend of mine who is gay."
He added, "Just because they don't think the same way doesn't mean we shouldn't love them. Look, I'm going to love my daughters. I'm going to love them no matter what they do because, you know what, God gives me unconditional love."
That response drew applause from the home state crowd, and glowing reviews from the media. It isn't playing so well with social conservatives, however, and may cause him problems in early caucuses and primaries in Iowa, South Carolina and beyond. That's a big part of the reason why Kasich is spending the vast majority of his time in New Hampshire, a state with a more libertarian approach to social issues.
Then again, real estate tycoon and current GOP front-runner Donald Trump has acknowledged giving to Democrats, and even to being a Democrat at one point. So perhaps being up front about what one believes, rather than trying to pander to one bloc of voters or another, is the recipe for success in 2016. If there's one unifying theme that can be drawn out of the cacophony of early presidential campaigning, it's that American voters are hungry for straight talk, not political talking points. The two candidates surging in the polls, self-identified socialist Senator Bernie Sanders and business tycoon Trump, are both about as unpolished as can be, raw but real.
Kasich will be walking a fine line in the coming months. Voters like directness, sure, but not when it's directed at them. That means the governor can't risk getting sharp with constituents, donors or the press, as he's done in the past. Kasich is undeniably impatient and can be patronizing, albeit unintentionally (he called this reporter, a 30-something woman, "young lady"). The grind of a presidential campaign will test his patience and that upbeat campaign demeanor regularly, more than a gubernatorial race or even a late-night budget standoff could.