A Short History of John Kasich's Clashes With Donald Trump Ahead of the Ex-GOP Governor's DNC Speech
Former Ohio Governor John Kasich is one of only a handful of Republicans who are expected to speak at this year's Democratic National Convention.
According to Fox News, former New Jersey Governor Christine Todd Whitman, Quibi CEO Meg Whitman and former New York Rep. Susan Molinari will also be speaking.
Kasich is slated to speak on Monday, the first day of the convention. All of the speeches will be delivered between 9 and 11 p.m. ET, and Kasich said on Twitter Monday morning that he expects to present his speech sometime after 10 p.m.
"I believe that America needs to go in a different direction," Kasich said on Twitter in explaining his decision to participate. "I've searched my conscience and I believe the best way forward is for change—to bring unity where there has been division. And to bring about a healing in America."
Kasich has been a strong critic of President Donald Trump for years and ran against him for the 2016 Republican presidential nomination; in fact, he was the last of Trump's challengers to drop out of the race in early May of 2016.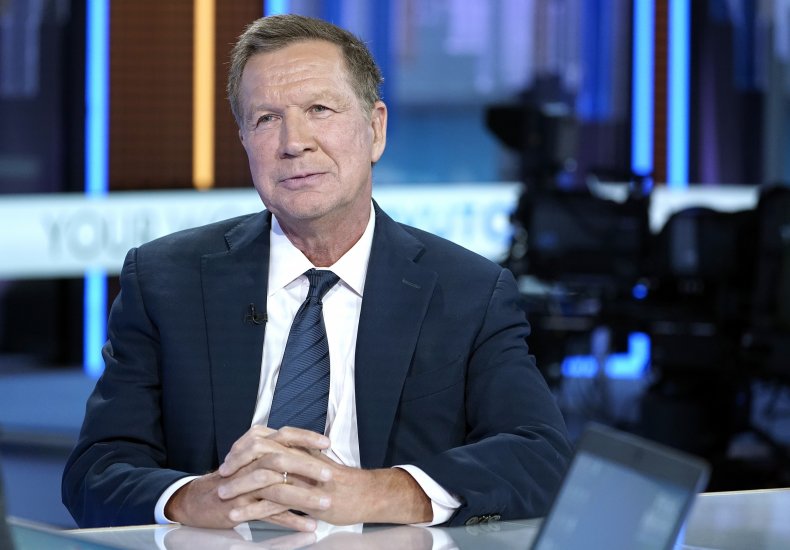 Before his eight-year run as governor between 2011 and 2019, Kasich was a member of the Ohio State Senate from 1979 to 1983 and after that represented his state's 12th District in the House of Representatives through 2000. The Ohio primary election was the only race in which Kasich defeated Trump and all of their other competitors in 2016, according to the Associated Press' election results.
Other politicians have jumped party lines in previous election seasons to participate in a rival convention, with Michael Bloomberg—who was a Republican mayor but spoke for Hillary Clinton in 2016 and ran a short but well-funded campaign for the 2020 Democratic nomination—serving as the most recent example.
Though it's hard to say how much of an impact a speech from a member of the competing party can have on the undecided voting public, it is notable that Kasich had enough voter support to win Ohio four years ago, a state that is once again shaping up to be a battleground for presumptive Democratic presidential nominee Joe Biden and Trump this November. At the start of Kasich's final year in the governor's office, he had a 52 percent approval rating among Ohioans, a number that rose to 59 percent later that year, according to polling conducted by Morning Consult.
A state polling analysis conducted by FiveThirtyEight estimates that Biden has a narrow lead over Trump in Ohio, which the president won by about eight points in 2016. The state went blue in 2008 and 2012, both elections in which Biden was on the ticket as Barack Obama's running mate.
Shortly after suspending his presidential campaign in 2016, Kasich told Fox News he was hesitant to endorse Trump because he "fundamentally" disagrees with Trump's policies. Kasich later voted for former Arizona Senator John McCain as a write-in candidate, according to Cleveland.com.
Kasich's criticism of Trump and his policies continued over the past four years and have been escalating this summer as the U.S. struggled to gain control over the coronavirus pandemic and as Black Lives Matter protesters gathered in cities across the country to demand an end to systemic racism in policing policies.
"Like many who couldn't bring themselves to vote for him, I tried to give this president a chance, with the hope he might rise to the occasion and keep us, however shakily, on the right path," Kasich wrote in an op-ed published last month by The Boston Globe. "Those hopes were quickly dashed, not only by his words, but especially by his policies, positions, and outright deceptions."
Kasich later told CNN that he expected there will be disagreements between his policy perspectives and Biden's but he preferred those disagreements to Trump winning another four years in office.
"The divisions and anger in this country must stop," Kasich said. "It's time for a change and while there will certainly be times when we disagree on issues, I believe that Joe Biden will be a unifier."
Newsweek reached out to Kasich for comment but did not receive a response in time for publication.
Correction 4:06 p.m. ET 08/17/2020: A previous version of this story inaccurately reported that Kasich is the only Republican speaking at the DNC today. Four Republicans are speaking in support of Biden on the opening night of the convention. Newsweek regrets the error.