Cheney, Katko Become First Republicans to Say They'll Vote Yes on Impeaching Trump
New York Republican Representative John Katko said Tuesday he would support the impeachment of President Donald Trump in the aftermath of Wednesday's riot at the U.S. Capitol building which left 5 people dead. Katko is the first Republican member of the House to publicly endorse Trump's impeachment.
Trump has been accused of inciting the riot which occurred as Congress was certifying the Electoral College win of President-elect Joe Biden. During remarks at a Stop the Steal rally in Washington, D.C., Trump encouraged a group of thousands of his supporters to march on the Capitol.
Members of Congress were forced to seek refuge as rioters, some armed, breached the Capitol building. Calls for Trump's removal from office have grown in number since the riot, although Trump said Tuesday that he was not responsible for the violence that occurred.
"To allow the president of the United States to incite this attack without consequence is a direct threat to the future of our democracy," Katko said in a Tuesday statement. "For that reason, I cannot sit by without taking action. I will vote to impeach this president."
Katko added that Trump "created a combustible environment of misinformation, disenfranchisement, and division" among his supporters by repeating baseless claims of widespread election fraud.
Newsweek reached out to Katko's office for further comment.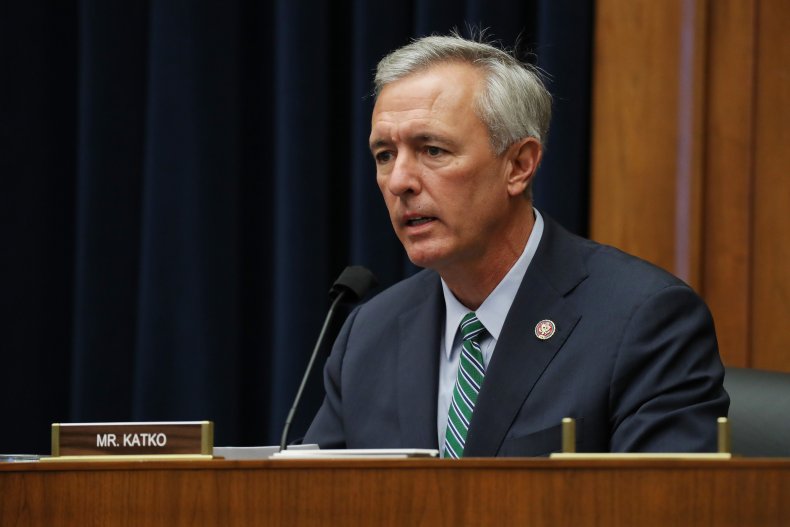 Other House Republicans have indicated that they would support impeaching Trump, including Illinois Representative Adam Kinzinger, who has been a harsh critic of Trump. According to the Associated Press, Wyoming Representative Liz Cheney has described the impeachment vote as non-political while encouraging lawmakers to "vote your conscience." However, in a Tuesday statement, Cheney stated she would vote in favor impeaching Trump.
"The President of the United States summoned this mob, assembled the mob, and lit the flame of this attack," Cheney wrote. "Everything that followed was his doing. None of this would have happened without the President. The President could have stopped immediately and forcefully intervened to stop the violence. He did not. There has never been a greater betrayal by a President of the United States of his office and his oath to the Constitution."
"I will vote to impeach the President," Cheney added.
Talking to reporters on Tuesday, Trump said that the potential impeachment was "causing tremendous anger," Trump added, "and you're doing it, and it's really a terrible thing that they're doing."
Trump also denied any claims that his remarks at the Wednesday rally encouraged the riot, telling reporters that "people thought that what I said was totally appropriate."
Articles of impeachment against Trump were introduced in the House on Monday, alleging that Trump "engaged in high Crimes and Misdemeanors by inciting violence against the Government of the United States." House members are expected to vote on the impeachment resolution on Wednesday.
The House is also expected to vote Tuesday on a measure calling on Vice President Mike Pence to invoke the 25th Amendment against Trump. Under the 25th Amendment of the Constitution, Pence could replace Trump as president for the remaining days of Trump's term by declaring him unfit for office. However, Trump has the leeway to refute that claim, which would cause Congress to make a final decision on that issue.
Updated 5:50 p.m. EST 01/12/2021: This story has been updated to include a statement from Wyoming Republican Representative Liz Cheney, indicating that she would vote for Trump's impeachment.