John Kelly Has A Plan To Stop Trump From Dining at Mar-a-Lago, Sources Say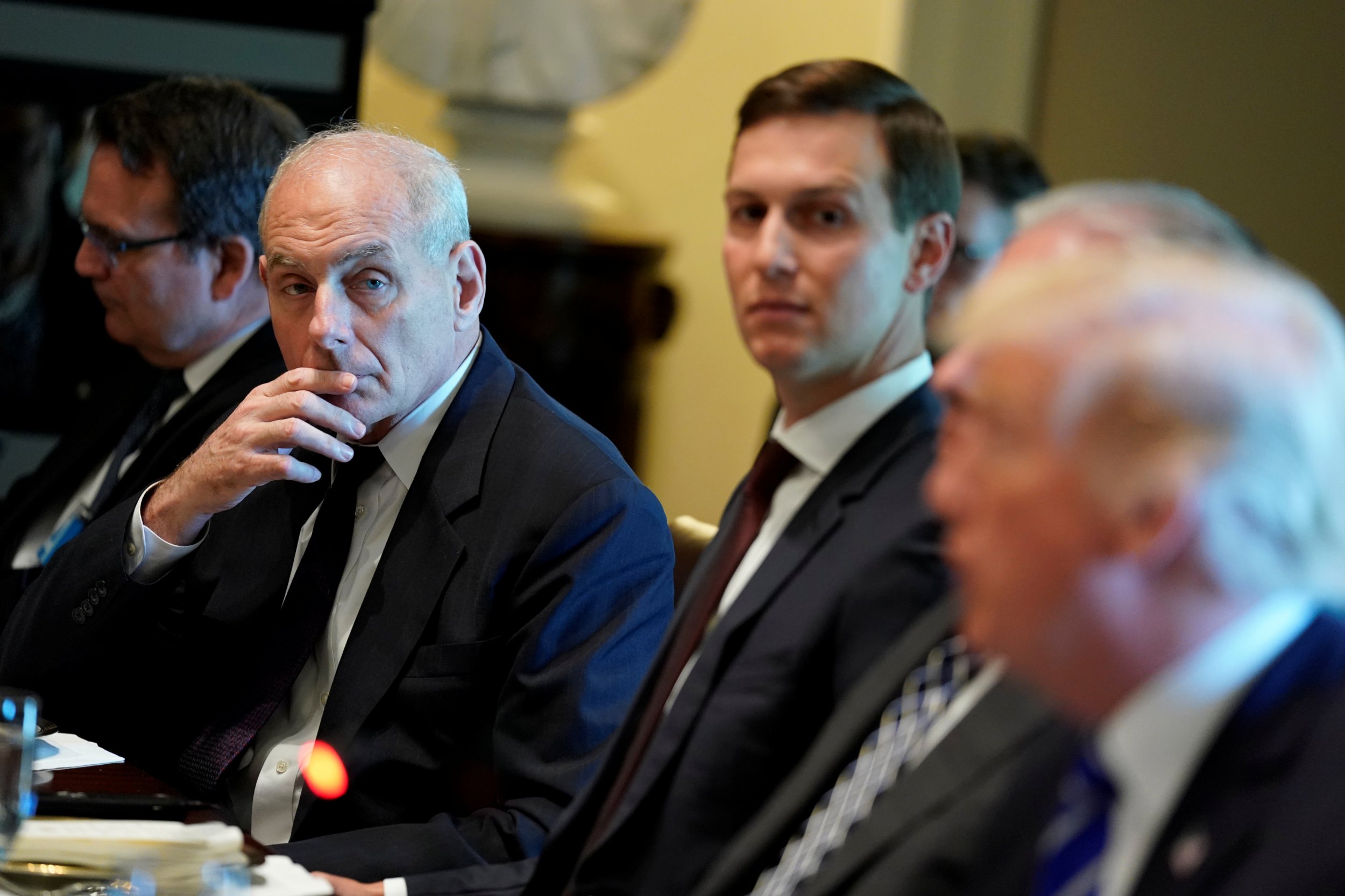 White House Chief of staff John Kelly really wants President Donald Trump to stop dining at Mar-a-Lago because of his loose lips.
As Kelly juggles to revive Trump's tax plan, prevent the Iran nuclear deal from falling apart and avoid war with North Korea, he has developed a plan to keep Trump "out of the dining room, "where the president solicits outside advice from friends and family," Vanity Fair reports.
It is unclear what the plan is, but it apparently calls for the president to stop discussing private security matters outside of the White House and in public.
A White House spokesperson told Newsweek there is no truth to the article and that the President will still continue to host word leaders at the private resort, but Trump has openly discussed national security issues at Mar-a-Lago. In February, Trump and Japanese Prime Minister Shinzo Abe were dining when they got word of a missle test by North Korea. They discussed their response in the dining room in full view of Trump's members.
Hanging out with world leaders is one thing, but the president also makes a habit of glad-handing his luxury guests, all of whom are eager to get into or remain in his rarefied circle — outside of Kelly's control.
Four prominent Republican sources close to the White House told the magazine that Trump has grown frustrated with Kelly. Most recently, Kelly's decision last month to reassign Trump's nationalist trade adviser, Peter Navarro, to report to National Economic Council and chief economic adviser Gary Cohn without clearing it with the president first has caused even more tension between the two.
The sources stated that Trump first learned of the news when Navarro disclosed to the president that he was reassigned to work for Cohn when they crossed paths with one another in the West Wing.
The relationship between Kelly and Trump has only become worse, as the two have grown more frustrated with one another because of the recent reassignment. Sources state that the two have "been fighting a lot."
On Saturday, Trump told reporters that Kelly will "be here, in my opinion, for the entire seven remaining years."
The two have always had a rift in their relationship. In September, after the departure of Trump's long time bodyguard and aide, Keith Schiller, Schiller speculated that Kelly "doesn't like" Trump and is only continuing as Chief of Staff out of duty to the country.
It's not the first time since Kelly took over from Reince Priebus in late July that the Kelly-Trump relationship has been under scrutiny.
Trump supporters outside of the White House called Kelly a "nanny" after Kelly faced a lot of criticism in September for having way too much control over the President. Many compared him to having a "Svengali" control over Trump.
"He seems to think he is a political Svengali. He's there to bring structure and make it an adult White House," Sam Nunberg, former Trump campaign official, told The Hill. "Donald Trump wasn't necessarily elected to have Pentagon folks running the West Wing along with Democrats."
When former FBI Director James Comey was fired by Trump in May, there were reports that Kelly was going to resign because he was upset over the dismissal.
The Mar-a-Lago social season begins right after Thanksgiving.