John Kelly Won't Resign Over Handling of Rob Porter Domestic Abuse Allegations, Despite Conceding White House Faults
After knowingly keeping an alleged domestic abuser on the payroll for months, White House chief of staff John Kelly has conceded that the administration should have dealt with the matter differently.
"We didn't cover ourselves in glory in how we handled that," Kelly told reporters on Friday, when asked about former White House staff secretary Rob Porter.
Kelly, however, doesn't believe he bears much fault in the matter: He maintains that he'd only heard of the emotional abuse allegations against Porter, and hadn't known that Porter was accused of physical abuse until the media broke the story. But FBI Director Chris Wray has testified that the agency delivered a partial version of its background investigation into Porter to the White House in March 2017 and its full report three months later. In the months that followed, it became increasingly clear that the domestic abuse allegations against Porter were stalling his security clearance.
On Friday, Kelly did for the first time concede that the timeline provided by Wray had been accurate.
Kelly—who was brought into the White House to impose order and prevent exactly this kind of scandal—hasn't been able to escape scrutiny for what appears to be his decision to keep Porter employed even after photos emerged of Porter's first ex-wife Colbie Holderness with a black eye. In private, Kelly reportedly told Porter that he should "stay and fight" for his job.
Now, amid speculation that Kelly could be the next to depart the White House, the chief of staff is taking his own advise, telling reporters that he plans, more or less, to "stay and fight" for his job, too.
"I have absolutely nothing to even consider resigning over," Kelly said Friday.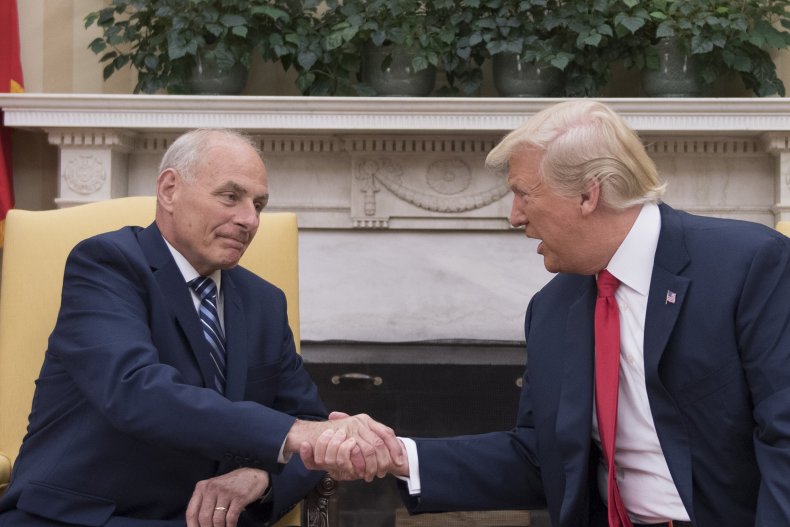 Kelly wasn't the only member of the Trump administration whose actions led to accusations of valuing Porter's contributions to the White House more highly than the wellbeing of his ex-wives.
President Donald Trump suggested where his priorities rested when he lamented that "people's lives are being shattered and destroyed by a mere allegation" in the days following news of Porter's alleged domestic abuse.
"There is no recovery for someone falsely accused—life and career are gone," the president wrote. "Is there no such thing any longer as Due Process?"
The women of the White House bolstered the president's message, with press secretary Sarah Huckabee Sanders emphasizing Trump's belief in "due process," and counselor Kellyanne Conway suggesting that Porter's girlfriend, former White House communications director Hope Hicks, was strong and smart enough to avoid domestic abuse.