With an Eye on Congress, Kerry Says There Is No Better Iran Deal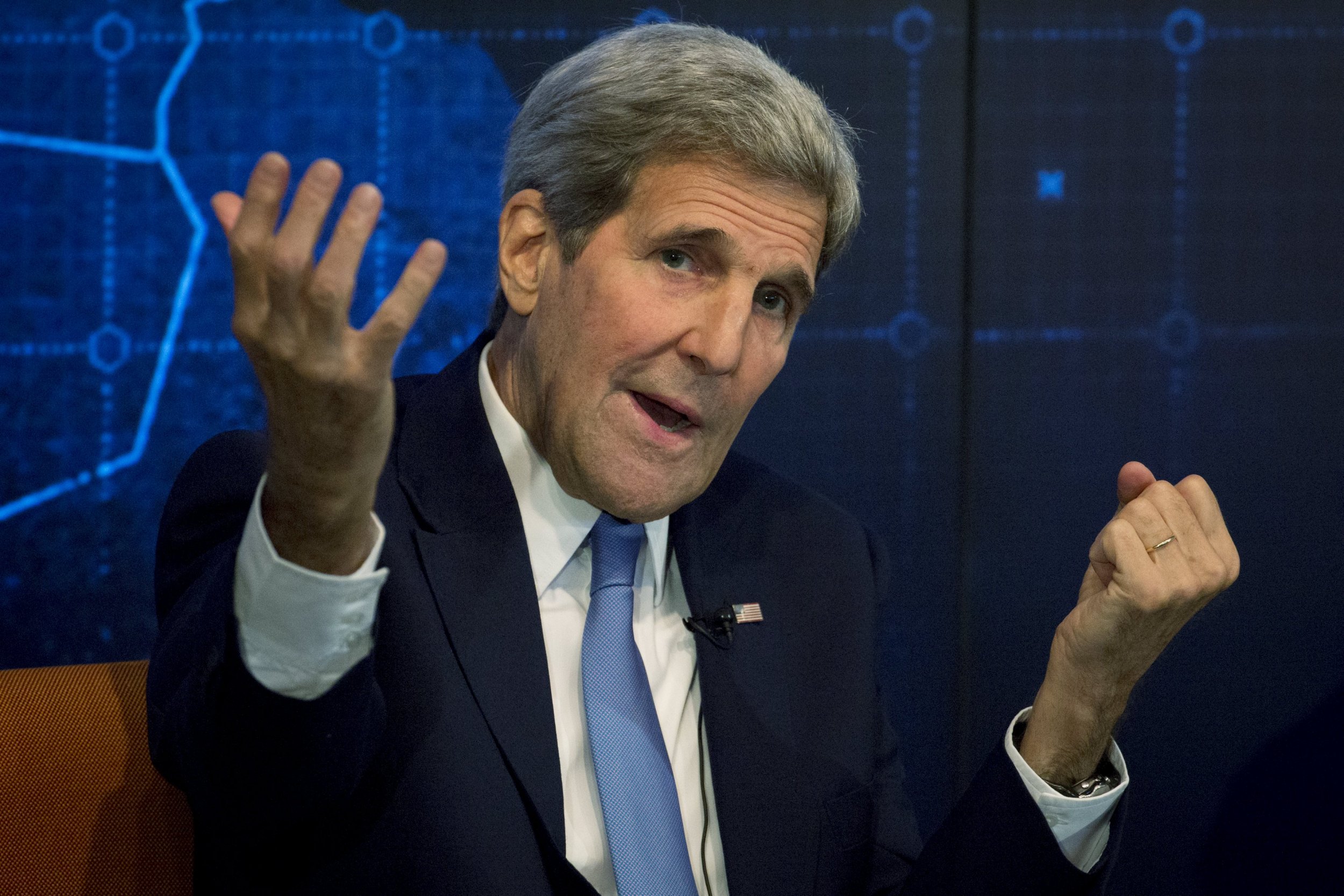 U.S. Secretary of State John Kerry continued his to defend the Iran nuclear accord on Tuesday, saying that the July agreement between Washington and Tehran was the best one possible.
"When I hear a senator or a congressman stand up and say, 'Well, we should get a better deal,' that is not going to happen. There isn't a 'better deal' to be gotten," said Kerry, speaking at the headquarters of the Thomson Reuters wire service in New York's Times Square on Tuesday.
"You can't just sit there and say, 'I say no, let's not do this deal, we'll just go get a better one' and not take into account the history of the road that has been traveled."
Kerry added that if Congress strikes down the agreement, the dollar would suffer. "If we turn around and nix the deal and then tell them, you're going to have to obey our rules and sanctions anyway, that is a recipe, very quickly…for the American dollar to cease to be the reserve currency of the world," he said.
After years of negotiations and discussions, Iran and the "P+5" countries (U.S., U.K., Germany, France, China and Russia) reached a deal over Iran's nuclear ambitions in July. In exchange for easing Western economic sanctions, Iran has agreed to reduce its number of installed centrifuges and wait 15 years before building new uranium-enrichment facilities.
As Congress debates the agreement, Kerry and U.S. President Barack Obama have made a public relations push in recent weeks, appearing on The Daily Show with Jon Stewart and a number of Sunday morning news programs to convince the American public that the deal needs to pass. The deadline for Congress to decide on the accord is September 17.
Critics, including Israeli Prime Minister Benjamin Netanyahu, say the deal is a mistake unless it leaves Iran with no enrichment, something former President George W. Bush unsuccessfully attempted twice, in 2003 and 2008. They worry that after 15 years, Iran will once again be allowed to pursue its nuclear ambitions.
Last week, Sen. Chuck Schumer became the first Democratic lawmaker to oppose the deal. "To me, the very real risk that Iran will not moderate and will, instead, use the agreement to pursue its nefarious goals is too great," he said in a statement posted on Medium.
On Monday, Kerry said that between 2000 and 2015, Iran rapidly expanded its nuclear program, adding that a no vote on the deal by Congress "takes 20 or 15 years from now and makes it tomorrow" without any sanctions, inspections, requirements by Iran to do anything they don't want to do.
"I believe that Iran has made it clear they've signed up to an agreement where they're not allowed to ever have a nuclear weapon, where they are not allowed to ever engage in weaponization, where they are not allowed to work toward it, even, and where they have ceded to an inspection regime that allows us to know what they are doing all the time," he said.
If Congress passes the agreement, Iran's economy will soon benefit from around $150 billion in unfrozen assets, sparking fears that some of that money could be put toward funding regional proxies such as Hezbollah in Lebanon, the Houthis in Yemen and the regime of Syrian President Bashar Assad.
But as Kerry explained on Monday, just because the nuclear deal doesn't include these other regional issues, doesn't mean the two sides won't talk about them at a later date. Iran, he said, first wanted a nuclear deal before agreeing to discuss regional issues like the Syrian Civil War, increased fighting in Yemen and Iran's record of human rights abuses. "I believe that's an opportunity and not a closing," he said.
Kerry also acknowledged that the nuclear deal will not signal an automatic change in Iran's domestic or foreign policy, although he hopes the deal will lead to a "constructive period of engagement for the region" that will make it easier to fight ISIS and restore Syria to a "secular, pluralistic, unified country."
"I'm not going to tell you that Iran's definitely going to change. I'm not going to sit here and tell you we're betting on it because we're not," he said. "There's nothing in this agreement is based on trust or on an expectation of change of behavior. It is based on verification and the knowledge that we have the ability to enforce this [nuclear] regime."