John Kerry Says Donald Trump Has the 'Insecurity of a Teenage Girl'
Former Secretary of State John Kerry offered a stunning rebuke of Donald Trump on Friday night, saying that the president has the "insecurity of a teenage girl."
"I don't want to get into a real riff on this, but I've got to tell you, he really is the rare combination of an eight-year-old boy — he's got the maturity of an eight-year-old boy with the insecurity of a teenage girl. That's just who he is," Kerry said during a guest appearance on Bill Maher's HBO show Real Time.
Kerry's comment comes after Trump attacked him for meeting with Iranian government officials after leaving office. Trump tweeted on Thursday: "John Kerry had illegal meetings with the very hostile Iranian Regime, which can only serve to undercut our great work to the detriment of the American people. He told them to wait out the Trump Administration! Was he registered under the Foreign Agents Registration Act? BAD!"
"What did you do John Kerry that was bad?" Maher asked the former secretary of state.
"I think I told the truth," Kerry replied, stirring a large applause from the audience.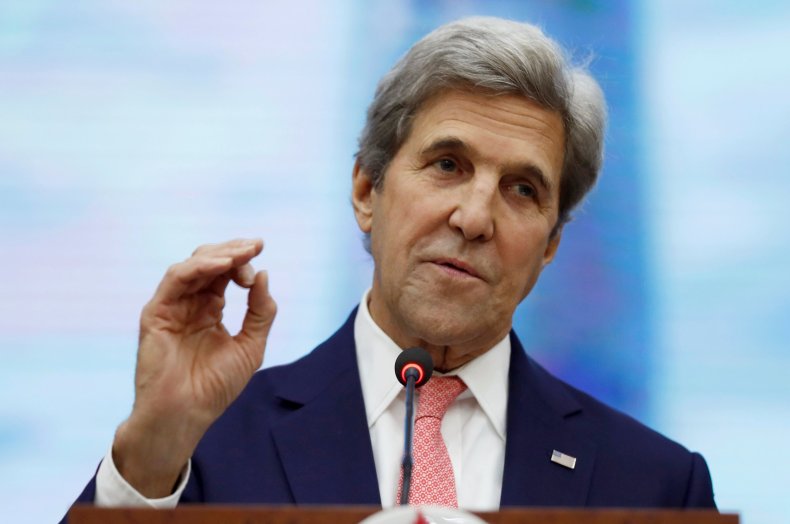 "He's the first president that I know of who spends more time reading his Twitter 'likes' than his briefing books and the Constitution of the United States," Kerry added.
Kerry defended his meetings with Iranian government officials, saying that many former foreign policy leaders continue their overseas relationships after leaving the White House. Kerry offered Henry Kissinger, the secretary of state under the Richard Nixon and Gerald Ford administrations, as an example and added that there's "nothing unusual about it."
Kerry encouraged Trump to spend more time "worrying about" the conversation happening between Paul Manafort and Robert Mueller. Manafort, Trump's former campaign chairman, is one of the first people to be brought to trial as a result of the Mueller special counsel investigation. On Friday, Manafort pleaded guilty to conspiring to defraud the United States and conspiring to obstruct justice.
"It really is giant, and soon you will be hearing [Trump] say 'that's the worst deal that's ever been made.' But when you stop and think about it, it has gone from The Art of the Deal to The Art of the Squeal," Kerry said.
Kerry, the former secretary of state under President Barack Obama and 2004 presidential candidate joined Maher to discuss his new memoir, Every Day Is Extra.
John Kerry Says Donald Trump Has the 'Insecurity of a Teenage Girl' | U.S.