John Kerry Hates Chores (and More From 'Take Your Child to Work' Day)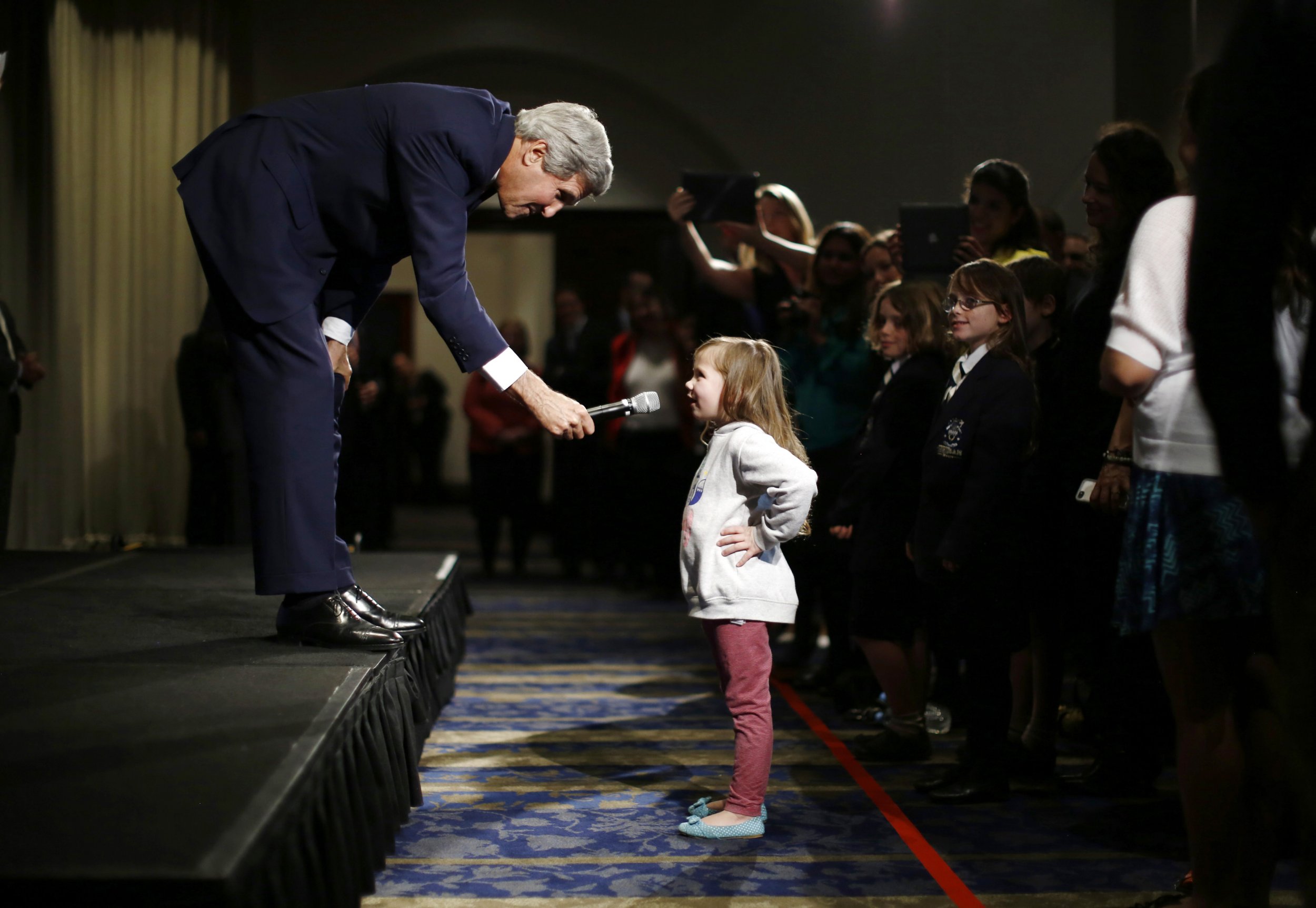 Little feet pitter-pattered into the Dean Acheson Auditorium in Washington on Thursday as part of "Take Your Child to Work" day: Employees of the Department of State and their offspring had come to ask Secretary of State John Kerry some questions.
Kerry started the ceremony by grappling with an over-excited 2-year-old: "He's very hungry. Ben, sit. Ben. Ben, down. He's getting a treat. He's named after Ben Franklin. Put him on his leash. He's frisky. He was 2 years old yesterday; it was his birthday. And he came in yesterday and he's gotten very excited about it, anyway. Now he's going to calm down, I hope," Kerry said, referring to his puppy.
One of the youngsters asked Kerry when he has time to relax, to the laughter of the crowd. "Best time there is family time. So that's what I like to do to relax," he replied.
Others were a bit confused as to what Kerry was doing there at all. "What do you do as your job?" a child asked.
"I come to big auditoriums and talk to kids between age 6–[laughter] no," Kerry said. "My job as secretary of state is to work with all of your parents in all of the different divisions and bureaus that we have in the State Department. We have about 70,000 people who work in the State Department."
Another child asked if this was his first time in the job and he admitted that it was, because one only gets a single run at being secretary of state.
Kerry also mentioned that as part of his fancy job, he got to go to the White House and meet the New England Patriots, who were welcomed Thursday to mark their Super Bowl win.
One child wanted to know more about the secretary's fashion choices: "Why do you have to wear suits to work?" Kerry admitted that, well, it would be nicer not to, but he ought to anyhow: "You dress up a little bit to be respectful of the people that you're meeting with, and that's really the reason why, because there's not a lot of logic otherwise."
Kerry also divulged that he does not care for chores: "I've never met anyone who likes to do chores. Because chores implies that you kind of have to do something because you have to do it, right?"
It also came out that back in the day, he was quite a lacrosse player. Today, he prefers water sports.
The most important question of the day: "When did you get your dog?" Two years ago. "He's a good pal," Kerry said.