John Kerry Makes Plea For Climate Deal in Lima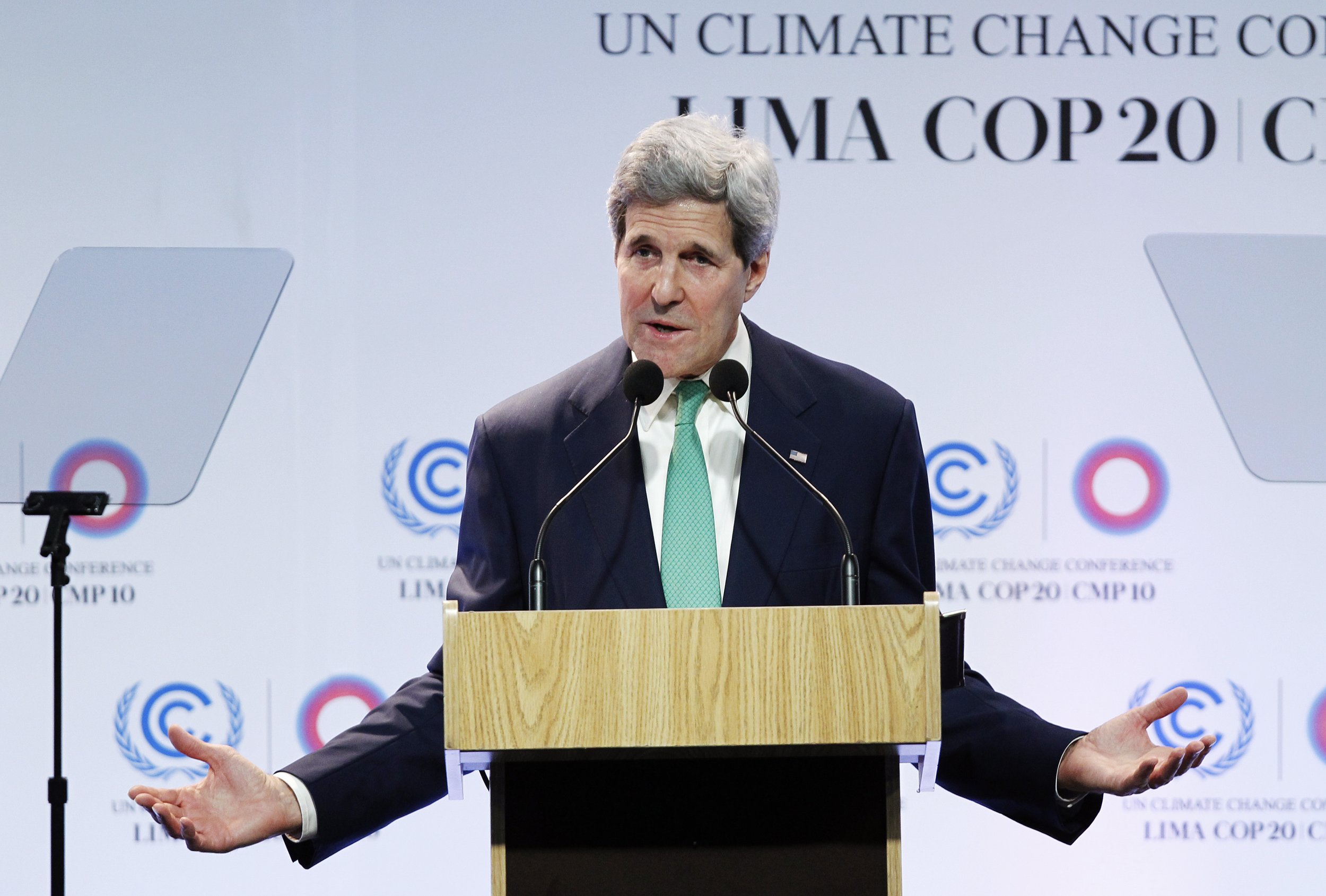 LIMA (Reuters) - U.S. Secretary of State John Kerry made an impassioned plea on Thursday for all nations to work for an ambitious U.N. deal next year to fight climate change, saying time was running out to reverse a course "leading to tragedy".
He also took aim at domestic U.S. critics of President Barack Obama who question whether climate change is mainly man-made. Kerry said scientific findings were overwhelming and "screaming at us, warning us".
"Every nation, every nation has a responsibility to do its part," he said in a speech at United Nations talks in Lima that are trying to sketch out elements of a draft 190-nation deal due in Paris in late 2015 to curb rising greenhouse gas emissions.
Kerry said the Obama administration ranked the fight against climate change as a top priority along with terrorism, poverty and nuclear proliferation.
"If you are a big developed nation and you are not helping to lead, you are a part of the problem," he said.
"More than half of global emissions are coming from developing nations. It is imperative that they act too," he said, without naming countries.
China, the United States, the European Union and India are the top emitters.
Even after two decades of talks about global warming, "We are still on a course leading to tragedy," he told delegates including U.N. climate chief Christiana Figueres and Peru's Environment Minister Manuel Pulgar-Vidal.
Many poor nations and environmental groups say Washington has done too little, despite pledges of tougher action in a deal with China last month. Critics note that in 2012, U.S. emissions were 4.3 percent above levels in 1990, the U.N. benchmark year for cuts.
"The world is tired of hearing rhetorical, empty boasting about U.S. leadership while the glaciers melt, fires rage and people lose their lives to climate change," said Karen Orenstein of Friends of the Earth.
Others hailed Kerry's personal commitment. Yvo de Boer, a former U.N. climate chief and now head of the Global Green Growth Institute that aids developing nations, told Reuters Kerry was "the first U.S. Secretary of State who has taken any serious interest" in climate change.
Kerry said a deal in Paris next year would not be a silver bullet to end rising temperatures, heat waves, floods, droughts and rising sea levels. But he said it could put the world on the right track.
"The window is closing quickly," he said.
Kerry said a shift to renewable energy sources would still result in improved health and energy security around the world, even if scientific findings that greenhouse gases cause climate change were wrong and skeptics were right.
"But what happens if the climate skeptics are wrong? Catastrophe," he said.
The Lima talks are due to end on Friday, but delegates expect them to last into Saturday due to deep rifts.
For example, China insisted that national climate plans to be submitted early next year as building blocks for the Paris accord should not be subject to review by other nations. This step was urged by many others including the European Union.