John Kerry Says Biden Admin Not Delivering on Climate Change 'Hurts' Negotiations Abroad
John Kerry said his work abroad has been hampered by the Biden administration's problems delivering on climate change promises in the United States.
Kerry, the former secretary of state and now President Joe Biden's special envoy for climate, told the Associated Press that negotiations at an upcoming United Nations summit in Glasgow, Scotland may fall short of the global target for cutting fossil fuel emissions.
As part of the 2015 Paris agreement, countries committed to curbing the increase in average global temperature to 1.5 degrees Celsius.
"It would be wonderful if everybody came and everybody hit the 1.5 degrees mark now," Kerry said. "That would be terrific. But some countries just don't have the energy mix yet that allows them to do that."
Kerry also said leaders "have to be honest about the gap" between the energy cuts nations promised and what is needed to limit warming to below 2 degrees Celsius.
When asked by the Associated Press if Biden administration's not delivering on climate policies affects his talks with foreign leaders, Kerry replied, "Well, it hurts."
"I'm not going to pretend it's the best way to send the best message," Kerry continued. "I mean, we need to do these things."
White House press secretary Jen Psaki was asked Thursday if Biden can be a "credible messenger" on the international stage without a clear path for his climate agenda.
"Absolutely," Psaki said, adding Biden is prioritizing the issue and investment in climate through executive action and pushing for legislation.
"The world watches closely, of course, they know that we're working through our legislative agenda, that we're trying to get these things across the finish line and I think that indicates the president's clear commitment and will enable him to have a strong seat at the table, regain the United States' seat at the table," she added.
Biden has set a 2030 target to cut U.S. emissions by half, compared to 2005 levels. But major legislation to tackle the climate crisis has stalled in Congress, where Democrats have a narrow majority in the House and Senate.
Biden's sweeping $3.5 trillion Build Back Better agenda—which includes landmark measures to transform the electricity sector to run on clean energy and to slash pollution by up to 45 percent— has hit a roadblock as lawmakers debate the contents and price tag of the reconciliation package.
Democrats are now aiming for a bill in the $2 trillion range, which means significant proposals will need to be cut.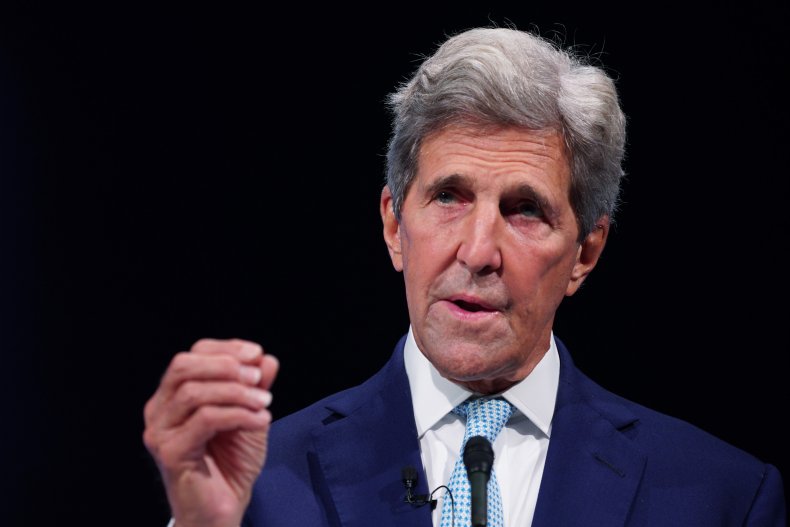 Lawmakers have also yet to pass a bipartisan infrastructure bill that would rebuild the electrical grid with a focus on clean, renewable energy. The legislation also includes billions of dollars for climate change protections.
Senate Majority Leader Chuck Schumer said he hopes Democrats will pass both the reconciliation package and the infrastructure bill by the end of October.
Kerry likened congressional inaction on climate change to the consequences of former President Donald Trump pulling out of the Paris climate accord. But he said he was optimistic lawmakers will find a way to address the issue.
"I don't know what shape it'll take...or which piece of legislation, it'll be in, but I believe we're going to act responsibly," Kerry said.
Newsweek reached out to the White House for comment on Kerry's response but didn't receive a response before publication.
Update (10/14/2021, 4:45 p.m. ET): This story has been updated to include a comment from White House press secretary Jen Psaki from Thursday's press briefing on Kerry's remarks.