John Kerry Says Harrowing U.N. Climate Report Underscores 'Overwhelming Urgency' for Action
U.S. special climate envoy John Kerry said Monday that a new United Nations report detailing the severity and timeline of global warming underscores an "overwhelming urgency" for action.
The report, which was released by the Intergovernmental Panel on Climate Change (IPCC), found that the Earth will likely cross a crucial temperature threshold of 1.5 degrees Celsius (2.7 degrees Fahrenheit) by as soon as 2030, or a decade sooner than previously thought.
Scientists warn that at the current speed of human-related warming, extreme weather events such as heat waves, storms, wildfires and floods will become increasingly more common, making the world a more volatile and dangerous place to live.
"The IPCC report underscores the overwhelming urgency of this moment. The world must come together before the ability to limit global warming to 1.5 degrees Celsius is out of reach," Kerry said in response to the report on Monday.
"As the IPCC makes plain, the impacts of the climate crisis, from extreme heat to wildfires to intense rainfall and flooding, will only continue to intensify unless we choose another course for ourselves and generations to come," he added.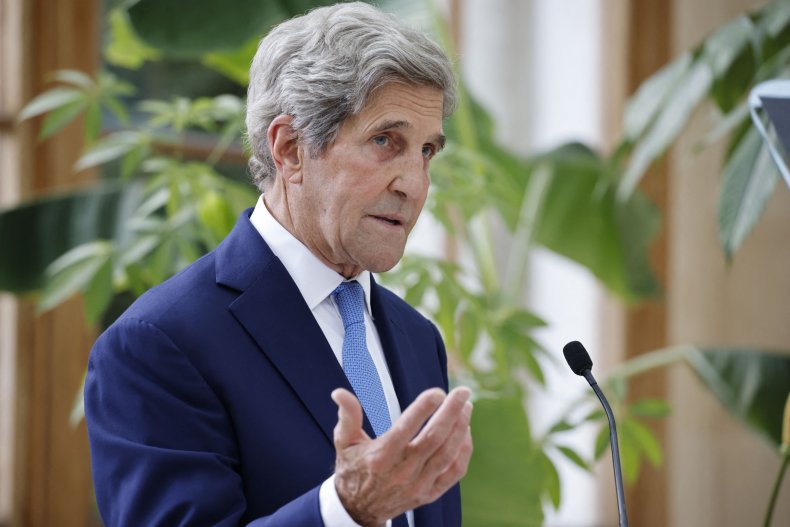 According to the report, atmospheric CO2 concentrations were higher in 2019 than at any time in 2 million years, and the past five decades saw the fastest temperature increases in at least 2,000 years. At the current rate of greenhouse gas emissions, a warming future is "locked in," and some aspects of climate change will be "irreversible" for centuries, the assessment added.
The report found that only by cutting greenhouse gas emissions to net zero and eventually "net negative" values—in other words, by sucking more carbon dioxide out of the atmosphere than is added—can the Earth avoid exceeding the 1.5-degree threshold in the long term. Avoiding that temperature increase by 2100 is one of the key elements of the 2015 Paris climate accord, which almost all countries around the world have signed.
U.S. Secretary of State Andrew Blinken responded Monday to the report by saying it is "essential" that all countries do their part to reduce emissions in the next 10 years, while noting that the current administration has committed to a 50 to 52 percent reduction in emissions from 2005 levels in 2030.
"It is essential that all countries—in particular the major economies—do their part during this critical decade of the 2020s to put the world on a trajectory to keep a 1.5 degrees Celsius limit on warming within reach," Blinken said. "We cannot delay ambitious climate action any longer."
International climate activists, including Greta Thunberg, responded to the report Monday.
"The new IPCC report contains no real surprises. It confirms what we already know from thousands of previous studies and reports—that we are in an emergency. It's a solid (but cautious) summary of the current best available science," Thunberg tweeted.
The peer-reviewed report was produced by 234 authors from 66 countries, who examined more than 14,000 climate-related studies.
Newsweek contacted the White House for additional comment but did not hear back in time for publication.