John Kerry Says Trump Is 'Completely Intimidated' by Vladimir Putin
Former U.S. Secretary of State John Kerry has accused President Donald Trump of being "frightened" by his Russian counterpart, Vladimir Putin.
On MSNBC, host Lawrence O'Donnell asked Kerry about Trump's approach to Russia on issues such as the poisoning of Russian opposition figure Alexei Navalny as well as tensions between U.S. and Russia troops in Syria.
Reiterating a theme he took during the Democratic National Convention (DNC), Kerry took aim at the president's foreign policy credentials, in particular with the Kremlin, as he pointedly referred to how Trump did not raise with Putin claims that Russia had paid bounties to Taliban militants to target U.S. soldiers in Afghanistan.
The quote
"We have a president who for whatever reasons is completely intimidated, or held in the spell of, or frightened by President Putin," Kerry told MSNBC.
"In those realities... we have a president who is not protecting our troops, not protecting the interests of the United States of America, not upholding the Constitution in his duty to our nation."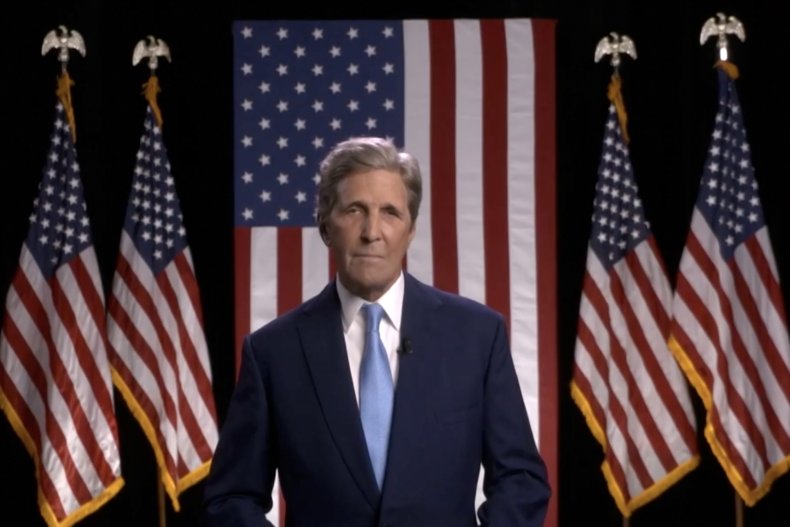 Why it matters
The Novichok poisoning of Navalny is just the latest Russian challenge in the president's in-tray. The critic of Putin is lying in a hospital in Berlin amid international accusations of Russian state involvement, which the Kremlin denies. Further U.S. sanctions on Moscow have been mooted after Republican and Democratic leaders of the House foreign affairs committee called on the Trump administration to investigate.
However, while Trump described the case as "tragic" he said that, "we haven't had any proof yet," in a comment interpreted by some as soft-pedaling on Moscow.
It comes soon after Trump faced criticism for not raising claims that bounties had been offered to the Taliban against American troops in Afghanistan in 2019, which has also been denied by the Kremlin.
From Russian interference in the 2016 election to the Navalny issue, Trump has been dogged by claims that he is in thrall to the Russian leader.
Although foreign policy is not typically a vote winner in a U.S. election which will be fought on the recession and the coronavirus, the Democrats will continue to try to cast doubt on the campaign trail over whether Trump can stand up to Putin.
The counterpoint
Trump has defended his administration's stance against Moscow and has said that he would "not be happy at all" if the Kremlin were found to be behind the Navalny poisoning.
Back in June, the White House was also strong in its denial that Trump had been briefed on the "alleged Russian bounty intelligence," with spokeswoman Kayleigh McEnany saying there had been "no consensus within the intelligence community" about the claims.
She said Trump "does read and also consumes intelligence verbally", adding that "this president I'll tell you is the most informed person on planet earth when it comes to the threats that we face."
Last Friday, Trump referred to the decision in 2017 to provide anti-tank weapons to Ukraine to fight off Putin-backed separatists. Trump said: "I've been tougher on Russia than anybody else, by far.
"If you look at the Obama administration, they were weak. Look at the land they gave up.... Look at what happened with respect to Ukraine and I don't think they would have done that with me. I don't think they would have done that with me at all."
Meanwhile expert on U.S.-Russia relations and professor of international relations at Hamilton College, in Clinton, New York, Alan Cafruny, told Newsweek: "Trump did say he had been tougher on Putin than Obama had been. There is something in that. If you look at the sanctions imposed on Russia they are quite draconian.
"Many of the sanctions originate in Congress, but it is greatly overstated that Putin and Russia want Trump to be re-elected, maybe they do, but I think they are more realistic about American foreign policy than American commentators," he added.
Newsweek has contacted the White House for comment.