John Kerry Says Trump 'Wouldn't Qualify for Security Clearance' If He Wasn't President
During a Monday presidential campaign event for former Vice President Joe Biden, former Secretary of State John Kerry told a crowd in Marshalltown, Iowa that if Donald Trump were not president, "he wouldn't qualify for a security clearance," according to a tweet from New York magazine reporter Olivia Nuzzi.
"John Kerry on Donald Trump: 'if he wasn't president of the United States, he wouldn't qualify for a security clearance.'"
Newsweek reached out to Kerry for comment but did not receive a response in time for publication.
Kerry has been on the campaign trail for Biden in Iowa ahead of the upcoming caucus in February.
"There's only one person here who's ready and capable of throwing these rascals out of the White House and winning back the future of the country, and that's Joe Biden," Kerry said at an event in Davenport, Iowa Saturday afternoon, according to the Quad-City Times.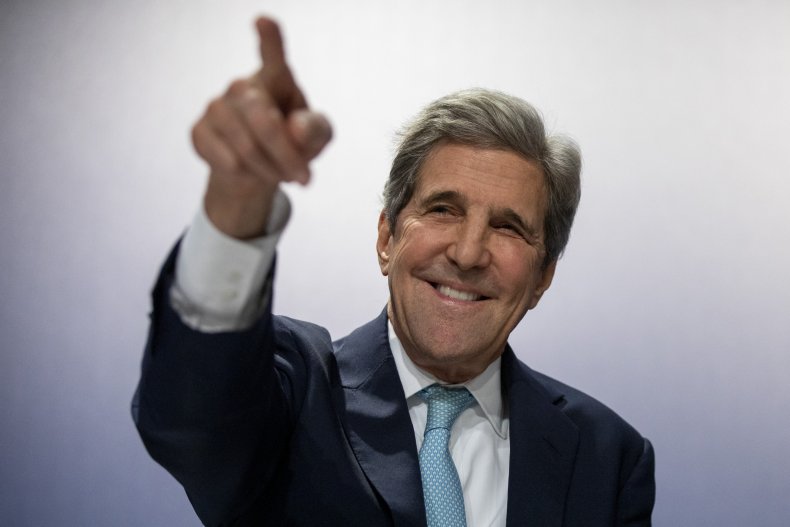 Kerry has had his own issues with Trump, specifically over the president's withdrawal from the nuclear deal with Iran.
"Everything that happened in the last week was predictable, foreseeable and foreseen," Kerry told those in attendance at the Davenport event. "There were no missiles being fired at ships in the Gulf before [Trump] walked away [from the nuclear agreement]. There were no people attacking our embassy before he walked away. We weren't asked to leave Iraq before he walked away. We were there welcome to fight ISIS."
During the Obama administration, Kerry helped craft the Iran nuclear deal. As part of that agreement, Iran received a cash payment of $150 billion dollars which President Trump has stated came directly from American coffers. However, that money belonged to Iran and had been frozen because of sanctions against the country. The nuclear deal with Iran allowed that cash to become unfrozen, once again giving them access to it.
Kerry has been critical of Trump's claims that Iran used that money to fund its proxy wars and recent military action against U.S. forces in Iraq. This Sunday on Face the Nation, Kerry told host Margaret Brennan, "We have to stop dealing with questions on Donald Trump's lies and start dealing with the reality of what's going on."
Kerry went on to explain that a majority of the funds went to bolster Iran's economy. "The IRGC [Islamic Revolutionary Guard Corps] has never had a problem getting money," Kerry said. "Donald Trump keeps saying they got $150 billion dollars. A lie."
"The vast proportion of that money went to the economy of Iran and they're always going to be funding the IRGC," Kerry added. "There was no question about that."
Trump tweeted about Kerry's remarks Sunday morning, saying that Kerry "got caught essentially admitting that funds given ridiculously to Iran were used to fund attacks on the USA. Only a complete fool would have given that 150 Billion Dollars Plus to Iran. Then they went on a Middle East Rampage!"