John Kerry Says U.S., China Could Go to Zero Emissions and Still Not Solve Climate Crisis
John Kerry, President Joe Biden's special envoy for climate, said Wednesday that one of the only ways to curb the climate crisis is an all-hands-on-deck global response when it comes to lowering emissions.
"The United States could go to zero tomorrow—I mean we can't but if you're figuratively speaking could go to zero—we'd still have a problem. The world would still have a problem," Kerry told Washington Post columnist Jonathan Capehart.
He continued, "If China went to zero tomorrow with the United States, we'd still have a problem. So every country has to come to the table. This is the single biggest multilateral, global negotiation that the world has ever needed."
Kerry added that "the stakes could not be higher" but said "we're not behaving internationally like it is in fact an existential challenge."
"We even have deniers still in the United States," Kerry said. "We're the one nation that has a lot of deniers and a lot of money has been spent in our country to create that doubt and the possibility of denial."
This week, Biden will assemble 40 world leaders for a virtual climate change summit. Among those who are expected to be in attendance are Russian President Vladimir Putin, China's President Xi Jinping, Brazil's Jair Bolsonaro, British Prime Minister Boris Johnson, German Chancellor Angela Merkel and more.
The goal of the summit is to reach deals to help keep the planet in reach of 1.5 degrees Celsius above preindustrial levels, the limit scientists have set for staving off the worst impacts of climate change.
"The purpose of President Biden's summit is to raise ambition globally," Kerry told the Post, warning that the "world is way behind where it needs to be."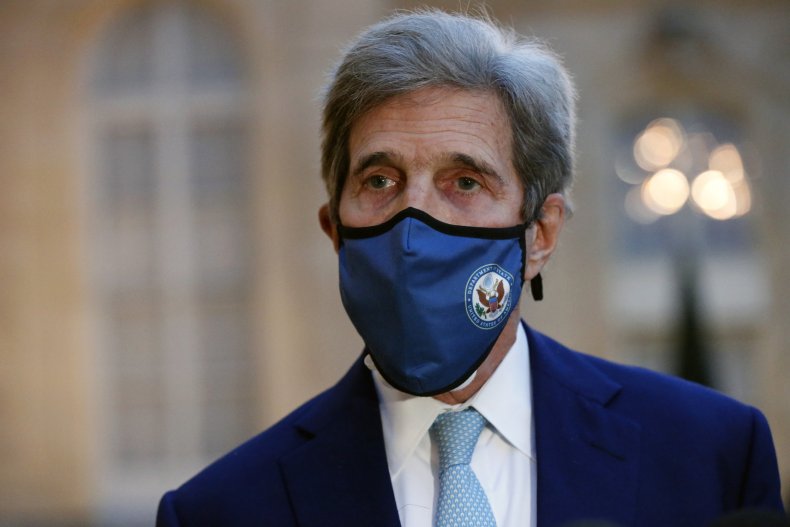 The summit will also come just days after European Union agreed to a provisional climate deal that will aim to severely cut their net greenhouse gas emissions by 2030. The deal also aims to make the European Union's 27 member nations climate-neutral by 2050.
According to reports from Post and The Wall Street Journal, the Biden administration is expected to announce this week a new goal for the U.S. to reduce its greenhouse gas emissions by as much as 50 percent by 2030 from 2005 levels.
The Obama administration had set out to cut emissions by up to 28 percent below 2005 levels by 2025. But former President Donald Trump rolled back many of his predecessor's climate policies, including those aimed to meet the emissions reduction.
"The scientists told us two years ago we have 12 years within which we have to make the most critical decisions to avoid the worst consequences of the climate crisis. Two of those years were wasted with an administration that lied to the American people and never bought into the science," Kerry said Wednesday. "Now, we have to make up for that."
Newsweek reached out to the White House for comment on Kerry's remarks and the upcoming climate summit, but did not receive a response before publication.