John King Revealed MS Diagnosis to Counter Tucker Carlson's Vaccine Stance
CNN anchor John King has revealed he opted to publicly disclose his multiple sclerosis diagnosis after viewing a vaccine-skeptic segment from Fox News' Tucker Carlson.
During Tuesday's installment of King's talk show, Inside Politics, the discussion turned to the hot-button issue of COVID-19 vaccine mandates, in part, due to the death of former Secretary of State Colin Powell.
Powell, who passed away aged 84 on Monday from COVID complications, was vaccinated, but also had multiple myleoma, a form of bone marrow cancer that compromised his immune system.
King, 58, said during the discussion: "I'm going to share a secret I have never spoken before. I am immunocompromised. I have multiple sclerosis. So I am grateful you are all vaccinated.
"I am grateful my employer says all of these amazing people who work on the floor, who came in here in the last 18 months when we are doing this, are vaccinated now that we have vaccines.
"I worry about bringing it home to my 10-year-old son who can't get a vaccine. I don't like the government telling me what to do. I don't like my boss telling me what to do. In this case, it's important."
King then took aim at rival network Fox News, whose star anchor Carlson had stated on his eponymous show Monday that Americans had been "lied to" about the effectiveness of vaccines in light of Powell's death.
"Now and then something big comes along, forgive me Fox News, is what makes America exceptional is when we all set down our personal preferences for the good of the team," said King, who also branded Carlson's action's "reckless." "The good of the team here is to come together and not spread that."
The CNN chyron shown during King's discussion read: "Right-wing media use Colin Powell's death to question vaccines when unvaccinated face 11x higher risk of dying from COVID."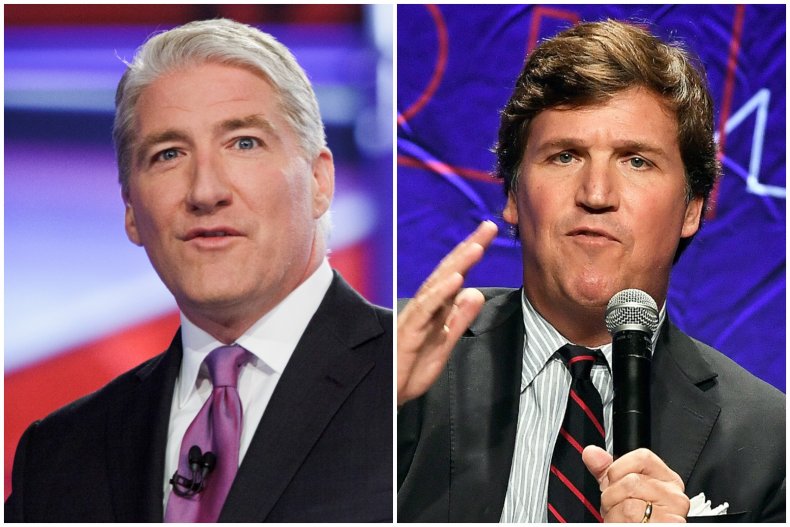 While Carlson led Tucker Carlson Tonight with questions about the efficacy of the COVID vaccine in reaction to Powell's death, he stated at the end of the show that he "left out that Powell was suffering from a number of different health problems."
Following his on-air revelation, King told Boston Public Radio's Jim Braude and Margery Eagan that he had not planned to share his diagnosis, but felt compelled to after airing a clip from Carlson's show.
"It just pissed me off, and it came out," he said. "When you have this misinformation about vaccines in a way that threatens people—727,000 Americans have died of COVID.
"They are all American treasures, just like General Powell was. If we can do anything to protect them, we should do it, even if we have to set aside a personal preference or personal principle."
He added: "You don't have to agree about mandates, but don't lie about science."
Newsweek has contacted a representative of Carlson for comment.
Carlson has been openly critical of vaccine mandates and has likened its implementation in the U.S. military to a "takeover."
In September, the pundit criticized the order by Secretary of Defense Lloyd Austin that all active-duty military members be fully vaccinated, charging that it had been "specifically designed to separate the obedient from the free."
While Fox News' parent company, Fox Corporation, does not have a vaccine mandate, an estimated 90 percent of its employees are vaccinated, according to a September article from The Guardian. Employees who are not vaccinated are required to take daily COVID tests.