John Legend Blasts Former U.N. Ambassador Nikki Haley for Comparing Impeachment to the Death Penalty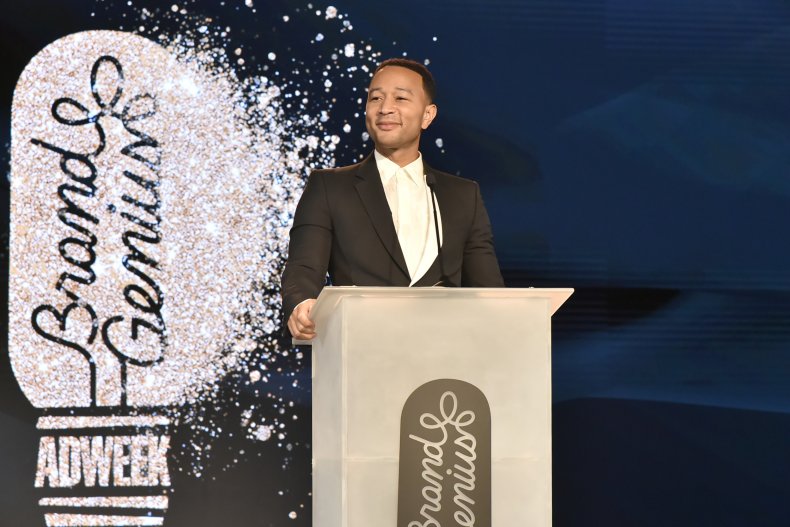 Singer and songwriter John Legend is offering criticism of former U.S. ambassador to the United Nations Nikki Haley.
On Friday, the 10-time Grammy-winning artist took aim at Haley on Twitter after the former ambassador shared an article from The Hill—in which she had been quoted in defense of President Donald Trump and against calls for his impeachment.
"You're going to impeach a president for asking for a favor that didn't happen and—and giving money and it wasn't withheld?" Haley told CBS News anchor Norah O'Donnell, according to The Hill. "I don't know what you would impeach him on."
In the interview with O'Donnell set to air this weekend, she continued: "Impeachment is, like, the death penalty for a public official," she said. "When you look at the transcript, there's nothing in that transcript that warrants the death penalty for the president."
Following Haley's initial tweet, Legend hit back at the remark. "It's not the death penalty," he responded. "It's firing him from the most important job in the country because he can't be trusted with it. Real people are actually sentenced to death. This is not that."
"You seem like a very bright person," Legend added. "You obviously know he's not morally or intellectually fit for office. I wish you would admit it for the sake of the nation and your own credibility."
Technologist and writer Tom Coates, known for being a pioneering force in the early days of weblogging, joined the thread early Saturday morning.
"No," he tweeted at Haley. "Whether to impeach is the decision of the House and whether to remove is the decision of the Senate. Both entities filled with the duly elected representatives of the American people."
"It's also clearly not like the death penalty for an elected official *because they don't die, they simply lose their jobs.* Comparing it to the death penalty is an extraordinary and insulting thing to say," Coates continued.
House Speaker Nancy Pelosi launched the impeachment inquiry against Trump at the end of September. The move came after accusations of Trump withholding hundreds of millions of dollars in military aid from Ukraine to get Ukrainian President Volodymyr Zelensky to open an investigation into former Vice President Joe Biden ahead of the 2020 U.S. presidential election.
Since then, the White House has repeatedly referred to the investigation into the president's alleged actions as a "witch hunt," while Trump has tweeted about the calls for his impeachment, calling the experience a "lynching."