John Legend's New Rosé and 15 More Celebrity Wines to Try This Summer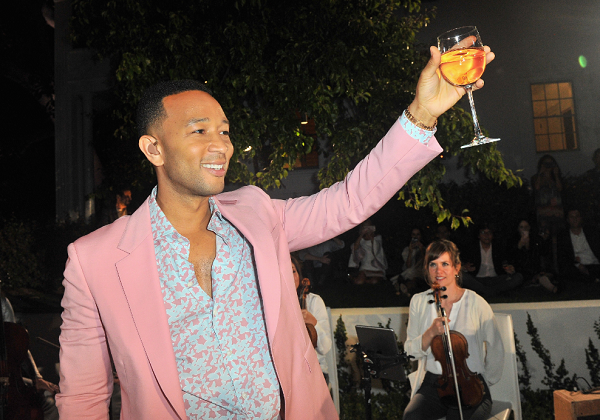 Is there a better way to cool down from the summer heat than with a glass of perfectly chilled rosé? No, there is nothing that quenches the thirst of a drinking-aged adult as remarkably as the crisp, sometimes dry, possibly floral, often juicy taste of pink summer water spilling down the throat on a humid afternoon in June. John Legend knows this, and it's likely why the award-winning singer recently introduced his own rosé for adults to enjoy in the summer.
As well-versed in wine as he is in music, Legend launched his new branded rosé on Thursday as an expansion of his wine label, LVE.
Dubbed Côtes de Provence Rosé, the 2017 vintage is pale pink in color and boasts aromatic notes of peach blossom, raspberry and apricot. Upon first sip, drinkers are delighted with splashes of "fresh picked strawberry and white nectarine" on the palate, accompanied by a rich and lengthy mineral finish.
While the rosé won't be distributed nationally until sometime next year, wine connoisseurs can get their hands on a bottle of Legend's good stuff via the LVE website for $25. Bottles are expected to start shipping in early July.
Legend's LVE brand, which debuted in 2015, also includes a 2016 Chardonnay, a 2014 Cabernet Sauvignon and a 2014 red blend for those looking to fill their wine cellars with more than just rosé.
The Darkness and Light singer isn't the only celebrity blessing consumers with the artistry that is wine-making. In fact, several Hollywood A-listers have either lent their name to a wine brand or developed their own line of grape goodness. Check out a list of them below.
1. Jon Bon Jovi: The rock star and his son Jesse Bongiovi—in partnership with French winemaker Gérard Bertrand—introduced their own pink juice, Diving Into Hampton Water rosé, in March.
2. Sting: It was 1979 when Sting and the rest of his iconic rock band, The Police, sent an S.O.S. to the world with a "Message in a Bottle." The English rocker's delivery has changed over the years. Now he's actually selling his Message in a Bottle—he and wife Trudie Styler's Il Palagio blend of Sangiovese, Merlot and Syrah. There's also a white blend of Message in a Bottle (Vermentino, Sauvignon Blanc and Trebbiano), along with four other wines Sting's Tuscany estate creates.
3. Nicki Minaj: Inspired by the Queens rapper's Caribbean roots, Myx Fusion offers a variety of Moscato, blended with flavors like peach, coconut and mango. And if Minaj's wine isn't a good enough thirst-quencher for you, then perhaps hip hop's reigning Barbie's juicy, fruity sangria will do the trick.
4. Fergie: A venture in partnership with her dad, viticulturist Pat Ferguson, Fergie founded her family wine, Ferguson Crest in 2006. The father-daughter duo produces a number of varietals including Viognier, Syrah, Cabernet Sauvignon and their signature red blend Fergalicious (Syrah, Merlot, Grenache and Cabernet Sauvignon).
5. Dave Matthews: Folks who love the mellow vibes of the Dave Matthews Band will likely find pleasurable solace in a glass of Matthews's very own Dreaming Tree wines. The singer and his business partner, New Zealand native Sean McKenzie, offer a catalog of reds and whites including their signature Crush Red Blend, Cabernet Sauvignon, Pinot Noir, Sauvignon Blanc and Chardonnay. Matthews is also the man behind Blenheim Vineyards, which produces seven varieties of wine.
6. Pat Monahan: Train superfans don't have to travel beyond the atmosphere for "Drops of Jupiter." They can guzzle them down from the comfort of their own home with lead singer Monahan's very own collection, aptly named after the band's chart-topping song. Drops of Jupiter wine produces Pinot Noir, Cabernet Sauvignon and Sauvignon Blanc.
7. Drew Barrymore: A collaboration with Carmel Road Winemaker Kris Kato helped the actress make her wine dreams come true, resulting in three selections: Drew's Blend Pinot Noir, Barrymore Rosé and Barrymore Pinot Grigio.
8. Kate Hudson: It's not all that surprising that the actress would venture into winemaking considering the fact that her stepdad Kurt Russell has been making his own wine—GoGi Wines—for years. Hudson and her ex-fiancé Matt Bellamy produce their own Sauvignon Blanc under their Hudson Bellamy Wines label.
9. Brad Pitt and Angelina Jolie: The ex-couple's French estate Chateau Miraval produces wine as highly praised as their 2005 hit film Mr. & Mrs. Smith. Although the actors have four different wines on shop shelves, their rosé seems to be unmatched. Since production began in 2012, the rosé has become a staple choice on Wine Spectator's list of top 100 wines, including in 2013 when Pitt and Jolie's brand was the only rosé that made the renowned list.
10. Jared Padalecki: He may be most known for hunting down demons and monsters on Supernatural, but he's well-versed in tracking down quality wine too. That's likely why he was chosen to team up with Arrow star Stephen Amell's Nocking Point wine club to create vintage Chardonnay Venatore.
11. Tituss Burgess: Viewers can catch the Burgess swimming in Pinot Noir on any given episode of Netflix's hit series, Unbreakable Kimmy Schmidt. So naturally, when presented with the opportunity to cash in on his favorite wine, he took it. Burgess launched Pinto by Tituss back in March 2016.
12. Francis Coppola: If you want to drink like an iconic film director, producer, screenwriter and composer, simply purchase a bottle of the Coppola family's finest wines, which include a range of reds, whites and rosés.
13. Dwayne Wade: The NBA star took his talents off the court and into the vineyard when he introduced his own line of red wines, Wade Cellars, in 2015. In addition to two of Wade's signature red wine blends, he also produces Cabernet Sauvignon and a California rosé.
14. Gabrielle Union: Named after the rich and oaky flavors that intertwine with notes of caramelized apple and butterscotch, Union's Vanilla Puddin Chardonnay launched in 2014.
15. Ayesha Curry: NBA champion Stephen Curry's wine made her entrance into the world of wine in April with Domaine Curry, a 2015 vintage Cabernet Sauvignon Curry concocted with her sister-in-law Sydel Curry.