John Legend Fans Wonder Why His Vocals Are in Arizona State University's Cop-Heavy Football Ad
Even with all of the many celebrities speaking out against police brutality at the moment, John Legend and his wife Chrissy Teigen are two of the loudest. Legend has recently used his platform to advocate for defunding police departments across the U.S., and the couple has donated money to initiatives and organizations fighting for justice following the death of George Floyd, an unarmed black man who was killed by a white police officer in Minnesota last week.
So fans were more than surprised to hear Legend's voice in the background of an Arizona State University football ad that seems to support police officers.
Herm Edwards, ASU's head football coach, shared the commercial on his Twitter account on Tuesday. The ad depicts a little boy of color watching police officers on television before flashing to images of ASU football players huddling and kneeling, an army man saluting and officers hugging a black man. Meanwhile, Legend's cover of the Bob Marley classic "Redemption Song" serves as the background music.
"When America huddles up, we are a powerful team," Edwards wrote on Twitter, referencing the ad's tagline.
Some people on Twitter were shocked with the ad's use of Legend's vocals, considering the EGOT winner's widely known stance regarding policing in America.
"John Legend know you using his song for copaganda?" one Twitter user wrote on Wednesday.
Others criticized the ad as tone-deaf while some tagged Legend to notify him of the ad.
"I wonder if @johnlegend can even send them a cease and desist letter though? Cause technically it's not his song," another wrote.
Neither Legend nor ASU responded to Newsweek's request for comment by time of publication. This post will be updated with further comments, if possible.
Legend, an avid supporter of Black Lives Matter, announced on Tuesday that he signed a petition urging local governments to reduce spending on police department in exchange for spending on health care, education and various community programs.
"I signed on to #DefendBlackLives and to push to #DefundThePolice. Join our 5 days of action with @Mvmnt4BlkLives," Legend wrote on Twitter.
A number of other celebrities endorsed the letter, including Natalie Portman, Megan Rapinoe, Yara Shahidi, Brie Larson and America Ferrera.
Launched by activist Patrisse Cullors, a co-founder of Black Lives Matter and a founding member of the Movement 4 Black Lives, the petition calls out the disproportionate effects that black Americans have faced due to the COVID-19 pandemic and excessive policing.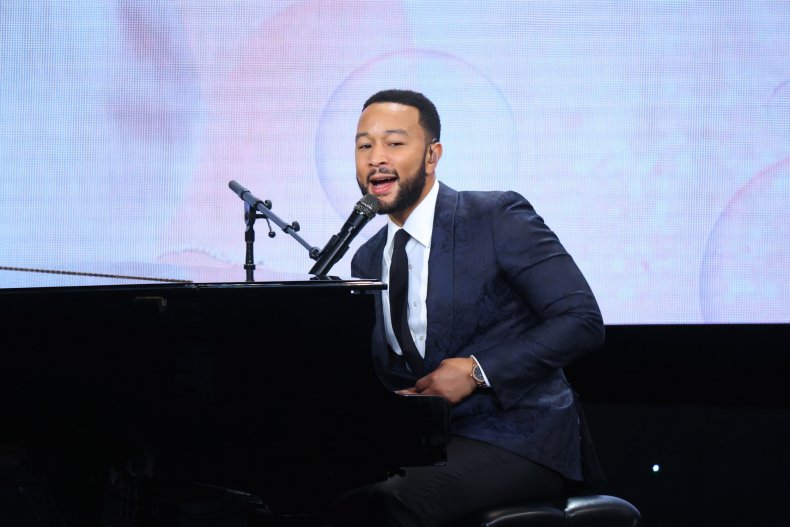 "The COVID-19 deaths and the deaths caused by police terror are connected and consequential to each other," the letter reads. "The United States does not have a national healthcare system. Instead, we have the largest military budget in the world, and some of the most well-funded and militarized police departments in the world, too. Policing and militarization overwhelmingly dominate the bulk of national and local budgets. In fact, police and military funding has increased every single year since 1973, and at the same time, funding for public health decreased every year, crystallized most recently when the Trump administration eliminated the U.S. Pandemic Response Team in 2018, citing 'costs.'"