John Legend confirmed that his friend Kanye West is serious about running for president in 2024. Legend revealed West's intentions on an episode of The Dan Wootton Interview podcast, which released on Friday.
"He's said it multiple times," Legend said. "I think he's serious."
The comments came as Legend was discussing West posting the private conversations between the two on his Twitter in April after the rapper shared various tweets professing his support for President Donald Trump.
"I'd guess he'd run as an independent, but he's never told me anything about what party he would run from," Legend said. "But he's publicly said multiple times that he's interested in running for president."
Legend continued, "I think that's part of why he likes Trump is because I think he sees some aspects of himself in Trump and sees that Trump winning makes it feel like he could do it too."
West said he would consider running for the presidency in a radio interview with DJ Pharris on Power 92 Chicago in September. "Yes, it 100 percent could happen. 2024," the rapper said. "If I decide to do it, it will be done. I'm not gonna try."
Though he made these claims in September, West appeared on Jimmy Kimmel Live in August to discuss his support of the current presidency and his confidence to wear the "Make America Great Again" cap and said that he doesn't consider himself a politician.
"What is represented to me is not about policies, because I'm not a politician like that," he said. "But it represented overcoming fear and doing what you felt, no matter what anyone said, in saying, 'You can't bully me.'"
Legend does not share West's sentiments when it comes to Trump being good for African-Americans.
"It's not really a debate. His approval among African-Americans is like 3 percent," Legend said. "I think it's pretty overwhelming from the perspective of African Americans. We believe he's a racist, we believe he's not a good human being."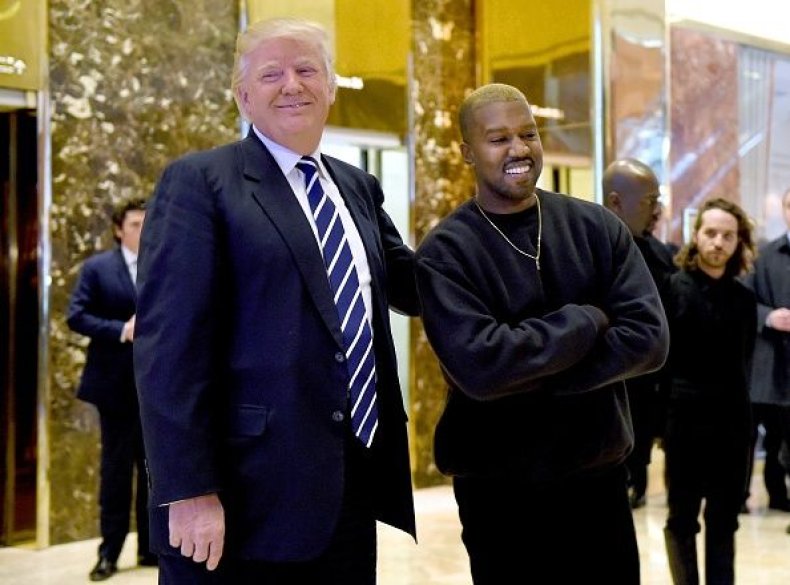 Legend and his wife, Chrissy Teigen, have been vocal in their resistance against the president, and will likely not be following their friends on the possible campaign trail.
"We're extremely involved in politics. We donate to candidates, we speak out about issues that we care about," Legend said. "I don't see either of us running for office, but I definitely think we'll stay involved and we'll stay engaged."
He continued, "I think every citizen should have some level of engagement with politics in a democracy because we're all voters, we're all taxpayers, we all have a stake in what happens."