John Legend on 'Surviving R. Kelly' Appearance: 'I Don't Give a F**k About Protecting a Serial Child Rapist'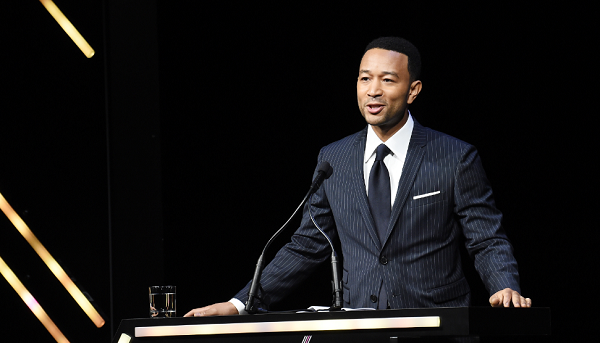 Viewers were shocked to learn John Legend will appear on Lifetime's docuseries, Surviving R. Kelly, but the singer said his participation in the show, which exposed Robert Sylvester Kelly's many years of sexual, mental and physical abuse of women and young girls, was an "easy decision."
"To everyone telling me how courageous I am for appearing in the doc, it didn't feel risky at all. I believe these women and don't give a f**k about protecting a serial child rapist. Easy decision," Legend wrote on Twitter on Thursday night.
Legend is expected to appear in one of the final installments of the six-part docuseries, airing on Saturday night. The first segment of the show premiered on Lifetime on Thursday and will continue to run over the next two nights.
Clips of Legend's upcoming appearance feature the award-winning artist speaking on the years of hurt R&B singer Kelly has brought upon women and young girls through his predatory and manipulative behavior. "R. Kelly has brought so much pain to so many people," Legend said of Kelly, who was accused of holding six women in a sex cult against their free will in 2017. "#TimesUp for R. Kelly."
Legend also noted on Twitter he agreed to appear in the docuseries in effort to help his friends at A Long Walk Home, an art-based nonprofit organization that aims to end violence against women and girls. Members of the foundation also appeared in the docuseries and provided commentary on the life-long toll sexual abuse can take on victims.
Legend was the only major artist to appear in the Lifetime special. Show producer Dream Hampton revealed how "incredibly difficult" it was to get big-name musicians who previously collaborated with Kelly to help promote the project. "We asked Lady Gaga. We asked Erykah Badu. We asked Celine Dion. We asked Jay-Z. We asked Dave Chappelle," Hampton said during an interview with Detroit Free Press released Thursday.
She added: "(They're) people who have been critical of him. That makes John Legend even more of a hero for me."
Surviving R. Kelly airs on Lifetime at 9 p.m. ET on Friday and Saturday.