John Legend Talks About 'Baby It's Cold Outside' Lyric Flap Surrounding His New Version of the Song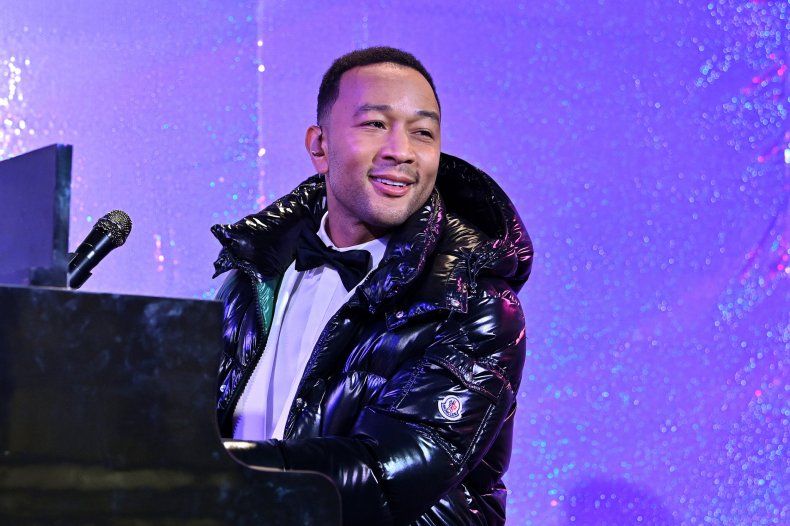 Newly-crowned People's "Sexiest Man Alive" musician John Legend made a Friday night appearance on The Tonight Show Starring Jimmy Fallon in which he discussed the controversy surrounding his remake of a classic Christmas song.
Earlier this month, the 40-year-old singer-songwriter dropped a rendition of "Baby It's Cold Outside" with pop vocalist Kelly Clarkson, who is also one of Legend's colleagues on NBC's hit talent-scouting show, The Voice. In what appears to be a nod to the #MeToo era, the release—co-written with Insecure writer Natasha Rothwell—features revised lyrics to the 1950s song.
As Vanity Fair initially reported, listeners can now hear Clarkson singing "What will my friends think?" to which Legend replies: "I think they should rejoice." When Clarkson continues by asking "...if I have one more drink?" the answer is, "It's your body, and your choice."
"We were just having fun," the 10-time Grammy winner explained while on set with Fallon. "We knew there was some controversy around the original lyrics, and looked at with 2019 eyes, we thought it would be fun to do a new version, make it fun, update the lyrics to be more current."
He continued: "So we talked about ride-sharing services, and we make a joke like, 'Why do you still live at home with your mom?'" He also said people "were just so upset that we would mess with that sacrosanct version of the original song."
The Legend-Clarkson collaboration has received plenty of backlash, despite circulating online complaints from previous years that claim the original song referenced date rape.
The biggest critique of the Legend-Clarkson version came from Deana Martin, whose father, the late entertainer Dean Martin, delivered an iconic rendition of the song in 1959.
"You do not change the lyrics to the song," Martin said on Good Morning Britain, as reported by The Daily Wire. "He's [Legend] made it more sexual with those words that he has just said. It's absolutely absurd. I think what he's done is, he's stealing the thunder from Frank Loesser's song and from my dad. He should write his own song if he doesn't like this one, but don't change the lyrics. It's a classic, perfect song. [Dean] would say it's absurd. I think John should've just left it alone," she continued.
Since the fallout, Legend has taken numerous interviews and is on the record speaking in defense of the newly-released song. "It's just another version of the song. If you don't wanna listen to it, you don't have to," he told People on Thursday.
He continued: "No one's saying you can't listen to the old version. Those versions all exist. People make new versions of songs all the time and we thought it'd be fun to update the song and make it more current."