Democrat John Lewis Says Donald Trump Impeachment is Still on the Table: 'I Think That Day Will Come'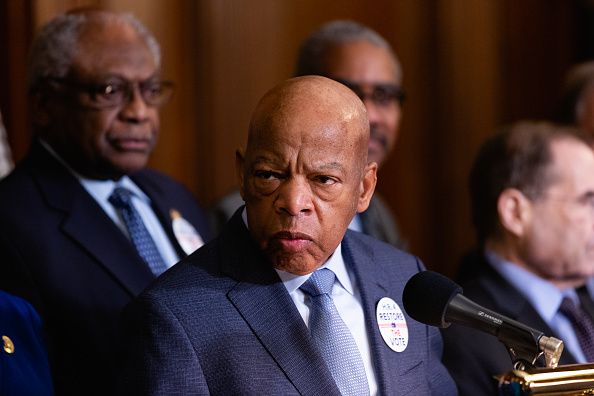 Following Special Counsel Robert Mueller's submission of the final report on his investigation into Russian interference in the 2016 election — the findings of which are expected to be made public in the coming days — Democratic Congressman John Lewis renewed calls for Donald Trump's impeachment.
"I think that day will come," Lewis told MSNBC's Joy Reid about the possible removal of the president. "I don't think he's legitimate. I said it back at the end of the election. I still believe that today."
After months of anticipation, on Friday Mueller handed over his final report of the nearly two year probe into Russian election interference and possible collusion with the Trump campaign. The report is now being reviewed by Attorney General William Barr, who was just confirmed to the cabinet position earlier this year.
In a letter to congressional leaders, Barr wrote that he anticipates that "I may be in a position to advise you of the Special Counsel's principal conclusions as soon as this weekend." Barr added that he's committed to "as much transparency as possible" in the releasing of the report's findings.
Lewis insisted on Saturday morning during his appearance on AM Joy that Congress demand by a unanimous vote that the report should be made public. Lewis added that he would "one hundred percent" support issuing a subpoena for the report if Barr does not allow Congress to see the text in full.
"I truly believe that we will not be patient, will not be still until we see the entire report. This report belongs to the American people. Not just members of the Congress. We all have the right to see what is in the report, the entire report," he said.
The congressman said he believes in Mueller, but is worried that Barr "might just try to do what he needs to do to protect the president and the people who placed him in this position."
Mueller's investigation has already taken down several of Trump's former associates, including his personal attorney Michael Cohen, one-time chairman Paul Manafort and former national security adviser Michael Flynn. And there has been speculation that Mueller's findings can be just as damaging for Trump.
But a senior Justice Department official told the New York Times that Mueller would not be recommending new indictments. The special counsel already indicted 34 individuals and three companies.
Still, the president is facing mounting legal troubles due to several ongoing investigations in the Southern District of New York. Legal experts say that the president should be more concerned about the Manhattan probes that Mueller and his report.