John Lithgow Says 'Dexter' Return as Trinity Killer Will Be a 'Hydrogen Bomb Going Off'
John Lithgow appreciated the chance to slow down in 2020. "My wife and I spent all of last year in lockdown together which for us is extremely unusual," he told Newsweek recently in an interview while promoting the James Patterson Audible drama, The Guilty. "I'm an actor and she's a professor and our two professions have separated us frequently, so it was wonderful to spend so much time together."
Amid a few projects he took on from home, Lithgow reflected on one of his most celebrated roles, Lord Farquaad, the ruler of Duloc from the 2001 blockbuster, Shrek. "It was a delightful film; the writing was so good and smart, and it appealed to very young kids and brainy grownups," he said.
Shrek turned 20 this year, and Lithgow said that seeing the franchise's success over the years has been exciting, if not surprising. "I had no idea it was going to be such a big hit," he said, "I thought it would be like a Saturday morning cartoon." He acknowledged how much the film changed the way audiences thought of animated movies. "Shrek was very much a pioneering piece of animation. At the time I hadn't realized what a game changer it really was," he said.
Lithgow explained that he recorded his part in the first film of the four-film franchise "three or four years before the movie saw the light of day," and that he was "completely blown away" by what had become of it when he visited DreamWorks' animation studio a year before its release. "I had never seen anything like it before and I think that was the impact of the film when it came out," he said.
He credits the story, the music, the writing, and the characters for a large part of the film's success, but said what really made it special was the way it all came together in the end. "It was kind of a miracle and a great credit to its creators," he said.
One of the earliest champions of the film was DreamWorks co-founder, Jeffrey Katzenberg, who Lithgow credits for changing the way Hollywood icons began lending their names and voices to animated characters—a job that had previously been reserved for voice actors alone.
"Having four major actors play these parts and be a part of the billing of a movie was definitely a Jeff Katzenberg strategy," Lithgow said. He told a story about a time when Katzenberg asked him to promote Shrek in Australia, but his schedule didn't allow him to make it. "I was afraid that by declining I had pissed off Jeff," he confessed. So, when he learned the film was opening in Paris at a time when he was available, he offered to attend, "to sort of atone for missing the Australia premier." But when the answer came back that they didn't need him there he thought it was a sure sign he was in somebody's bad graces until his agent said, "John, it's an animated film opening in a foreign country—you're not in it!" It was then Lithgow realized that Katzenberg had applied the same strategy all over. "In every country of the world, they went after top talent and put them in those roles; so I would not have been the right person to promote Shrek in Paris," he laughed.
Asked if he would return to the role, Lithgow said he "would certainly do it if they came up with the right idea to include my character again;" meaning a flashback or story that brings Lord Farquaad back to life, since his character was eaten by a dragon in the first movie.
"I've had the mixed fortune of having fantastic roles in a lot of great projects that flame out for my character very early," Lithgow lamented. In addition to Lord Farquaad's demise preceding three Shrek sequels, he mentioned starring in only four episodes of Perry Mason and just one season of The Crown. "I'm beginning to think of myself as a booster rocket," he joked, "I'm the opposite of a relief pitcher."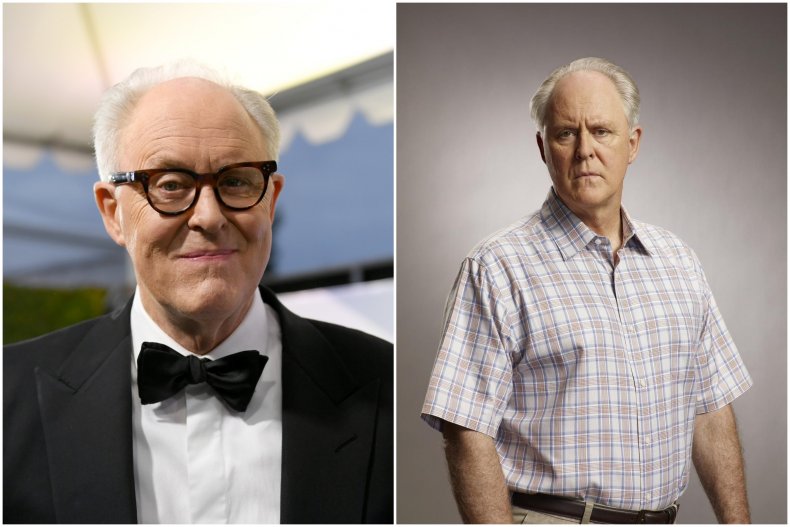 Among Lithgow's many iconic roles, his Golden Globe-winning portrayal of Arthur Mitchell AKA The Trinity Killer in Showtime's Dexter series is one of his most celebrated. The scene-stealing character has been rumored to make a return in the upcoming revival of the series, Dexter: New Blood. While Lithgow said he was initially forbidden "from saying a single word about it;" at this point, "it seems to be common knowledge so I will acknowledge that I do return as The Trinity Killer, but only fleetingly," he teased. "When I do return, it has the impact of a hydrogen bomb going off."
Lithgow also said he just finished the last two weeks of five months of shooting "a big Martin Scorsese epic," Killers of the Flower Moon, starring Leonardo DiCaprio and Robert De Niro. "If this is the first time you've heard about it, you'll hear a lot more about it. It's going to be a great film," Lithgow said, adding: "And I finally got to work with Marty!"
Between wrapping Flower Moon, promoting his satirical poetry "Dumpty" books, and working on his next movie alongside Julianne Moore in Apple TV+'s thriller Sharper, Lithgow recognizes that he's managed to stay relevant at a time when many other actors have not. "The grass has not grown under my feet during the pandemic," he said. "I'm grateful I'm still employable."