John Lutz Pieces Together the Making of Crime-Spoof Quibi 'Mapleworth Murders'
Crime drama and BBC murder mystery fans, we have a new show for you: the quirky Quibi comedy Mapleworth Murders, which premieres on August 10.
Starring and created by John Lutz (30 Rock) and Paula Pell (Wine Country), Mapleworth Murders is a whodunit that pays homage to British crime dramas in an idyllic town where people keep getting murdered. Among the stars are JB Smoove and Hayley Magnus, along with a "who's who" of suspects and victims. The nostalgic series is packed with cliffhangers, unusual one-liners, cameos and, of course, murder.
Chief among Mapleworth Murders' influences are Angela Lansbury's Murder, She Wrote and the British crime drama Miss Marple.
"We tried to take from all across the board of all these different procedural crime dramas," Lutz told Newsweek recently. "It's not so much a parody of it, but a little bit of a homage to Angela Lansbury in the best way. And then we are playing with all the other tropes of murder mysteries."
The idea for the show also came about following a suggestion from Lutz's wife, actress Sue Galloway.
"My wife, Sue, said, 'Why don't you write something for Paula Pell?' Because she is one of the funniest people we know, and she would be amazing to write for. And so what I did was [I] went away for five minutes and brainstormed ideas and came up with this one that was just her being a Miss Marple-type person, solving crimes because my wife and I love watching Murder She Wrote, all those BBC crime dramas, and we just thought it would be fun for her to be the center of that. She kind of fits that kind of character."
After Lutz pitched it to Pell, she was immediately on board, and the two of them crafted the story together. "I was very lucky that she liked it," Lutz said.
On the show, Pell stars as Abigail Mapleworth, a mystery author who meddles in the real-life murders in the old-timey town of New Woodstream, where phones are still connected to cords and an iPhone feels like an anomaly. In this environment, Mapleworth's millennial niece—Heidi, played by Hayley Magnus—acts as a fantastic foil, taking selfies all around crime scenes.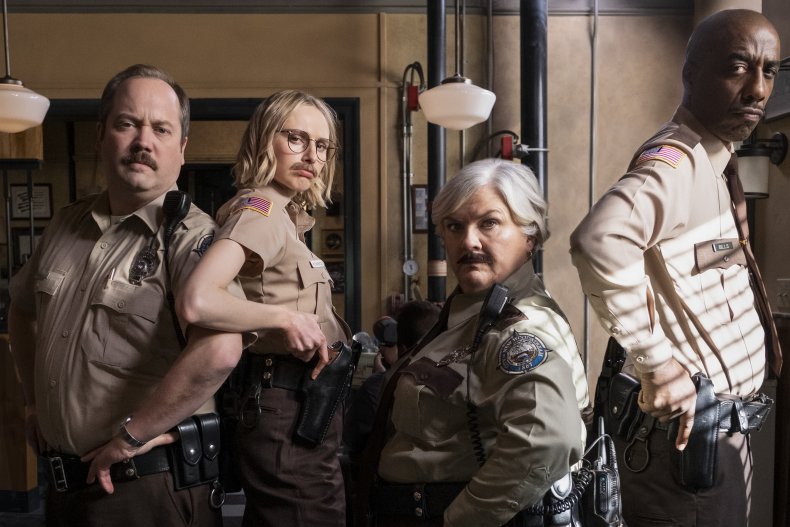 "There's not a lot of technology, so we thought it would be fun to place Paula's character with somebody who was more millennial to play off of her," Lutz explained. "And then when Hayley auditioned, she was kind of perfect, because she's so tall and thin, and Paula is a little shorter. When you see them playing off each other, it's really just a fun dynamic."
Lutz explained that Mapleworth Murders almost didn't come to be—luckily, Quibi took an interest. "We had written this for another network, that they passed on it, and we thought it was gone," he said. "And then Quibi came up and they kind of snatched this up and said we want to make it, and it kind of worked out perfect, because the Quibi format is seven- to 10-minute episodes, and it gave us the fun of having a bunch of different cliffhangers that you could just write into it."
When they were writing the scripts, Lutz and Pell had certain actors in mind for many of the characters. And, because they filmed around the holidays in November and December, there weren't a ton of scheduling conflicts. That's how Mapleworth Murders ended up with an impressive roster of cameos, including Wanda Sykes, Chris Parnell, Terry Crews, Nicole Byer, Jimmy Carlson, Maya Rudolph and Fred Armisen.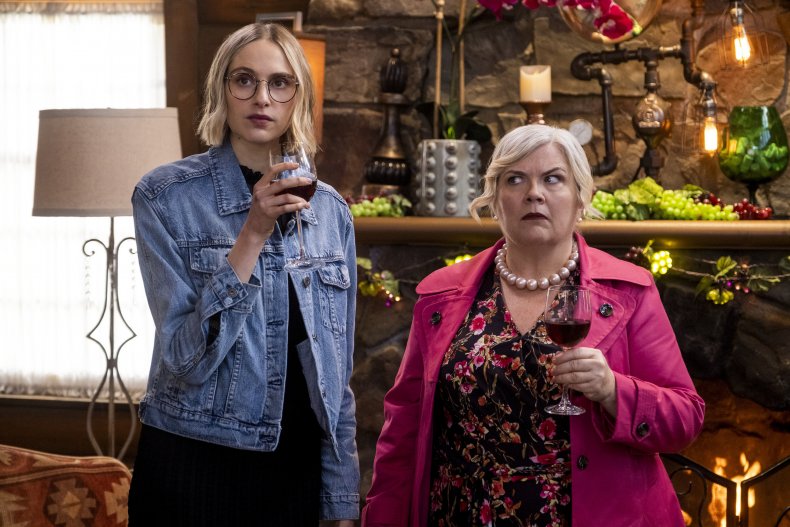 Lutz said that he had a fun time working on Mapleworth Murders with his friends, and hopes that viewers also have fun while checking it out. "I just want people to watch a silly show, Mapleworth Murders, laugh for a little bit, and just be taken away from all the nonsense that's happening right now and enjoy themselves," he said.
"With the Quibi format, it's nice because it's short, so if you just have seven minutes, you could be taken away to something fun and goofy for seven minutes, and then I hope that's what people can get out of it."
Mapleworth Murders is available to stream on Quibi starting Monday, August 10. New episodes will debut every Monday until August 31.