What John Lydon Has Said About Donald Trump, Joe Biden and Meghan Markle
John Lydon made headlines this month when the former Sex Pistols frontman was pictured wearing a pro-Trump "Make America Great Again" T-shirt, upsetting legions of punk fans.
The musician addressed his support from Donald Trump this weekend in a wide-ranging interview where he also discussed Joe Biden, Meghan Markle and caring for his wife, Nora.
Although Lydon, 64, has long been associated with anarchist views he told The Observer that he loves "debate and conversation" and doesn't want to be "entrenched in one opinion and get stuck there forever."
Donald Trump
Lydon is of the opinion that Trump is "the only sensible choice" in the upcoming election and confirmed that he will be voting for the incumbent Republican in November.
On who he thinks the working class in America will vote for, Lydon said: "They're not going to be dictated to by unknown continentals."
Previously, in a 2017 NPR interview, Lydon called Trump "absolutely magnificent."
"I think he's absolutely magnificent. He's a total cat amongst the pigeons," he said at the time. "It's got everybody now involving themselves in a political way. And I've been struggling for years to get people to wake up and do that."
In the same year, during a Good Morning Britain appearance, Lydon said Trump was a "complicated fellow" who had been "smeared" by the "left-wing media."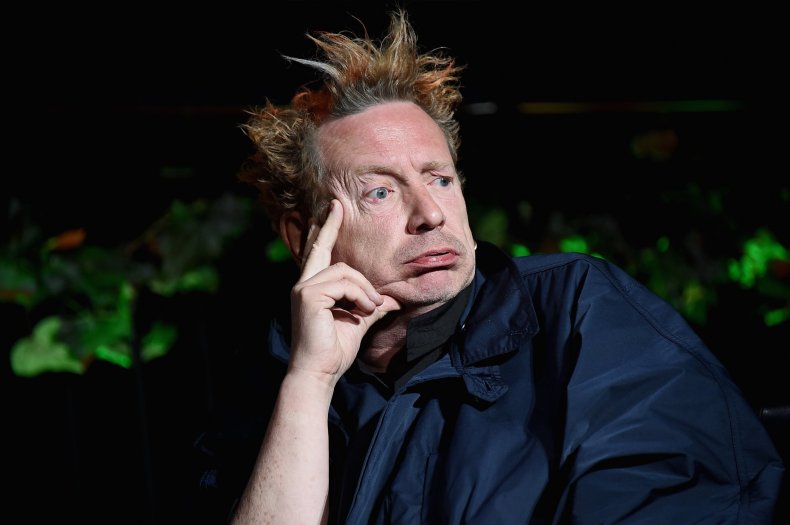 Joe Biden
Lydon said he is supporting Donald Trump in the election—despite previously backing Barack Obama—because he has no faith in Joe Biden as a leader.
He said: "I'd be daft as a brush not to [vote for Trump.] He's the only sensible choice now that Biden is up—he's incapable of being the man at the helm."
Meghan Markle
The "God Save the Queen" singer said he feels "sorrow" towards the British royal family—and he doesn't have much time for the Duchess of Sussex, Meghan Markle, who he thinks is a "dreadful person."
"My feeling about the royal family is one of sorrow," he said. "I've always felt they're poor little birdies trapped in cages, gold cages, but they're still entombed."
As for Markle? "Dreadful person. Very bad actress. But she's in a masterclass now."
Lydon doesn't believe that Markle suffered racism when she moved to the U.K. He added: "Stop being self-righteous and smug, that's what she needs to do. She's hopping on a cause. There are valid cases out there, genuine people who need help."