Is Billionaire John Malone Controlling the Music You Listen to?
A recent Department of Justice decision to allow Liberty Media to increase its stake in iHeartMedia has made billionaire John Malone one of the most powerful people in the music industry.
The DOJ approved Liberty Media to increase its stake in iHeartMedia up to 50 percent, according to Politico. iHeartMedia owns 850 radio stations (both AM and FM) and the iHeartRadio streaming app. According to the Liberty Media website, the organization currently has a 5 percent ownership stake in the company.
Malone, 79, is the Chairman of the Board and founder of Liberty Media. Liberty has a 71 percent ownership stake in SiriusXM and a 33 percent ownership stake in Live Nation Entertainment. SiriusXM also owns streaming platform Pandora, and Live Nation Entertainment also owns Ticketmaster.
The approval was opposed by Public Citizen, Open Markets Institute, and the Center for Digital Democracy, according to Politico. In a tweet, Public Citizen called the merger "Insane corporate concentration."
Public Citizen Competition Policy Advocate Alex Harman told Newsweek that the merger gave Malone and Liberty Media power "like no one has ever seen before."
Explaining that a company like Pandora is different from a service like Spotify, which offers music on-demand, Harman compared Pandora to its parent company SiriusXM, as programming decisions are made by the company rather than the listener.
"The choice that is offered to the consumer is made by the company, and that puts the artist completely at his mercy for whatever goals his company has. If that means further growth and correlation of power or excluding those who don't fall in line or those who don't do as well in their homogenous vision of a music format," Harman told Newsweek.
Unfortunately for radio listeners, a large company takes a lot of say in programming out of listeners' hands.
"It's a choice issue. You turn on the radio, and ideally you have different formats, but even in different formats you do have a responsiveness to [listeners]—historically, you could call into your DJ and say, 'I'd like you to play X,Y, and Z.' Even if they didn't, it became part of their calculation to what the audience wants, and that's gone," he said. "iHeart has their like and dislike button, but the inputs of that are still [based on] what they're offering you."
"You're looking for something that is maybe new and different; you're not going to find it on a Liberty program," Harman added. "That's not how these radio formats work, and that's not how Pandora works, and that's not how XM-Sirius works."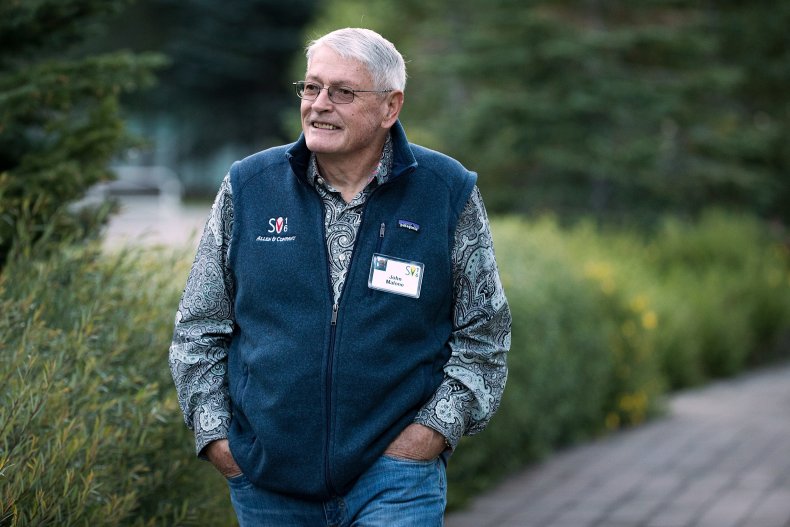 Harman says Liberty's merger harms the public due to the way it removes local programming from the mix, ends consumer choice and makes it more difficult for artists to be heard.
"So if you want to get on any of these platforms as an artist, you are wholly dependent on Liberty deciding to allow that and whatever terms they're going to lay out, which has already been an issue with iHeart and artists," he said, citing fear of not getting music played on iHeartMedia stations should they opt to not play an event like the iHeartMusic Festival.
"Now, you're multiplying that by XM and Pandora. Not to mention, they also own—it's a related business—Live Nation. The ability to control the actual venues they perform in," he added.
So, will Malone control what music you listen to? It's possible.
"I think John Malone can and will," Harman said. "The issue with power isn't what you do with it. It's what you can do with it, and that's why we want to limit power in the first place. The music industry has always been this conflict between the interest of the corporate and the interest of the artist. That battle is solidly over with this merger. There's no way to win."
Harman said this doesn't only affect artists and music fans, but advertisers—particularly when it comes to local businesses. Local advertisers have already been pushed to online platforms, and a national radio network like Liberty-iHeartMedia can easily roll out campaigns for national advertisers, squeezing out smaller advertisers.
Harman said that issues like this date back even further than the iHeartMedia and Liberty Merger.
"The rationale of acquiring both XM and Sirius was that there are all these other new, innovative internet-based alternatives, and so then allowing them to acquire Pandora effectively undermines the initial argument that XM and Sirius merging is not a problem," Harman said. "Now they're bringing under the same roof, the largest terrestrial radio conglomerate in history, which again sort of undermines the previous argument of allowing them to acquire Pandora."
"Effectively, the only alternative audio programming is the occasional independent radio stations, maybe a couple small conglomerate radio stations, NPR, and then Spotify," he continued. "Every single time Liberty enters another market just further undermines the fundamental proposition that there's so many alternatives. Broadly speaking, none of these mergers should have been allowed."
"It's now kind of obscene that you have all of this under the control of one holding company," Harman concluded.
Newsweek reached out to Liberty Media for comment but did not receive a response in time for publication.