Taylor Swift and John Mayer's Relationship Set to Be Scrutinized on 'Speak Now (Taylor's Version)'
Jake Gyllenhaal has been public enemy number one for Taylor Swift fans over the past few days after the singer released a re-recording of her album Red—which does not paint the actor in a favorable light.
Now Swifties are anticipating a similar situation happening with another of Swift's exes, John Mayer, when she rerecords her 2010 album, Speak Now.
The musician is the subject of Swift's track "Dear John," which will be re-recorded on Speak Now (Taylor's Version) which Swift may record next.
The 31-year-old is in the process of re-recording her first six albums after ownership of their masters was transferred to record executive/entrepreneur Scooter Braun.
On Friday, Red (Taylor's Version) dropped and it featured a new 10-minute version of her song "All Too Well" which is famously about her (alleged) brief but impactful relationship with Gyllenhall when she was 20 and he was 29.
She also released a ten-minute video for the song and new lines such as "I'll get older, but your lovers stay my age," which have sparked a huge reaction on social media with the Donnie Darko star facing much backlash.
Now fans are predicting that Swift's reported relationship with Mayer will have the same reaction when Speak Now (Taylor's Version) is released.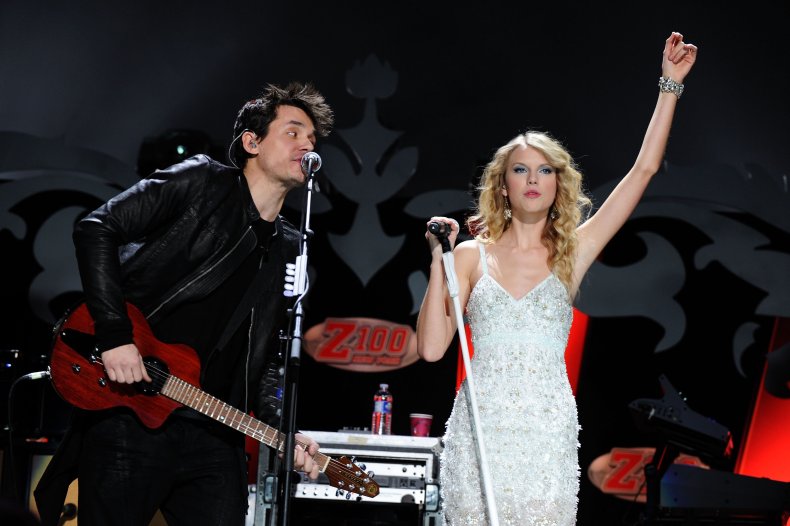 The original album features mega-hits such as "Back to December" and "Dear John" which were famously about Mayer, who Swift was linked to in late 2009 when she was 19 and he was 32.
In "Dear John," Taylor sings: "Don't you think I was too young to be messed with? / The girl in the dress, cried the whole way home, I should've known."
Mayer has already been bombarded with messages from Swifties amid the Gyllenhaal situation and a threatening DM he reportedly received on Instagram has been circulating on social media.
According to screenshots posted by Instagram account @deux.discusssions, a Swiftie named Alondra wrote: "f*** yourself you ugly b****i hope you choke on something <3."
Mayer, 44, decided to send a hefty response, writing, "Hi Alondra, it's John. I've been getting so many messages like these the past couple of days. I decided to choose your message at random to reply to. You can feel free to screenshot, share in any way you like if you want."
He continued: "I'm not upset, I just tend to have a curious mind and feel compelled to ask. Do you really hope that I die?"
Alondra then wrote back: "OMG WHAT i don't want you to DIE" before apologizing to the singer.
The fan also gave Mayer a "warning" that "people are probably going to be 1000x meaner when speak now taylor's version is released so take care of yourself."
Mayer told her there was "some healing here today" and that it was "100 percent okay."
"Go forth and live happy and healthy!" he wrote.
On Twitter, many more people are predicting that Mayer will be scrutinized when Speak Now (Taylor's Version) is eventually released.
"At this point i think john mayer is actively working at getting taylor's masters back," one Twitter user joked.
While another added: "john mayer after seeing what happened to jake gyllenhaal:"
Mayer addressed "Dear John" in an interview in 2012, saying he "didn't deserve" to be called out like that.
He told Rolling Stone: "It made me feel terrible. It was a really lousy thing to do," Mayer said at the time, adding: "I never got an email. I never got a phone call. I was really caught off guard."
Red (Taylor's Version) is available to stream now.