John McAfee Charges $105,000 Per Tweet to Promote Cryptocurrency Startups
Technology pioneer John McAfee is charging crypto start-ups more than $100,000 per tweet to promote their digital coins to his social media following.
As part of a new venture, dubbed the McAfee Crypto Team, Initial Coin Offerings (ICOs)—used to raise money for new virtual currency operations—can be promoted to McAfee's personal 810,000-plus Twitter followers for $105,000 per update.
Since leaving the position of chief cybersecurity visionary at U.S.-based MGT Capital Investments in January, McAfee has focused on the world of cryptocurrency, often using his social media presence to advertise little-known alt-coins. Now, he has revealed new details about the pricing structure behind his promotions.
"We finally wrote down how our promotional tweets work," McAfee wrote on his verified Twitter profile on March 30. "It's self-aggrandizing and ego stroking for us, however, if you're planning an ICO, trying to boost a coin or want to shine a light on your latest project, you should overlook our swollen egos and see," he added.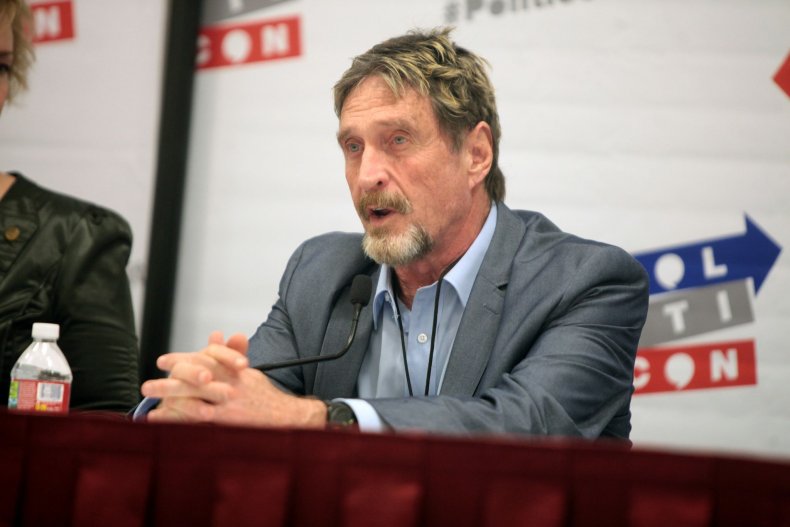 On its site, the McAfee Crypto Team lists services including strategy analysis, whitepaper support, audience reach, web optimization and auditing. It offers a blog service to distribute news in "key crypto communities" and says articles will also be sent out via McAfee's tweets. It claims 90% percent of submissions are rejected.
"Individual tweets, whether created in Mr. McAfee's voice or by the company whose products we are promoting, cost $105,000 per tweet," it states. "Unless there are special circumstances we will do no more than seven tweets per promotion."
Last year, McAfee started to promote a series he called "Coin of the Day" amid reports that his profile indeed had the power to move cryptocurrency markets.
He told Motherboard in January that he was aware of accusations that his posts could result in market volatility but blamed any reckless activity on bots. Following an alleged account hack, the scheme was later changed to "Coin of the Week."
Experts warn the virtual currency market remains largely unregulated in the U.S. Regulators, including the Commodities Futures Trading Commission (CFTC) and the Securities and Exchange Commission (SEC), have warned about crypto-based "pump-and-dump" scams in recent months. In such cases, fraudsters use marketing and fake information to inflate the price of a coin before selling quickly.
In February, the CFTC urged investors not to purchase cryptocurrency based on tips shared on social media. "As with many online frauds, this type of scam is not new—it simply deploys an emerging technology to capitalize on public interest in digital assets," said Erica Richardson, the CFTC's director of public affairs, at the time.
"Pump-and-dump schemes long pre-date the invention of virtual currencies, and typically conjure the image of penny stock boiler rooms, but customers should know that these frauds have evolved and are prevalent online." Richardson said. "Even experienced investors can become targets of professional fraudsters who are experts at deploying seemingly credible information in an attempt to deceive."
In December, SEC chairman Jay Clayton wrote in a blog post about crypto market dangers that "selling securities generally requires a license, and experience shows that excessive touting in thinly traded and volatile markets can be an indicator of 'scalping,' 'pump and dump' and other manipulations and frauds."
On Twitter this week, McAfee directly addressed criticism of his new platform. "They say I sold out 'cause I use my tweets to promote, but the last 200 ICOs that lined up, we rejected 195 and chose 5," he wrote. "I only promote what I believe."
McAfee Crypto Team did not immediately respond to a request for comment.