John McAfee Net Worth: Arrested Software Magnate Has Made Millions Off Cryptocurrencies
Software entrepreneur John McAfee has been arrested in Spain on charges of tax evasion from the U.S. Department of Justice (DOJ), pending extradition.
The DOJ announced the charges on Monday, while the Securities and Exchange Commission (SEC) filed parallel civil charges against the businessman, after he allegedly failed to declare earnings that amounted to millions of dollars.
The indictment says that McAfee hid millions in income from from the Internal Revenue Service, made from promoting cryptocurrencies, consulting work, speaking engagements, and selling the rights to his life story for a documentary.
Alongside this, the SEC's complaint alleges that "McAfee promoted multiple ICOs on Twitter," and that he was "pretending to be impartial and independent even though he was paid more than $23 million in digital assets for the promotions."
An initial coin offering (ICO) is a cryptocurrency variation of an initial public offering (IPO) and a means to raise money.
Prosecutors have also alleged that he used bank and cryptocurrency accounts in others' names to hide income from 2014 to 2018.
He was arrested while attempting to board a flight from Barcelona to Istanbul.
Sources told Reuters the 75-year-old had been remanded in custody in a Catalan jail, and has appeared by a high court judge via video.
McAfee founded the anti-virus software company that bears his name in 1992. He sold his stake in the company years later when Intel bought it for $7.6 billion.
He went on the run in 2012 after he was named as a person of interest in the murder of his neighbor Gregory Faull in Belize, fleeing to Guatemala and later being deported to the U.S.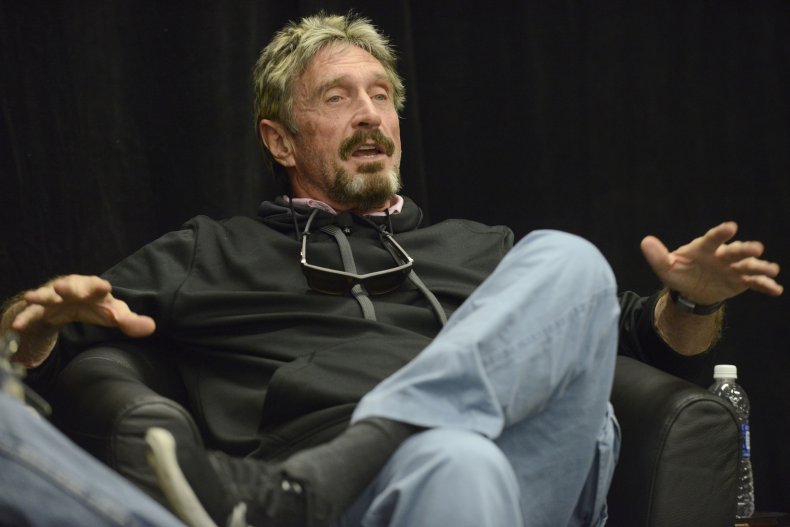 Varying guesses have been made about the businessman's net worth, but it is widely reported that McAfee lost much of his wealth in the 2008 financial crash.
The New York Times has previously stated that of around $100 million he had access to pre-crash, in 2009, he had managed to preserve $4 million.
McAfee has been a vocal advocate for cryptocurrencies for years. He is also famously anti-tax. Last year he tweeted: "Income taxation is unconstitutional. Stop believing that caving in will solve our problems! It merely magnifies them!"
In 2020 he made a second bid for president on liberal, anti-tax policies, having first run in 2016.
If convicted on the charges of tax evasion, McAfee could face up to 30 years in prison.