John McAfee Says Violent Cartels Are Out to Get Him—And His Wife Was in on It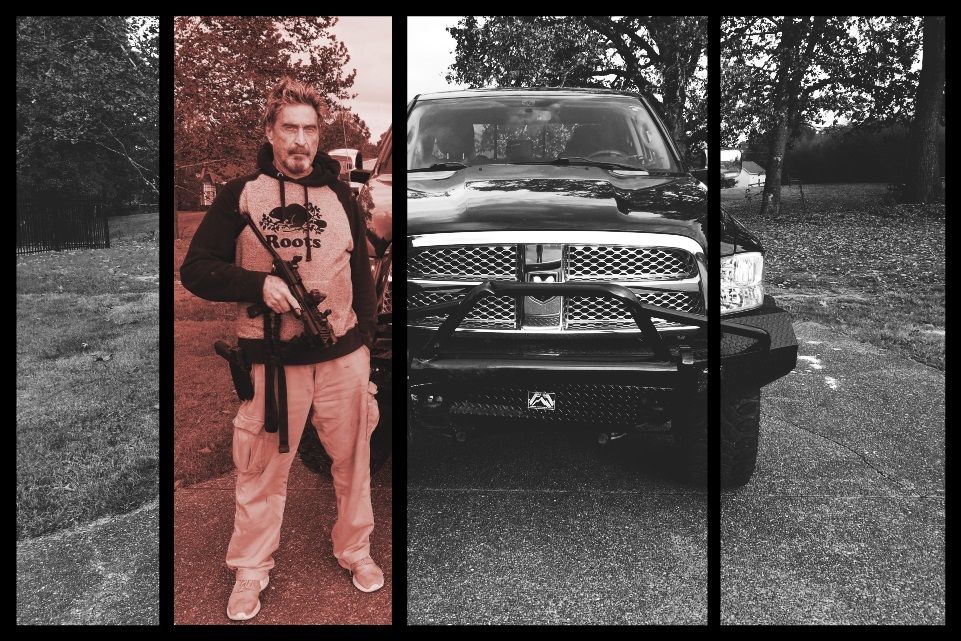 In the early hours of September 4, Alex Handrick woke up in his basement bedroom to the sound of gunfire. Having served in the Army for eight years, the private security guard recognized the noise immediately. Realizing the shots were coming from the rooms above him, Handrick, 28, grabbed his assault rifle and rushed upstairs.
There, naked but for an ammunition belt, was 71-year-old tech tycoon and former fugitive John McAfee, spraying bullets into the wall and ceiling of the living room. Seeing Handrick, he stopped firing. "There's an intruder," he said.
Janice McAfee, 34, John's wife of nearly five years, recalled that the couple were having sex at their home in Lexington, Tennessee that night, when they were interrupted by their dogs barking.
"[He] thought he heard movement in the crawl space under our bedroom and in the attic. He then fired his gun into both areas," she later said in a statement to the FBI, obtained by Newsweek.
The incident marks only the latest twist in a five-year saga for the cybersecurity pioneer, whose eponymous antivirus software made him a household name in the 1990s—and, when he sold the company for a reported $100 million, a very rich man. But in the years since, McAfee has more often been associated with scandal—not least when, in 2012, he was caught up in the investigation of the murder of his neighbor in Belize, the Central American country where he had moved four years earlier.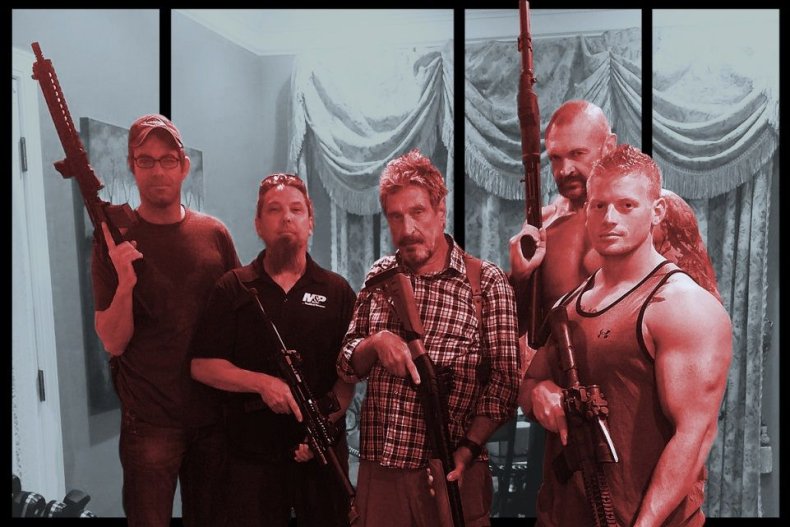 McAfee denies any involvement in the murder and instead claims it was part of an underworld plot that involves government corruption at the highest levels, drug cartels, pimps, prostitutes, his own paranoia and even his wife. "It's a complicated morass of a spider's web," he tells Newsweek. "I am the fly, and the spider has more than eight legs."
When Handrick and his security team searched the house on the night of September 4, they found no evidence of an intruder. But McAfee did glean something from the scare. He had always feared that his wife was involved in the plot against him; now he would find out that his fears were well founded.
McAfee met Janice the night after he fled Belize, in a culmination of a bitter and violent dispute with the local government. After his compound was raided by the authorities—who suspected he was running a meth lab—McAfee claims he hacked into government records and documented what he claimed was evidence of massive state corruption.
A spokesperson for the Belize government denies that its computer systems were breached by McAfee during this time. "That claim is absolutely false," the person tells Newsweek.
Then, in November 2012, McAfee was named a "person of interest" in the investigation of the murder of his neighbor, Gregory Faull. In an audacious escape, McAfee traveled by boat to Guatemala, where he was arrested for illegally entering the country. He then faked a heart attack to avoid extradition back to Belize and buy time for his lawyers to file an appeal, allowing him to eventually return to the U.S.
The night after he returned, December 14, 2012, he met Janice Dyson, who was working as a prostitute in South Beach, Florida. McAfee said he initially turned her down when she approached him outside a café, but the pair ended up spending the night together. She didn't know McAfee was rich or infamous, but her pimp, Delmariea Kamani Crutchfield (street name: Suave), did. Intending to rob him, Crutchfield asked Janice to provide information about where McAfee was staying, but she refused.
Janice and McAfee met again and eventually began a relationship. They married in 2013. But the Pretty Woman romance did not last long. After a row, she left their apartment to stay in a hotel in Portland, Oregon. The first person she called was Crutchfield, who told her that people were looking for her husband.
Initially, Janice was asked for information about McAfee's movements, but later—when they had reconciled—she was blackmailed and ordered to leave doors unlocked at their Lexington home and even to drug his food in order to incapacitate him and make him easier to kidnap.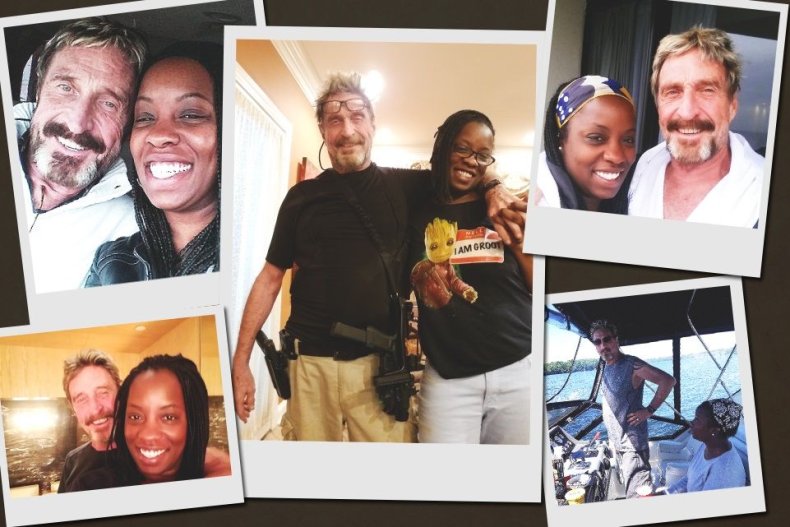 It was only after the shooting up of his own house that McAfee confronted his wife about his fears that she was involved in some kind of plot. She admitted that two days earlier she had met Crutchfield in a room at the Lexington Inn, some three miles from the couple's home.
In several interviews with Newsweek, Janice claims that while she appeared to cooperate with the orders passed to her through Crutchfield—who could not be reached by Newsweek—she was simultaneously trying to give McAfee hints of the plot.
"Even though I was cooperating, I was still trying to suggest to him, without telling him, to be careful. [But] I would get in the way. A lot of the attempts that happened in our home, I hindered those from happening, blocked them from happening, because I'm in the house too," she says.
"Because if I did do my job, it would always come back on me…. I don't like the idea of going to prison or getting killed for someone else's gain."
One of the attempts at kidnapping McAfee, as told by Janice, included a plan to lace a meal she prepared with a chemical that would disable him, though she says she was unable to follow through with it.
"It's been one plot after another," McAfee says. "My wife was in full cooperation with them, but at the same time trying to urge me not to do things that would lead me directly into the trap, without telling me that she was cooperating to collect me…. Janice probably has done more good than harm, because while she was cooperating, she at the same time kind of likes me, I guess.
"She's now between a rock and a hard place. She still fears there'll be harm to her family, even though the FBI and myself won't let that happen. She's done the unthinkable, which is rat on the underworld…. She's told on some very powerful people."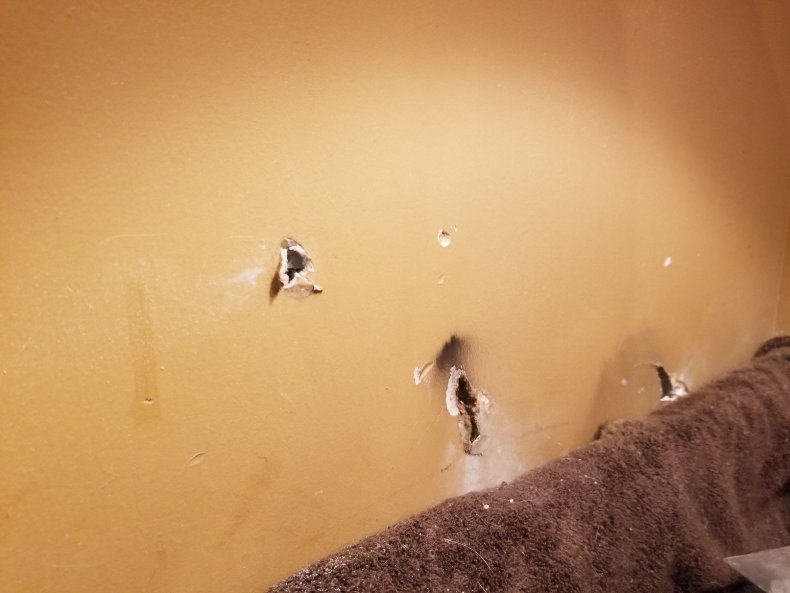 As far as McAfee is concerned, the entire plot against him dates back to his time in Belize. He has never released the information he claims to have hacked and stolen from the government in response to the raid on his compound. And he believes that powerful forces within the criminal underworld in Belize want to kidnap him to find out exactly what he knows. McAfee hopes that going public now will force those hounding him and his wife to back off.
"If they wanted to kill me, that would have been easy," he says. "They can't kill me because they need to sit me down, remove my fingers or something until I tell them where all this data is stored."
Internal emails sent among senior members of Belize's Central Information Technology Office, seen by Newsweek, dismissed the idea that McAfee obtained any information of corruption as "utter nonsense" and "the ravings of a sick mind."
McAfee has often been portrayed in the media as paranoid. His association with this word may have begun after his seemingly paranoid premonitions about computer viruses—which led to the creation of the world's first commercial antivirus software and a multi-billion dollar company—but it has since seeped into his personal life.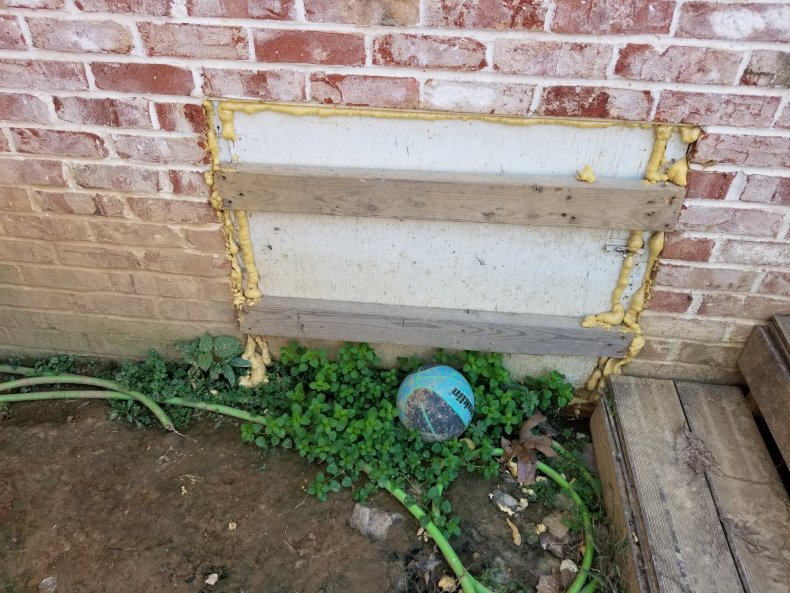 Entering the words "John McAfee paranoid" into Google produces 139,000 results, with the top one a 2015 profile by Men's Journal labeling him "the prophet of paranoia." Following the murder of Faull, Belize Prime Minister Dean Barrow called McAfee "extremely paranoid, even bonkers," and in a series of several interviews with Newsweek, McAfee frequently used the word to describe his security setup. But he insists that in this instance such measures are entirely necessary.
"I am not paranoid," he says. "Are you paranoid if they're really after you? I don't know. They are really after me. I do not believe I'm paranoid, but the press thinks so. I do not believe I'm paranoid, absolutely not."
Somebody else who doesn't believe McAfee is simply a prisoner of his paranoia is his former brother-in-law, Dwight Correll. The retired Washington state police detective has known McAfee since the early 1980s but hadn't seen him in person for 15 years, until he was invited to Lexington to investigate the kidnap claims. At first, he was skeptical.
"I was starting to have some doubts, thinking maybe John was just overly excited or paranoid," Correll says, speaking on the phone from McAfee's house. "And then when I spoke to Janice and she told me about all the shit that she's been doing, I realized he's got every right in the world to be overly excited and paranoid…. After talking to Janice, I realized they're in the middle of a world of shit."
Speaking with Newsweek over the phone, a member of McAfee's current security detail, who asked not to be named, described the atmosphere as "extremely tense." Beyond the firearms, dogs and steel doors, McAfee's security measures include a tricked-out truck that features spotlights, sirens and a pneumatic bumper. The area surrounding his house has cameras, lights and booby traps in the surrounding woods, while he describes his bedroom as "the most heavily armed bedroom" in America.
"It is a fortress," he says. "For someone to take me alive, which they have to do—try doing that when someone's barricaded and shooting back."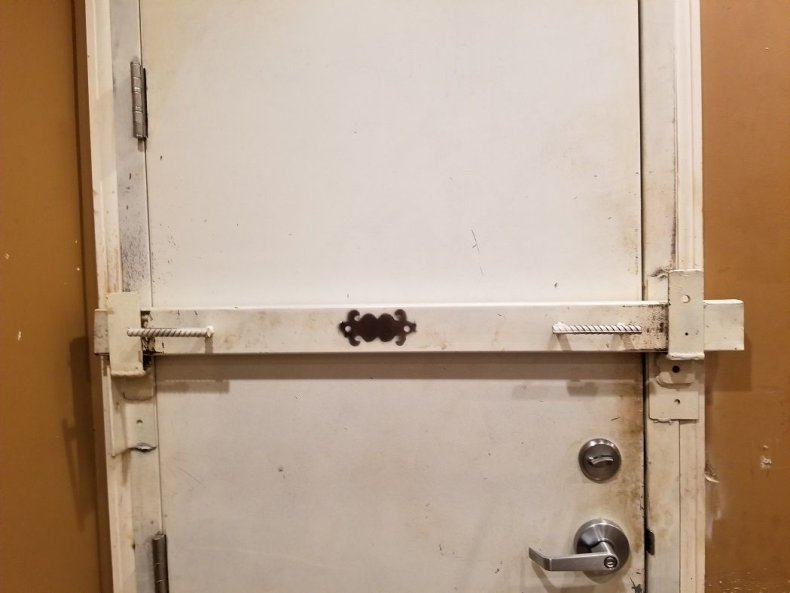 Remarkably, despite Janice admitting to her involvement in the plot to have McAfee kidnapped, the couple are still together. Janice claims she received threats to both herself and her family if she did not cooperate with Crutchfield and others involved.
"I am still with Janice. I have no intention of separating from her," McAfee says. "That may be stupid, but the fact is, she has come clean, number one, the fact that I understand it was difficult for her…. And secondly, for the reason that if I separated from her now, then she's likely to go back to her pimp and plan things that I have no clue, no knowledge of, right?"
McAfee claims that despite the revelations, he still loves Janice. For her part, however, she is reluctant to say the same. "Not love," she says when asked what her feelings are for McAfee. "Maybe admiration…. Love is a weird word for me. I don't use that."
McAfee says his current circle of trust extends no further than Janice. Beyond Handrick, he has a rotating team of private security guards, including two former Green Berets. But since the revelations about his wife, McAfee has been keeping a minimum distance of 15 feet from his security detail, for fear that one of them might have been turned.
In an email to Newsweek on November 12, McAfee wrote: "I eat, sleep and shower with a pistol in my hand. When I enter the main house from my bedroom (secured with a ten gauge solid steel door) my two German Shepherds and one Pit Bull precede me. Moments before I emerge I call my head of security and request that my detail all be sitting in reclining chairs with their feet up—a vulnerable position since I am standing and armed…. It is NOT a fun situation."
McAfee said he is in regular contact with an FBI agent, though when contacted by Newsweek, the agent refused to speak about the investigation or acknowledge that there was one ongoing. In an official statement, an FBI spokesperson said, "It is FBI policy to neither confirm nor deny the existence of an investigation."
But even when it comes to the FBI, McAfee says he does not trust them. "Why would I trust an FBI agent when they could be given $10 million to just stand wide of something? They wouldn't have to do anything, just not do anything. So I don't trust them."
Nor has McAfee reached out to local law enforcement. The only police dispatch records from Lexington Police Department (LPD) since McAfee moved to the area relate to a missing animal—a lost dog that was found a few hours later at a nearby school. LPD Captain Jeff Middleton tells Newsweek: "No LPD records exist related to Mr. McAfee's allegations of alleged criminal activities."
McAfee says he plans to move to somewhere more secure, though does not reveal where or when he and his entourage of family, security and dogs will move. His former brother-in-law hopes it will be somewhere quiet and secluded, though Correll speculates that, judging by McAfee's colorful past, he's more inclined to burn out than fade away.
"It would probably be someplace different," Correll says. "I would probably want to be on a mountaintop somewhere, where I could see five miles in every direction. But that'd get pretty boring, pretty fast. I don't see John doing that."