Russia's Media Slams John McCain After Senator's Death, Suggests He Was a "Warmonger"
As condolences poured in from around the world following the news of John McCain's death, Russian state media criticized the senator for being an "opponent of Russia" who supported international sanctions against the country.
Moscow correspondent for the BBC Steve Rosenberg tweeted a description of a television news program slamming McCain. Russia Today, another Russian state-run media company, described the senator as a supporter of U.S. military intervention around the world in an article titled "Patriot or Warmonger?"
"Over the years, McCain advocated for military intervention in a number of countries including Bosnia, Kosovo, Georgia, North Korea, Iraq, Afghanistan, Iran, Syria, Kuwait, Libya, Nigeria, and Mali," the piece noted.
The former Vietnam War veteran and Navy captain died of brain cancer on Saturday at the age of 81, after serving in Congress for more than three decades. During his time in office, McCain was a vociferous critic of Russia and of Moscow's intervention in its neighboring countries. He frequently traveled to countries like Ukraine and Georgia, where he expressed support for the countries' sovereignty and for their right to defend themselves against Russian aggression and incursions.
McCain also was a strong supporter of the North Atlantic Treaty Organization (NATO) and believed in the organization's responsibility to defend against Russian interference abroad. As recently as July, McCain lashed out at President Donald Trump's position on NATO, and accused the president of helping Russian President Vladimir Putin "shatter" the NATO alliance.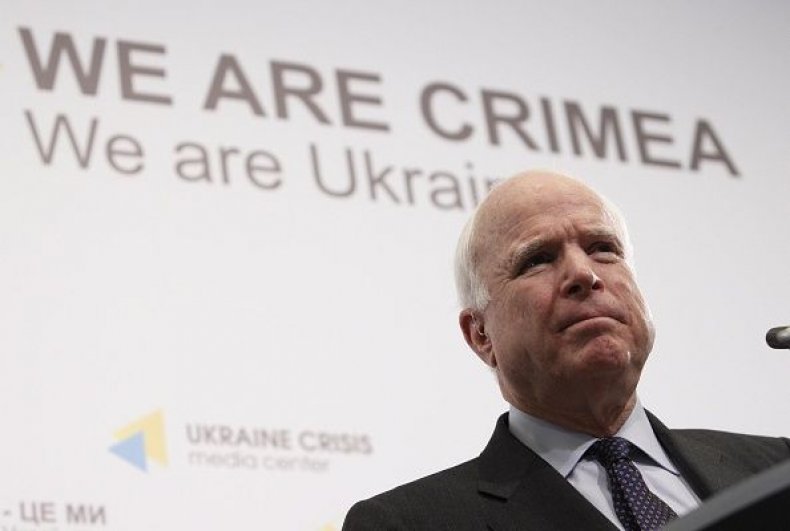 For many in Eastern Europe, McCain represented the liberal world order and was responsible for protecting human rights, democracy and self-determination worldwide. In an op-ed written following the news of McCain's death, Toomas Hendrik Ilves, the former president of Estonia, a small NATO member bordering Russia, called McCain the "greatest transatlanticist of the post-Cold-War era."
"I first met John in his office in 1993 when, as Estonia's first post-independence ambassador in Washington, I visited him to ask for his support in the fight for the withdrawal of Russian troops from our territory," the Estonian politician wrote in an op-ed published by Politico Europe.
"At the time, the U.S. and most West European leaders had no appetite for dealing with the continued presence of Russian troops in the newly independent countries. Supporting President Boris Yeltsin was paramount, and if that meant international agreements regarding less important states were ignored, so be it. McCain stood out, resolute in pushing the U.S. to meet its commitments—not just in that meeting, which is easy for a politician to do, but regularly following up with me," he continued. "For the next quarter of a century, he would seek me out during visiting congressional delegations, at conferences and during his visits to the Continent, pull me aside and ask: 'What are the Russians doing?'"
Politicians and members of the military across Eastern Europe were quick to express their appreciation for McCain and his decades of support in messages that betrayed real emotion.
"We will never forget his invaluable contribution to the development of democracy and freedom in Ukraine and the support of our state," Ukraine's President Petro Poroshenko tweeted.
In Serbia, however, a country frequently defended by Russia on all foreign policy matters, many social media users mimicked the language of Russian state media and said McCain was not a friend to their country. A message by the U.S. ambassador to Serbia eulogizing McCain was heavily criticized by people who opposed the senator's support for the NATO bombings of Yugoslavia in the 1990s. But in Kosovo, a former province of Serbia that declared independence with the support of the international community, but which faces opposition from Russia, McCain was hailed as a hero.