Donald Trump's Treatment of John McCain 'Disrespectful' American Legion Members Say
The American Legion held its 100th national convention in Minneapolis this past week as several members of the traditionally conservative veterans group ridiculed President Donald Trump for his "disrespectful" treatment of late U.S. Sen. John McCain.
Legion members who attended the convention in Minnesota said they support the veteran organization's statement which ridiculed Trump for not flying the flag at half-staff following McCain's passing at the age of 81 this past week.
While several of the country's nearly 2 million Legion members told the Star Tribune they still support Trump, many said he "tweets too much" and were "hurt" by the president's repeated disrespect of McCain even after his death.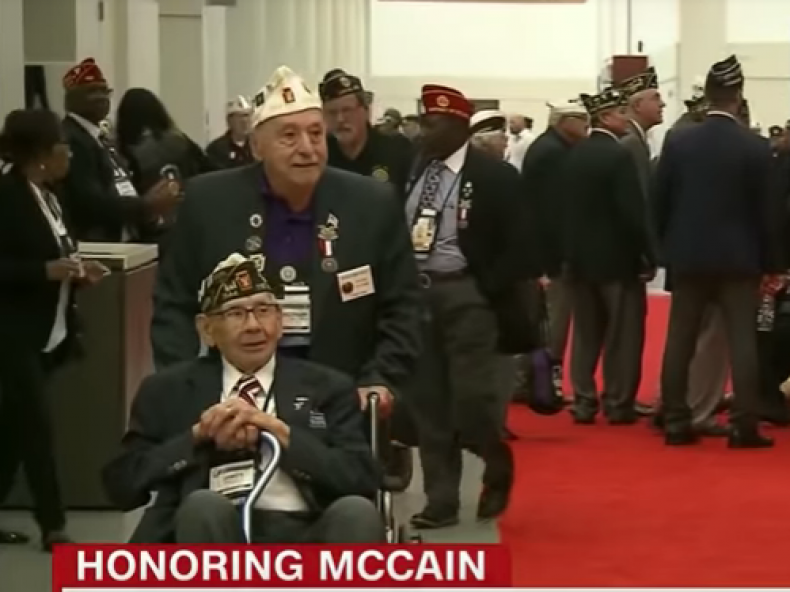 "On the behalf of the American Legion's two million wartime veterans, I strongly urge you to make an appropriate presidential proclamation, noting Senator McCain's death and legacy of service to our nation, and that our nation's flag be half-staffed through his interment," outgoing Legion national commander, Denise Roah, wrote, blasting Trump for his silence in the wake of the late Republican senator's death. Trump soon responded to this statement and others from military veteran groups and had the flag lowered.
Trump recently backed down on plans to hold a $92 million parade in Washington D.C. this fall for veterans following criticism.
"The American Legion appreciates that our President wants to show in a dramatic fashion our nation's support for our troops," the group said in response to Trump's massive planned parade for veterans. "However, until such time as we can celebrate victory in the War on Terrorism and bring our military home, we think the parade money would be better spent fully funding the Department of Veterans Affairs and giving our troops and their families the best care possible."
Joe Plenzler, the American Legion's National Director of Media Relations, told CNN the group requested the Commander in Chief uphold a "longstanding tradition...of what's been done in the past" after they asked Trump to fly the White House flag at half-staff last week following McCain's death from complications related to cancer.
Glenn Whitaker, an American Legion member, told CNN he believes Trump was "disrespectful" to McCain in his final days. "It hurt, because we are family," he said. "It's ridiculous, they paid more than we did," another member can be heard saying.
When asked who in the crowd thought "John McCain was a hero," every member visible to cameras agreed. Jerry Tarquinio, a U.S. Army veteran from the Vietnam War, said Trump was "very disrespectful" and he "doesn't agree" with how Trump treated McCain in either his past few years of life or since the U.S. Navy veteran's death on August 25. Trump never served in the U.S. military, having received several deferments during the Vietnam war over complications related to "bone spurs" in his feet.
Anna Brown, an American Legion Member and World War II Marine Corps Women's Reserve veteran, told CNN "I don't like the way [Trump] treated him...he should apologize, it makes me sad."
Vice President Mike Pence appeared at the convention and made reference to McCain's service. "We remember this man in Arizona today. Tomorrow, and the day after, in our nation's Capitol, before he is laid to rest at the United States Naval Academy. But I can assure you, America will always remember and honor the lifetime of service of United States Senator John McCain."