John McCain's Brain Cancer: How Long Does Someone Typically Live With Glioblastoma?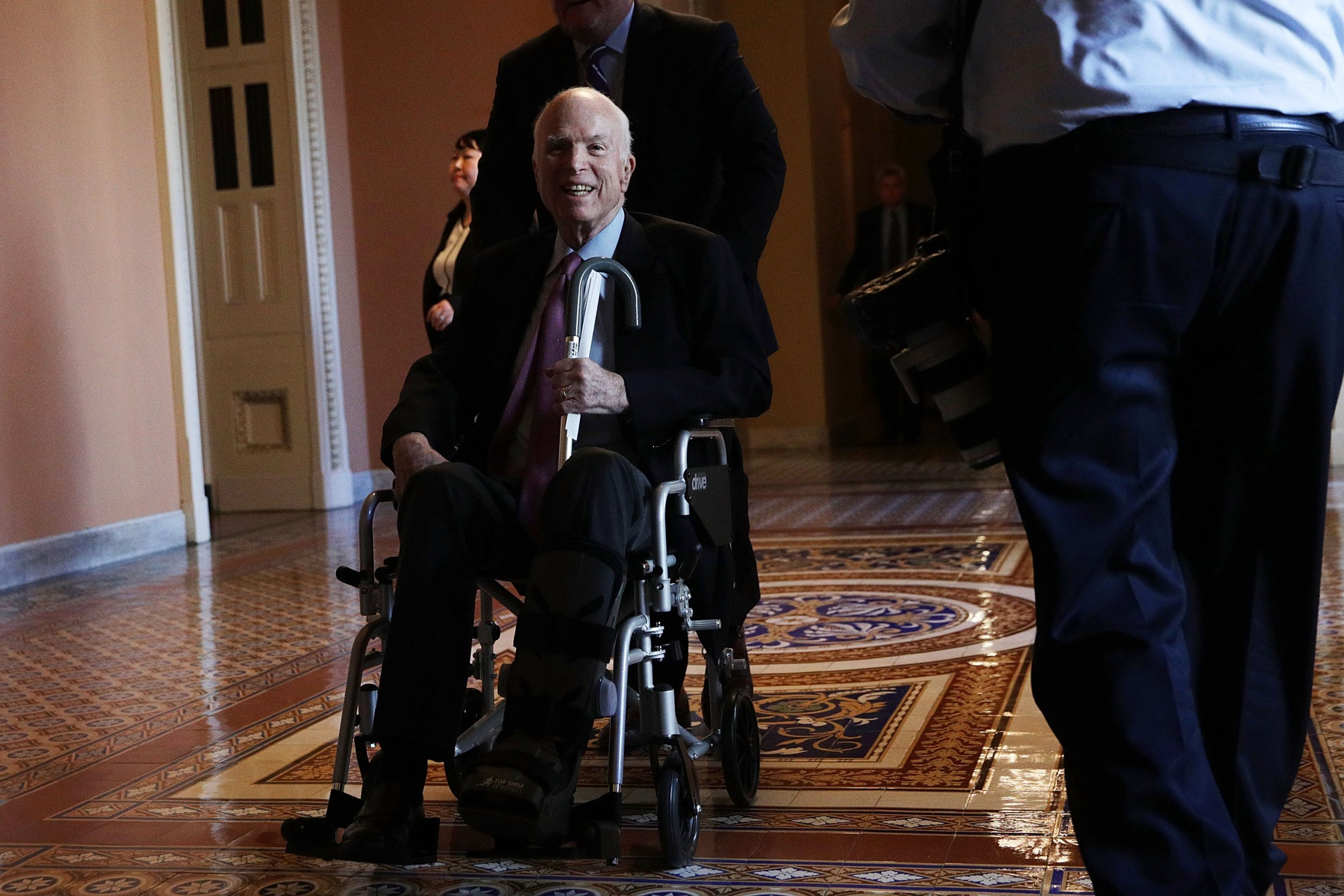 As Senator John McCain continues to battle his glioblastoma, new reports reveal that he's become "increasingly frail." He's also strayed from his usual behavior, and has become quieter during recent GOP meetings, CNN reports.
After the Arizona Republican publicly announced his brain cancer diagnosis in July, he's since undergone various treatments, including both chemotherapy and radiation. On Wednesday, his treatments landed him in the hospital, "for normal side effects of his ongoing cancer therapy," according to a statement from his office.
His recent hospitalization raises the question: How long does someone suffering from glioblastoma typically survive? About 16 months on average, Eugene Flamm, chairman of neurosurgery at Montefiore Hospital, told The New York Times.
Chances of surviving two years with the aggressive type of cancer is about 30 percent, according to the American Brain Tumor Association. But, McCain notes his prognosis is very serious.
"Some say 3 percent, some say 14 percent. You know, it's—it's a very poor prognosis," the 81-year-old said during a 60 Minutes interview in September. "So I just said, 'I understand. Now we're going to do what we can, get the best doctors we can find and do the best we can.' And at the same time celebrate with gratitude a life well-lived."
While his "increasingly frail" status may seem worrisome, this symptom is not uncommon. Depending on where in the brain the tumor is located, those impacted can develop weakness on one side of the body, as well as memory or speech complications, according to the American Brain Tumor Association.
"I feel pretty good about the way the treatment is affecting his underlying cancer. But the treatment has a downside. So he is trying to rest up. I am very confident that he will come back and continue to participate for a long time to come," Senator Lindsey Graham, who spoke with Cindy McCain about her husband's condition, told CNN.
Each year, about 240,000 cases of brain and nervous system tumors are diagnosed worldwide, according to a report by Roche. Among those cases, glioblastoma is the most common diagnosis, and also the most lethal. Recently, the aggressive type of tumor killed Senator Ted Kennedy and Beau Biden, former Vice President Joe Biden's son.