GOP Senator John McCain, of Arizona, has called for the release of two journalists held in Myanmar, saying the charges against them are "outrageous and politically motivated."
Posting on Twitter, McCain said: "Journalism is not a crime," pointing out that Reuters reporters Wa Lone and Kyaw Soe Oo were working to expose "ethnic cleansing" in the Asian nation.
"The bogus charges should be dropped, and these journalists should be released immediately," McCain said, sharing a link to a Washington Post article about the case.
Wa Lone and Kyaw Soe Oo were charged on Monday for breaching the colonial-era Official Secrets Act, Reuters reported. They have been detained since December 2017, and now, if convicted, face up to 14 years in prison.
Stephen J. Adler, president and editor-in-chief of Reuters called the charges against his company's employees "baseless," saying the journalists were "doing their jobs in an independent and impartial way."
The U.S. Embassy in Yangon, Myanmar, called the court's decision "deeply disappointing," describing it as "a setback for press freedom and the rule of law in Myanmar." A spokesperson for the European Union also called for the charges to be dropped and for the journalists to be released immediately.
"Absolutely unbelievable that this happening now in Myanmar! These two Reuters journalists must be released immediately [with] charges dropped!" Yanghee Lee, the United Nation's human rights envoy on Myanmar said in a Twitter post.
Tirana Hassan, Amnesty International's director of crisis response, said: "This is a black day for press freedom in Myanmar. The court's decision to proceed with this farcical, politically motivated case has deeply troubling and far-reaching implications for independent journalism in the country."
The journalists were arrested while reporting on the situation in Myanmar's Rakhine state, where hundreds of thousands of people have fled following a military campaign against the Rohingya minority community. The U.N. has said the military's campaign may amount to ethnic cleansing.
"They arrested us and took action against us because we were trying to reveal the truth," Wa Lone told reporters as he and Kyaw Soe Oo were led out of the court and back to Yangon's Insein prison after a brief hearing in January.
Khin Maung Zaw, a lawyer representing the two journalists, explained that the charges come from Section 3.1(c) of the British colonial-era Official Secrets Act. The act dates back to 1923, when Myanmar—then known as Burma—was still a province of British India.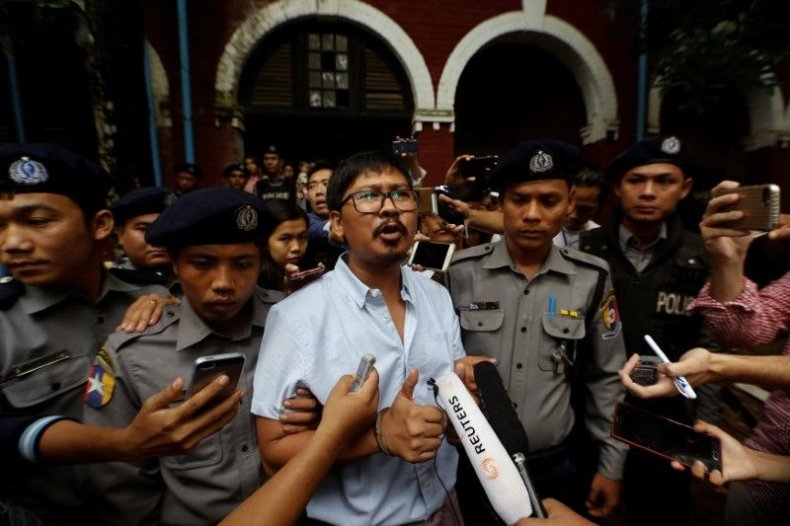 The law states that the government can prosecute anyone who "obtains, collects, records or publishes or communicates to any other person any secret official code or password, or any sketch, plan, model, article or note or other document or information which is calculated to be or might be or is intended to be, directly or indirectly, useful to an enemy."
Calling out the use of a "draconian law" to charge the journalists, Hassan said the move is a "clear sign that the authorities are intent on silencing critical voices."
"The decision is further evidence of the worrying regression of press freedom in Myanmar over recent years. Threats, intimidation and even jail time are daily hazards of the job for the country's journalists," the rights campaigner explained.