John McCain Cause of Death: What Is Glioblastoma?
Arizona Senator John McCain died Saturday at his home in Arizona after a long battle with brain cancer.
"Senator John Sidney McCain III died at 4:28 p.m. on August 25, 2018," McCain's office said in a statement. "With the Senator when he passed were his wife Cindy and their family. At his death, he had served the United States of America faithfully for sixty years."
McCain's daughter, Meghan McCain released her own statement on Twitter.
"I love you forever—my beloved father," she wrote. "I was with my father at his end, as he was with me at my beginning. In the thirty-three years we shared together, he raised me, taught me, corrected me, comforted me, encouraged me, and supported me in all things.
She concluded: "My father is gone, and I miss him as only an adoring daughter can. But in this loss, and in this sorrow, I take comfort in this: John McCain, hero of the republic and to his little girl, wakes today to something more glorious than anything on this earth. Today the warrior enters his true and eternal life, greeted by those who have gone before him, rising to meet the Author of All Things:
'The dream is ended: this is the morning.'"
The 81-year-old senator and war veteran was diagnosed with a glioblastoma following a procedure to remove a blood clot in July, according to a release from his office. The brain tumor McCain suffered from was the same type of tumor Ted Kennedy and Beau Biden died from.
Glioblastomas usually grow in the cerebral hemispheres of the brain and form out of the astrocytes which are a type of supportive tissue in the brain, according to the American Brain Tumor Association.
The tumors typically grow quickly because of the abundance of blood available in the brain. There are two types of glioblastomas: primary and secondary. Primary glioblastomas are highly aggressive, according to the ABTA. Secondary glioblastomas, far less common, grow a bit more slowly and sometimes start out as low-grade tumors.
These tumors are more likely to occur in older people, as well as more likely to occur in men than in women—though the exact cause is unknown.
In an interview with 60 Minutes in September, McCain noted the severity of his tumor. "Some say three percent, some say 14 percent. You know, it's—it's a very poor prognosis," he said.
Most people suffering from a tumor that is "more aggressive" live about 14.6 months, according to the ABTA.
The McCain family announced Friday that he had made the decision to stop medical treatment.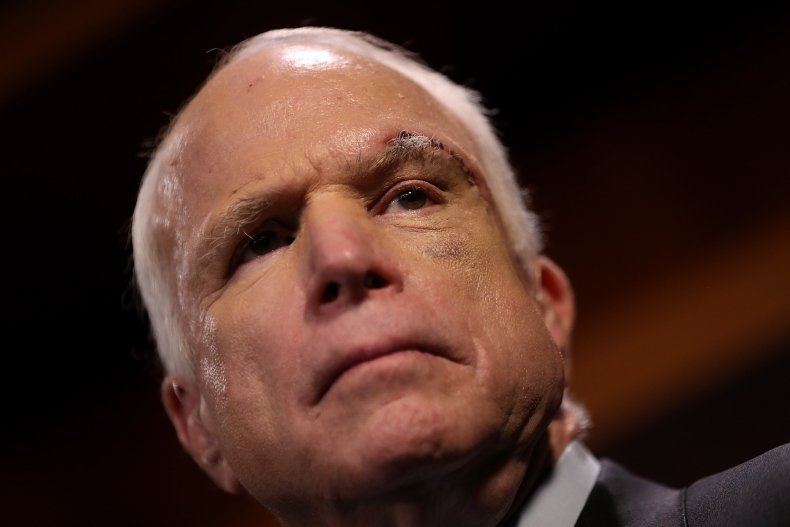 ?