John McCain and the Pope Slam Trump Over Climate Change On the Same Day
John McCain slammed his Republican colleagues—and the president—for denying climate change, and encouraged lawmakers on Capitol Hill to seek out cleaner energy alternatives such as nuclear power.
"I can't define their motives," McCain told CNN on Monday after he was asked about President Donald Trump and other Republicans, such as Miami Mayor Tomás Pedro Regalado, who dispute whether global warming is happening. "But I know this: that there is things happening with the climate and in the world that is unprecedented.
Related: Here's How Donald Trump Could Actually Be Impeached
"We need to have, in my view, nuclear power as part of the answer," the Arizona senator continued. "It's the cleanest and cheapest—in many ways—source of power. … We have to understand that the climate may be changing, and we can take commonsense measures which will not harm the American people."
McCain's afternoon interview with the cable news network followed a dig at the president from Pope Francis, who disagreed with President Trump's decision in June to withdraw the U.S. from the Paris climate agreement signed by 195 United Nations states.
"If someone is doubtful that [climate change] is true, they should ask scientists," the pope said Monday morning. "These are not opinions made on the fly. They are very clear. Then each person can decide, and history will judge the decisions.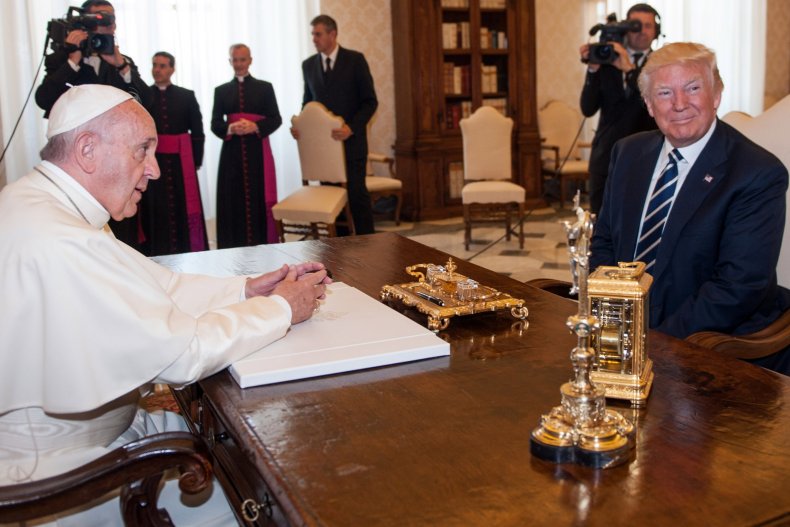 "If we don't turn back, we will go down," he continued, foreshadowing a grim future if humans do not mitigate their impact on the global climate.
It isn't every day the leader of the Catholic Church and one of the most notable Republican lawmakers in Washington deliver the same rebuke to the American president. The comments come as scientists insist that climate change exacerbated the intensity of Hurricanes Harvey and Irma, which hit Texas and Florida with a rare one-two punch. A new cyclone, Hurricane Jose, is projected to hit the States later this week.
The pope's reproach of Trump came one day after he criticized the president's decision to rescind Obama-era protections for immigrants who were brought to this country illegally by their parents.
"To take away young people from their families is not something that bears fruit, neither for the young people nor for their families," the pope said, referring to the Deferred Action for Childhood Applicants program. He's also called Trump's campaign promise to build a wall across the U.S.-Mexico border "not Christian."