President Donald Trump and former President Barack Obama swiftly reacted to the death of John McCain Saturday. The Arizona senator died at home at the age of 81 after a battle with brain cancer.
Trump, who feuded with his fellow Republican from the early days of his own candidacy, remained critical of McCain right up until his death and posted a short response on Twitter.
"My deepest sympathies and respect go out to the family of Senator John McCain. Our hearts and prayers are with you!" he wrote.
Trump remained silent after McCain's family released a statement Friday announcing that the former Navy pilot and prisoner of war was discontinuing treatment after he was diagnosed with brain cancer last July. Trump had made the decision that he would not comment until McCain died, The Washington Post reported.
While Trump's immediate reaction was brief, his predecessor, Barack Obama, together with former first lady Michelle Obama, released a lengthy tribute to the man Obama defeated in the 2008 presidential election.
"John McCain and I were members of different generations, came from completely different backgrounds, and competed at the highest level of politics," read the statement from the office of the former president and first lady. "But we shared, for all our differences, a fidelity to something higher—the ideals for which generations of Americans and immigrants alike have fought, marched, and sacrificed. We saw our political battles, even, as a privilege, something noble, an opportunity to serve as stewards of those high ideals at home, and to advance them around the world. We saw this country as a place where anything is possible—and citizenship as our patriotic obligation to ensure it forever remains that way."
The statement continued: "Few of us have been tested the way John once was, or required to show the kind of courage that he did. But all of us can aspire to the courage to put the greater good above our own. At John's best, he showed us what that means. And for that, we are all in his debt. Michelle and I send our most heartfelt condolences to Cindy and their family."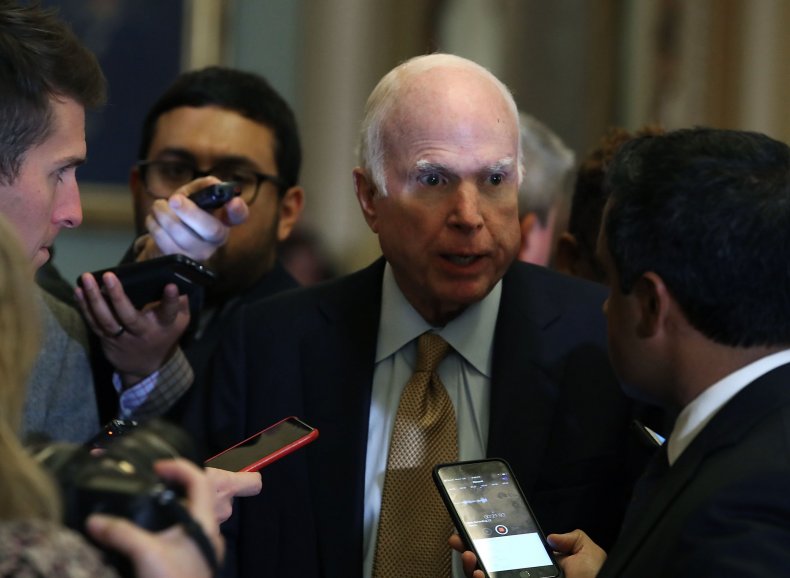 Joe Biden, who served as vice president to Obama, released his own statement.
"John McCain was many things—a proud graduate of the Naval Academy, a Senate colleague, a political opponent," he wrote, posting the statement on Twitter. "But, to me, more than anything, John was a friend. He will be missed dearly."
Former President George W. Bush also released a statement on the death of fellow Republican McCain.