John McCain Funeral Plans: Senator to Lie in State at Capitol Rotunda, Will Be Buried in Annapolis
John McCain, who died Saturday at age 81, will lie in state in both the Capitol Rotunda and the Arizona Capitol before being buried in Annapolis, Maryland.
McCain's Senate office and family have not yet released an official memorial schedule, but a GOP official involved in the funeral planning told The New York Times Saturday that McCain had several requests, including eulogies by former Presidents George W. Bush and Barack Obama, and no invitation for Donald Trump. McCain will be the 13th former senator to lie in state at Washington's Capitol Rotunda, an honor bestowed upon the country's "most eminent citizens."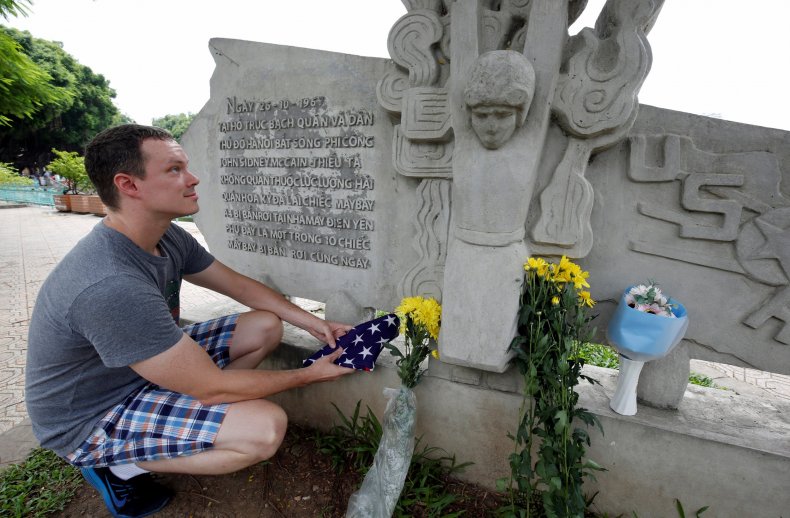 The Navy pilot veteran, who was captured and held prisoner in Vietnam before leaving the military in 1981, represented Arizona in Congress for 35 years. McCain will have a full-dress funeral service at the National Cathedral in Washington before lying in state at the Arizona Capitol in Phoenix. McCain, a Naval Academy graduate, will be buried at the U.S. Naval Academy Cemetery in Annapolis.
Many tributes were offered to the late senator and 2008 Republican candidate for president, including one from Senate minority leader Chuck Schumer, who said he would introduce a resolution to rename the Russell Senate Office Building after McCain. Richard Russell, who was a Georgia Democrat, opposed civil rights legislation in the 1960s.
Several memorials were hastily erected after McCain's death Saturday, including flowers and wreaths laid at a McCain monument in Hanoi, Vietnam, where he was held as a prisoner of war for five and a half years, until his release in 1973.