John McCain Funeral Plans: Full schedule of Events Honoring Arizona Senator
A number of memorial services for the late Senator John McCain will take place this week, beginning Wednesday and culminating in the Republican legend's funeral and burial Sunday.
McCain died August 25 in his home in Sedona, Arizona, a day after his family announced that he had discontinued treatment for brain cancer, which he had been battling for more than a year.
McCain was elected in 1986 following an illustrious career with the Navy. His death, while expected, sent shock waves around the country due to his lifetime of public service and stoic leadership within the GOP.
Services for McCain will start in his home state of Arizona and will be followed by memorials in Washington, D.C.
On Wednesday, a service open to the public and available to stream online will be held at Arizona's state capitol. McCain will lie for a private service at 10 a.m. local time, and the public will be allowed to view him at 2 p.m. local time.
A memorial service will take place Thursday at North Phoenix Baptist Church. Tickets were available for the service, but as of Monday morning, the senator's official government site stated it was unable to accept any more ticket requests.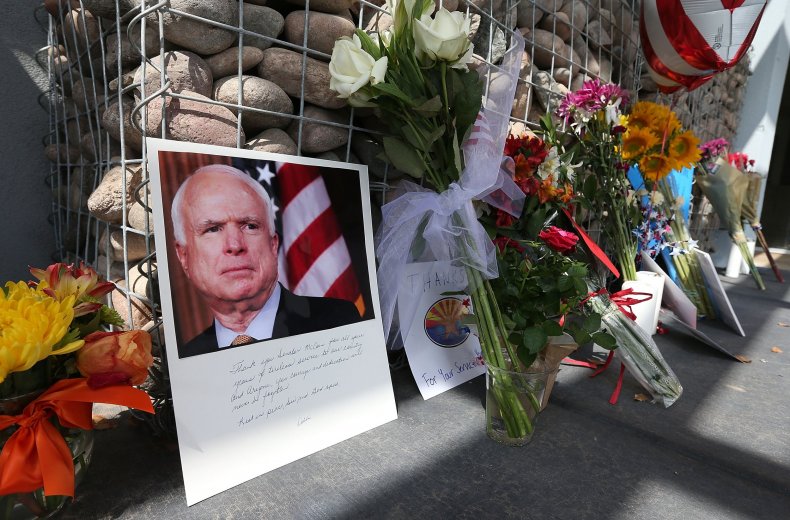 McCain will then lie in the U.S. Capitol Rotunda in Washington, D.C., on Friday, with a ceremony starting at 11 a.m. ET. After the ceremony, the public can view McCain from 2 p.m. to 8 p.m. ET.
On Saturday, a private memorial will take place at Washington National Cathedral at 10 a.m. ET. The event will be held for McCain's friends, colleagues and family, and will not have a live stream, according to the late senator's site.
Following a private funeral service, McCain will be buried Sunday afternoon at the U.S. Naval Academy Cemetery in Annapolis, Maryland, beside former classmate and friend Chuck Larson.
McCain, who ran for president in 2000 and 2008 but lost on both occasions, was long viewed as a staunch conservative and maintainer of Republican values, though also capable of compromise with Democrats.
McCain, too, battled publicly with President Donald Trump, both on the campaign trail and ever since Trump took the Oval Office. McCain reportedly expressed a wish for Trump not to attend his funeral. Following the senator's death Saturday, Trump sent condolences to his family but did not make any mention of the Republican's legacy. Indeed, Trump nixed a White House statement that paid tribute to McCain, The Washington Post reported.
"My deepest sympathies and respect go out to the family of Senator John McCain. Our hearts and prayers are with you!" the president tweeted.