John McCain Funeral Plans: Trump Won't Be Invited to the Service but Mike Pence Will Attend
John McCain allegedly does not want President Donald Trump to attend his funeral and would rather see Vice President Mike Pence represent the White House instead.
Last month, the 81-year-old Arizona senator underwent surgery for an intestinal infection and has been fighting an aggressive form of brain cancer for almost year.
"I don't know how much longer I'll be here," McCain said in an audio excerpt of his forthcoming memoir, The Restless Wave, as reported by National Public Radio.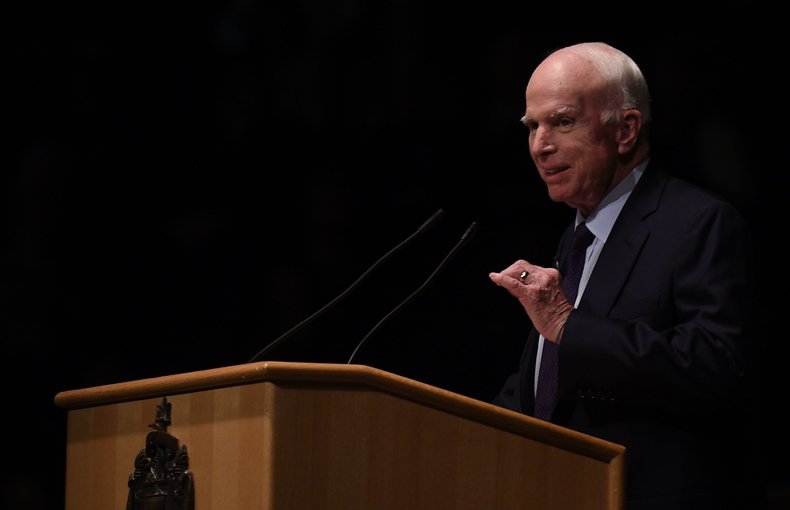 In July last year, McCain was diagnosed with glioblastoma, the same form of brain cancer that killed Democratic senator Edward Kennedy, a friend of McCain, in 2009 and Beau Biden, the son of former Vice President Joe Biden, in 2015.
According to the New York Times, McCain, who was the Republican candidate in the 2008 presidential elections, has shared plans for his funeral with his family.
The service is expected to be held at the National Cathedral in Washington and people close to the Arizona senator have already informed the White House that McCain would rather see Pence attend, rather than President Trump.
McCain and Trump have a rocky relationship, which has only got worse since the presidential primary campaign in 2016 when the latter suggested the former was only considered a hero because he had been taken prisoner during the Vietnam War.
Last year, McCain's decision to vote against a bill seeking to repeal Obamacare in the Senate only exacerbated the growing rift between the two.
The suggestion President Trump might not be invited to attend was confirmed by NBC on Saturday, citing sources close to the Arizona senator.
The sources also added that former Presidents Barack Obama and George W. Bush are among the scheduled eulogists for the service.
Last month, Trump did not attend the funeral of former first lady Barbara Bush. Instead, first lady Melania Trump represented the White House and was photographed alongside George W. Bush, his father, George H.W. Bush, Hilary Clinton and former President Bill Clinton.
The White House said Trump's absence was motivated by a decision "to avoid disruptions due to added security, and out of respect for the Bush Family and friends attending the service."
McCain, who has served in the Senate since 1987, has not been seen in public since December, shortly before he was hospitalized for a viral infection at Walter Reed National Medical Center in Maryland.
On Dec. 17 his office issued a statement indicating McCain would return to Capitol Hill in January after spending some time at home in Arizona to recover, but the return did not materialize and in mid-April he was hospitalized again.
Four months later, on April 16, his wife, Cindy McCain, tweeted her husband was recuperating well and looked forward to coming home.