John McCain Funeral: Who's Invited and Not Invited to Senator's Memorial Services
Funeral services for John McCain are being held this week after the longtime Republican senator and two-time presidential candidate passed away at his home in Arizona on Saturday.
Tributes to McCain began in his home state of Arizona on Wednesday as the senator's casket was displayed in the state Capitol building in Phoenix. In a eulogy given by Arizona Governor Doug Ducey, McCain was described as one of the few lawmakers in Washington who could get others to set aside partisan agendas and work together.
Thousands of Arizonans are expected to gather on Thursday for a memorial service honoring McCain, who represented the state in Congress for more than three decades. Former Vice President Joe Biden, along with sports stars and family members, will speak in tribute to McCain.
Immediately following the service, the coffin carrying McCain will be taken to Washington and this Friday the senator will lie in state at the U.S. Capitol Rotunda before his burial service in Annapolis, Maryland on Sunday. Prior to the burial, a funeral will be held at the National Cathedral this Saturday.
Details of the funeral services have begun to surface, including the politicians who were invited to attend and those who were not.
Invitations were extended to the two men who defeated McCain in his two presidential campaigns, George H. W. Bush and Barack Obama. Bush beat McCain in the 2000 Republican primary. Bush later endorsed McCain in his 2008 bid against Barack Obama. Obama ended up defeating McCain after gaining 365 electoral votes to McCain's 173 votes.
The two former presidents will give eulogies to McCain at the funeral on Saturday. Both men have already released statements honoring the late senator. Bush released a statement calling McCain "a patriot of the highest order, a public servant of rarest courage." Obama reflected on McCain's bipartisan efforts in Congress, writing that "we shared, for all our differences, a fidelity to something higher—the ideals for which generations of Americans and immigrants alike have fought, marched, and sacrificed."
At the request of the president, Chief of Staff John Kelly, Secretary of Defense James Mattis and National Security Advisor John Bolton will be representing the administration at the funeral services.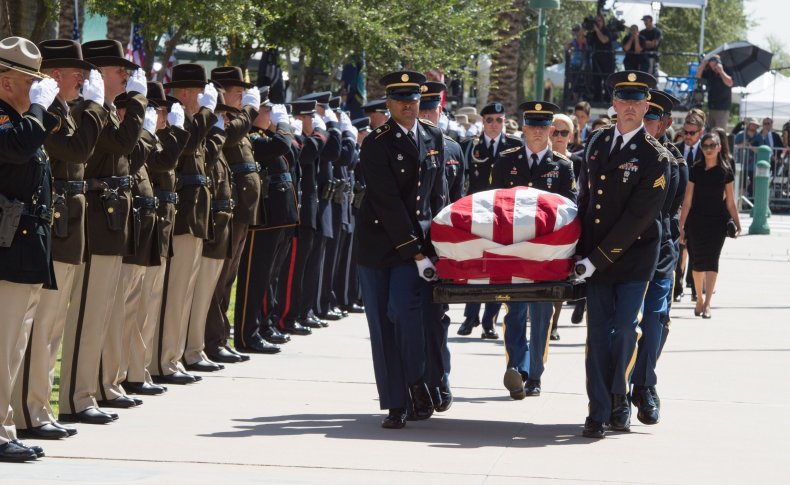 According to multiple reports, an invitation was not extended to Sarah Palin, McCain's running mate during the 2008 presidential election. In the months before his death, McCain admitted that he regretted not picking then-Connecticut Senator Joe Lieberman for his running mate instead of Palin.
Following the news of McCain's death, Palin wrote on Twitter that "Today we lost an American original. Sen. John McCain was a maverick and a fighter, never afraid to stand for his beliefs. John never took the easy path in life—and through sacrifice and suffering he inspired others to serve something greater than self."
Another high profile politician missing from McCain's funeral services is Donald Trump. The president released a statement two days after the senator's passing, writing that "despite our differences on policy and politics, I respect Senator John McCain's service to our country."
The president will not be attending any of the memorial services leading up to McCain's funeral and has sent many members of his staff to represent the administration. Two White House officials told the Associated Press that Trump was asked not to attend by McCain's family. But the McCain family has disputed reports that they barred Trump from attending.
The president has a long history of attacking the longtime senator. During his presidential campaign, Trump said that McCain was "not a hero" for being a prisoner of war during the Vietnam War. Then, after McCain voted twice against Republican efforts to repeal Obamacare, the attacks from the president became almost nonstop, including a last jab the week before McCain's passing.
Trump broke his silence over McCain's death on Twitter shortly after his death, writing that his "deepest sympathies and respect go out to the family of Senator John McCain. Our hearts and prayers are with you."