Integrity and bipartisanship are overused words and under-practiced concepts these days, but John McCain consistently showed our country exactly what they mean.
I had the privilege of meeting Senator McCain first as a young lawyer helping to defend the McCain-Feingold campaign finance reforms in 2002-3 before the U.S. Supreme Court. I was struck by how powerful a role model he was on how to govern effectively, for the benefit of all Americans, instead of just for one political party or the donor class.
From 1995 to 2002, joined by his committed partner, Senator Russ Feingold, Senator McCain led a seven-year bipartisan battle they won when Congress enacted common sense reforms that ended unlimited "soft money" contributions in federal elections, and added limits on the attack ads that plague our campaigns and warp our democracy. After a hard-fought struggle, the U.S. Supreme Court upheld the law in McConnell vs FEC.
The one presidential election fought under these new rules enabled an outpouring of small donor support, arguably made mega-donors to both parties less powerful, and elected Barack Obama president.
As a twenty-six year old novice lawyer, Senator McCain taught me that some wise people must choose to be Sisyphus—willing to push the boulder up the hill while others strive to knock it down. Although the campaign finance boulder came rolling back in the form of the Supreme Court's Citizens United decision in 2010—which reversed all common sense limits on campaign spending—working on, and winning for a better, cleaner political system in the Supreme Court, has been one of the highlights of my career.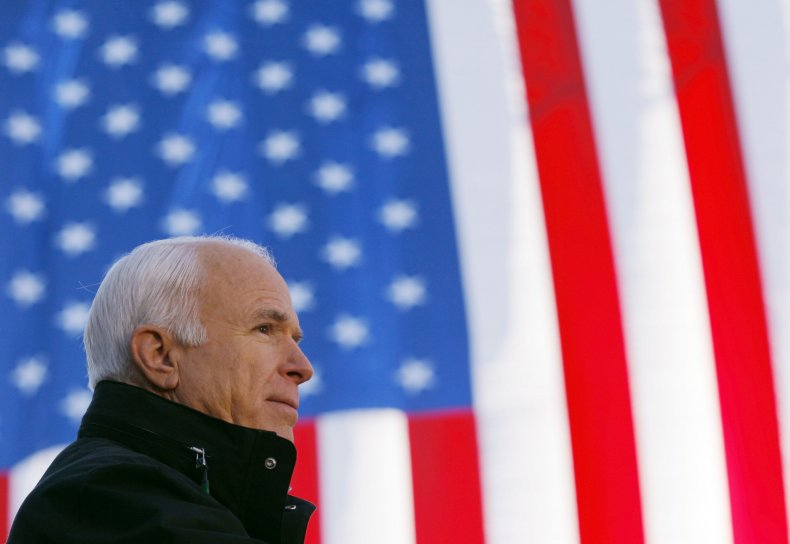 Senator McCain also taught me about generosity and mentorship. In a Washington, D.C. filled with the status-conscious, he made a point to invite me, many other younger foreign policy practitioners, and new Members of Congress from both parties on his Congressional delegations.
He would load up a plane and off he went, with an entourage of Senators, Members of Congress and young foreign policy-types in tow, to speak about U.S. policy at countless international conferences. And to drop in on dictators to warn them "the U.S. was watching," reassure defenders of human rights in tough places that the United States had their back, and see for himself if we were "winning" the wars in Iraq and Afghanistan.
He spoke truth to power consistently, both overseas and to Democratic and Republican administrations here at home. No one got much sleep on those long plane rides. Over beers, Senator McCain and his colleagues engaged everyone in friendly policy debates ranging from the future of work, to the war in Ukraine, to CIA interrogation techniques. In the process, he taught a new generation of U.S. leaders first-hand about U.S. interests and values in far-off places.
I once asked Senator McCain why he so carefully included younger Members of Congress and so many Democrats. He explained that Tip O'Neill, the legendary Democratic Speaker of House, gave a young McCain rides back from Arizona when he was a new Congressman and thus created the goodwill that allowed much bipartisan legislation to flourish. He was merely paying it forward.
It's a dark time in our politics, with too many sycophants of President Trump on the right, and too many seeking partisan advantage instead of real solutions on the left.
Thank you Senator McCain for showing us that governing with integrity—for all people—is still a possibility.
Anja Manuel is a former lawyer and U.S. State Department official who now lectures at Stanford University. She is a Co-Founder and Partner of RiceHadleyGates LLC and the author of the critically-acclaimed This Brave New World: China, India and the United States.
The views expressed in this article are the author's own.​​​