John McCain in Photos: From Navy Pilot to Prisoner of War to U.S. Senator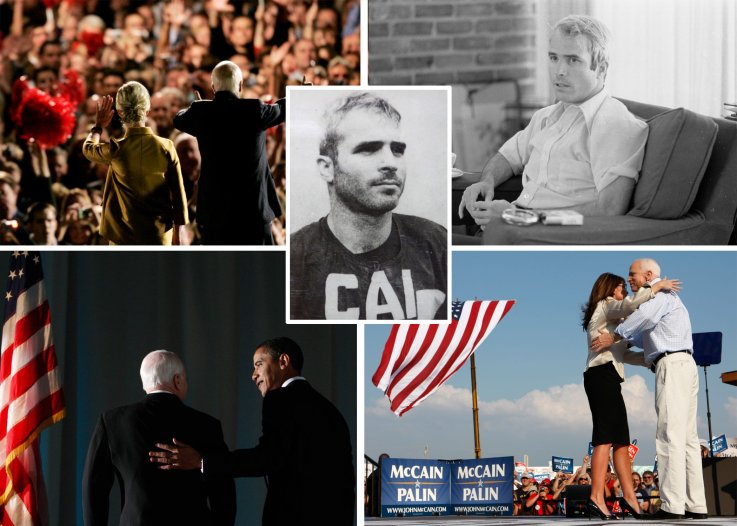 John McCain, who died at home in Arizona Saturday, had many titles: father, husband, senator, presidential candidate, Republican, political maverick. But there's one title he reluctantly earned—war hero. The story is well known: McCain was held and tortured as a prisoner of war by the North Vietnamese for five and a half years during the Vietnam War.
After such an ordeal, it wouldn't have been a surprise if he led a quiet life, raised a family, strayed from the public eye. But instead of retiring, McCain continued to serve the United States as a member of the House of Representatives, the U.S. Senate and his party's nomination for president. Coined a "maverick" for his willingness to go against his own party, McCain became known for speaking his mind and crossing party lines in an era of hyper-partisan politics. That deep sense of independent patriotism took root in the prisons of North Vietnam.
"In prison, I fell in love with my country," McCain wrote in his memoir Faith of My Fathers: A Family Memoir. "I had loved her before then, but like most young people, my affection was little more than a simple appreciation for the comforts and privileges most Americans enjoyed and took for granted. It wasn't until I had lost America for a time that I realized how much I loved her."
Even at the end of his life, McCain stayed true to his maverick ways. In announcing his request to have his two ultimate political rivals, former presidents George W. Bush and Barack Obama, be the ones to eulogize him at his funeral, he's signaling a need for a change in tone of our current politics.
Looking back at his life, one thing is clear: McCain is a statement to the power of determination and love for the United States.