Meghan McCain: Donald Trump Blaming My Dad For Failed Obamacare Repeal is 'Gross'
Meghan McCain said President Donald Trump's apparent reference to her father being responsible for the collapse of the Affordable Care Act repeal is "gross."
Trump addressed a rally In Duluth, Minnesota on Wednesday where he seemed to blame Arizona Senator John McCain for the collapse of a Republican effort to repeal the act, also known as Obamacare.
Trump told the crowd: "We had a gentleman way into the morning hours, go thumbs-down. He went thumbs-down," CNN reported.
Although he did not mention the senator by name, this was an apparent reference to John McCain using the thumbs-down gesture in casting the deciding vote that stopped the repeal.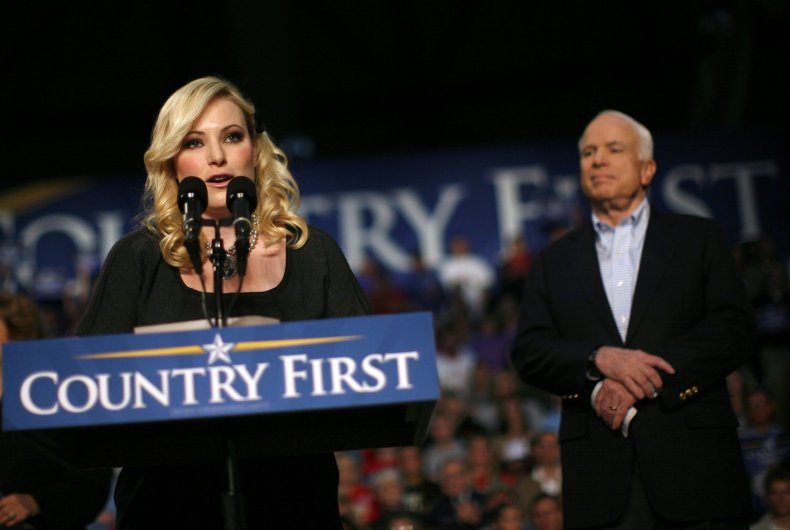 The broadcaster reported that after Trump's remark, someone from the crowd shouted: "He's a war hero".
Political analyst Josh Dawsey posted the Trump comment on Twitter, which sparked a thread in which New York Times journalist Maggie Habberman wrote: "McCain, who is dying, has this acted out by Trump at every opportunity."
Meghan McCain then responded: And it never stops being gross".
Meghan McCain, and the senator's wife, Cindy, have defended the senator on Twitter during his illness.
He was diagnosed last summer with glioblastoma, a form of brain cancer. He has just published a book called 'The Restless Wave, Good Times, Just Causes, Great Fights and Other Appreciations,' in which he reflects on his 60 years of service in Congress and the U.S. Navy.
In it he describes Russian President Vladimir Putin as an "evil man" and said Washington should retaliate against alleged interference by Moscow in the 2016 presidential election.
John McCain continues to publicly oppose some of the policies of the Trump administration including the forced separation of migrants at the border with Mexico and continues to be a vocal presence in the Senate.
Only this week, he criticized Trump's decision to suspend joint military actions with South Korea.
White House aide Kelly Sadler caused controversy when she commented that the senator is "dying anyway" and was forced out of her job.