Senator John McCain, who is fighting brain cancer, hugged his son-in-law and asked him to look after his daughter, according to a tweet which was later deleted.
Ben Domenech, publisher of conservative website The Federalist and who is married to Meghan McCain, posted on his Twitter account saying: "John hugged me tonight. He asked me to take care of Meghan. I said I would," reported AZ Central. The tweet was subsequently deleted.
John McCain, 81, who has represented Arizona as a Republican in either the House of Representatives or Senate since 1983, was hospitalized in mid-April for an operation to treat an intestinal infection related to diverticulitis.
Diverticulitis is an inflammation or infection of the diverticula, which are small pouches that can form in the lining of the intestines. A statement from McCain's office said he was in a stable condition following surgery.
McCain has a brain tumor known as glioblastoma. He had brain surgery in July 2017, around the time he revealed his diagnosis, to remove a blood clot just above his left eye.
The Vietnam veteran, who spent several years as a prisoner of the Viet Cong during which he was tortured, is receiving radiation and chemotherapy treatments. He told CBS's 60 Minutes in September 2017 that he has "a very poor prognosis."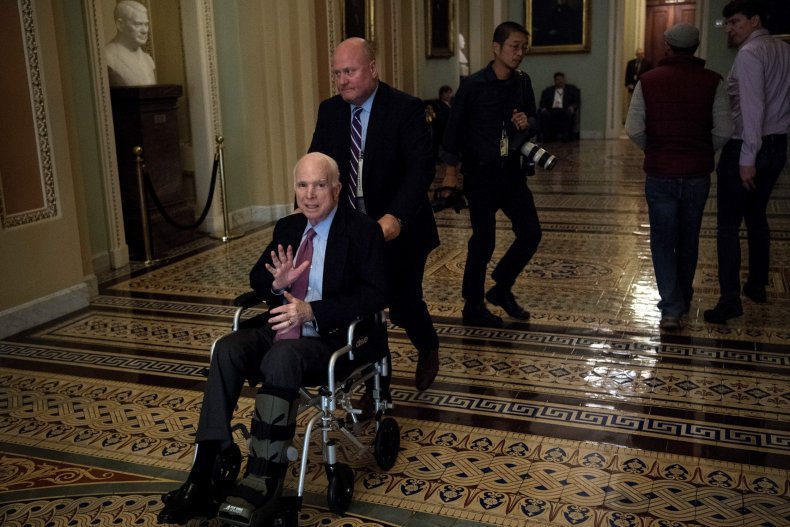 The chance of surviving two years with this aggressive type of cancer is about 30 percent, according to the American Brain Tumor Association.
Glioblastoma accounts for approximately 15 percent of all brain tumors. Symptoms include headaches, nausea, vomiting and drowsiness, as well as some neurological problems and memory impairment.
McCain has seven children from two marriages.
"The news of my father's illness has affected every one of us in the McCain family," McCain's daughter Meghan said in a statement when his illness was first made public. "My grandmother, mother, brothers, sister, and I have all endured the shock of the news, and now we live with the anxiety about what comes next."