Watch Live: John McCain's Arizona Funeral Service With Tribute From Former Vice President Joe Biden
Friends, family and colleagues will gather on Thursday to honor the late Senator John McCain at his memorial service in Phoenix.
On Thursday morning, a public procession took McCain from the Arizona State Capitol to the North Phoenix Baptist Church, where a memorial service took place at 1 p.m. ET, 10 a.m. local time. Tickets for the service were offered to the public through a lottery.
The service was also live-streamed and can be watched below.
Newsweek subscription offers >
Vice President Joe Biden spoke at the service. Biden and McCain had a decades-long friendship, and Biden's son Beau died from the same aggressive form of brain cancer his father had.
"My name is Joe Biden. I'm a Democrat. And I love John McCain," said Biden.
Biden spoke directly to McCain's children, saying "I pray that you take some comfort, knowing that because you shared John with all of us your whole life, the world now shares with you the ache of John's death."
McCain was diagnosed with glioblastoma in July 2017 and died just over a year later, at the age of 81.
Newsweek subscription offers >
On Friday, McCain's casket will be brought to Washington, D.C., where he will lie in the Capitol. A private service, which will also be live-streamed, will follow. From 2 p.m. to 8 p.m., the rotunda will be open to the public for those who wish to pay their respects.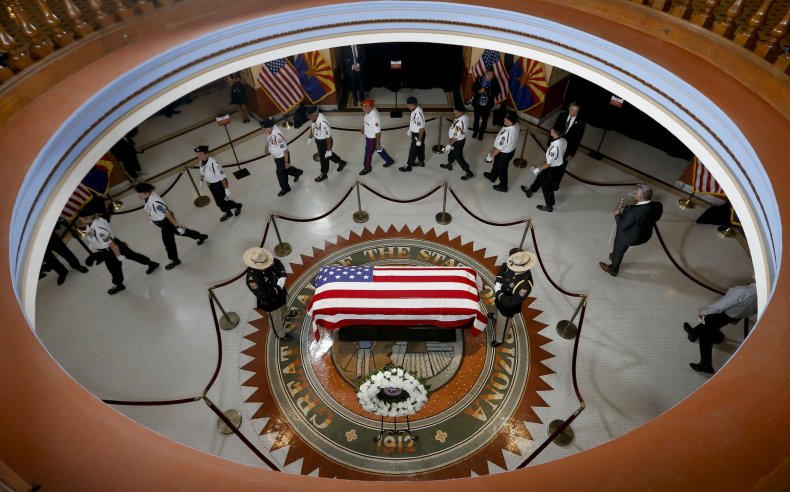 On Saturday at 8:30 a.m., a motorcade carrying McCain will travel from the Capitol to the Vietnam Veterans Memorial, where the late senator's wife, Cindy McCain, will lay a ceremonial wreath. The motorcade will then make its way to the Washington National Cathedral for another service (also expected to be live-streamed), where Presidents George W. Bush and Barack Obama are expected to speak.
On Sunday, the senator will be laid to rest at the U.S. Naval Academy Cemetery in Annapolis, Maryland, near his best friend.
On Wednesday, between 12,000 and 15,000 mourners paid their respects to McCain at the Arizona Capitol, according to the Arizona Department of Public Safety. The public procession occurred after a private family-only ceremony.
This story has been updated to include comments from Joe Biden during John McCain's memorial service.
Watch Live: John McCain's Arizona Funeral Service With Tribute From Former Vice President Joe Biden | U.S.