John McCain is More Popular Among Democrats Than Republicans After His Death: Poll
Senator John McCain is more popular among Democrats than his own Republican Party after his death, a new poll shows.
The Economist/YouGov poll conducted for three days starting a day after McCain died Saturday found that 43 percent of Democrats had a very favorable opinion of McCain and 32 percent had a somewhat favorable view of him, while 20 percent of Republicans had a very favorable opinion of the senator and 32 percent thought somewhat favorably of him. Added together, 75 percent of Democrats thought favorably of McCain, versus 52 percent of Republicans.
More Republicans had a "very unfavorable" opinion of McCain than Democrats, 11 percent versus 9 percent, as well as the "somewhat unfavorable" category at 27 percent versus 16 percent.
McCain, who died at the age of 81, served in the Senate since 1987 and in his last term challenged fellow party members and President Donald Trump on a variety of issues. McCain cast the deciding "no" vote against repealing Obamacare last year. Trump has held a grudge against McCain for killing the conservative effort and repeatedly mocked him by reenacting his thumbs down vote.
McCain was frequently a critic of Trump on many issues. Even McCain's choice of a Russian dissident as a pallbearer seemed to take a jab at Trump, who during a joint press conference last month failed to criticize Russian President Vladimir Putin and Russian meddling in U.S. elections.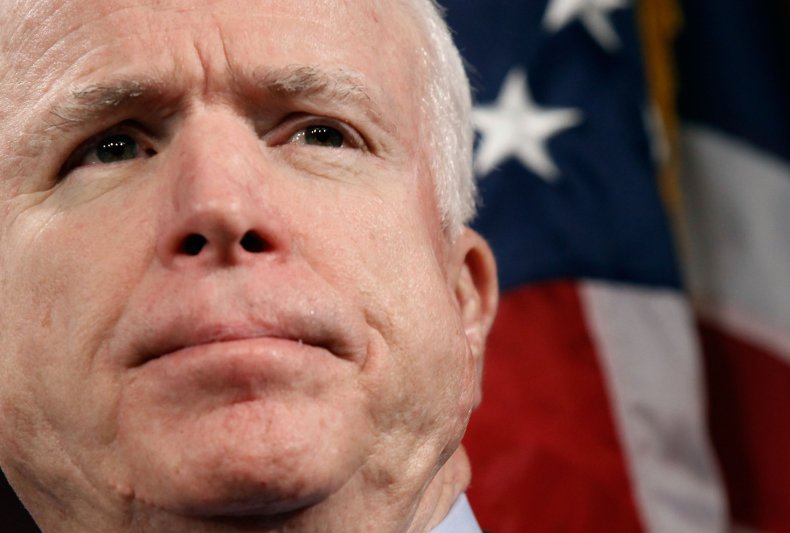 One of McCain's closest friends, former Vice President Joe Biden, delivered an emotional eulogy at the senator's memorial service in Arizona on Thursday morning.
"I'm a Democrat, and I loved John McCain," Biden said at the start of his speech.
"John's story is an American story. It's not hyperbole. It's the American story, grounded in respect and decency, basic fairness, the intolerance through the abuse of power," Biden said.
Biden continued: "Bottom line was, I think John believed in us. I think he believed in the American people. Not just all the preambles. He believed in the American people, all 325 million of us. Even though John is no longer with us, he left us clear instructions. 'Believe always in the promise and greatness of America because nothing is inevitable here.'"
The poll surveyed 1,500 adults for three days after McCain died and had a margin of error of plus or minus 3 percentage points.