John McCain Picks Anti-Putin Russian Poisoned, Almost Killed as Pallbearer in Apparent Dig Against Trump
The late Senator John McCain chose as one of his pallbearers Russian dissident Vladimir Kara-Murza, who was twice poisoned and nearly killed for acting against Russian President Vladimir Putin.
Given President Donald Trump's refusal to criticize Putin, most recently evidenced at their joint news conference last month in Helsinki, McCain's choice seemed intended to send a final message to the two leaders who have both denied Russian meddling in the 2016 presidential election.
McCain and Kara-Murza, who had known each other since 2010, had denounced Putin for years. McCain asked Kara-Murza in April, nine months after the Arizona senator had been diagnosed with an aggressive form of brain cancer, to help carry his coffin at his funeral, which will be held Saturday at Washington National Cathedral.
"I was speechless and heartbroken, close to tears at that moment," Kara-Murza, who is vice chairman of the pro-democracy group Open Russia, told Politico on Tuesday. "I said yes, of course, and that it would be the most heartbreaking honor that anyone could think of."
Kara-Murza said that McCain did not know his death was imminent at the time, "but he knew how it was going to end, and he was planning everything."
The Russian dissident's actions have nearly led to his death. In 2015, Kara-Murza suffered organ failure and fell into a coma for a week in Moscow. Tests revealed that he had ingested a poisonous substance. He recuperated in the U.S. and went back to Moscow a few months later, still using a cane to walk.
"Vladimir is a brave, outspoken, and relentless advocate for freedom and democracy in Russia. And [as] has happened to other Putin critics, Vladimir was poisoned in order to intimidate him or worse," McCain told a crowd gathered in Washington to honor Russian dissident leader Boris Nemtsov later that year. McCain called Kara-Murza "a personal hero whose courage, selflessness and idealism I find awe-inspiring."
Two years later, as he was leading an opposition action against Putin, Kara-Murza fell into another coma at his relatives' home in Russia. He was diagnosed with "acute poisoning by an undefined substance," his wife told The Guardian.
"If I was alone, I would not be speaking now," he said at the time. "The doctors say, if there is a third time, that'll be it. I will not survive this again."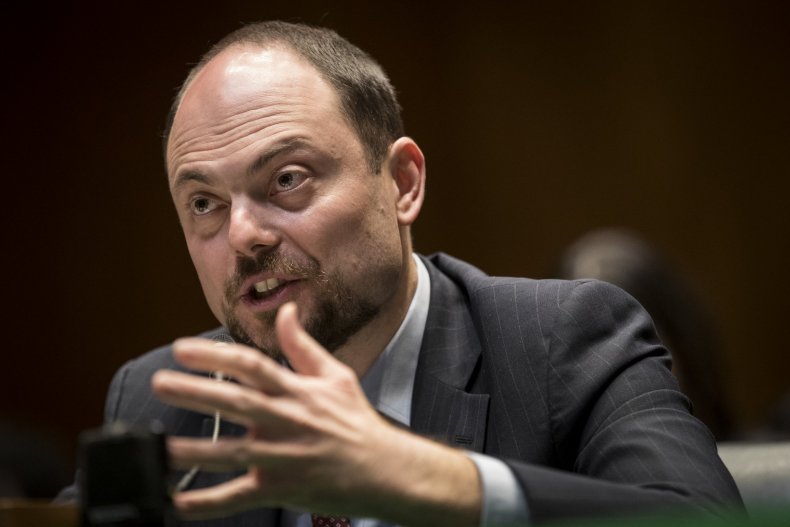 In a television interview early in his presidency, Trump shrugged aside the accusation that Putin killed his political opponents. "We've got a lot of killers," Trump said. "What, you think our country's so innocent?"
Enraged by Trump's comment, McCain responded in a speech that Kara-Murza "knew that there was no moral equivalence between the United States and Putin's Russia."
Kara-Murza wrote in The Washington Post Monday that McCain "was a true leader and a dear friend, and it will always be among the greatest blessings of my life to know him."